Student Story
Meet Justine Paragas '26, Gilbert and Marcia Kotzen Scholarship Recipient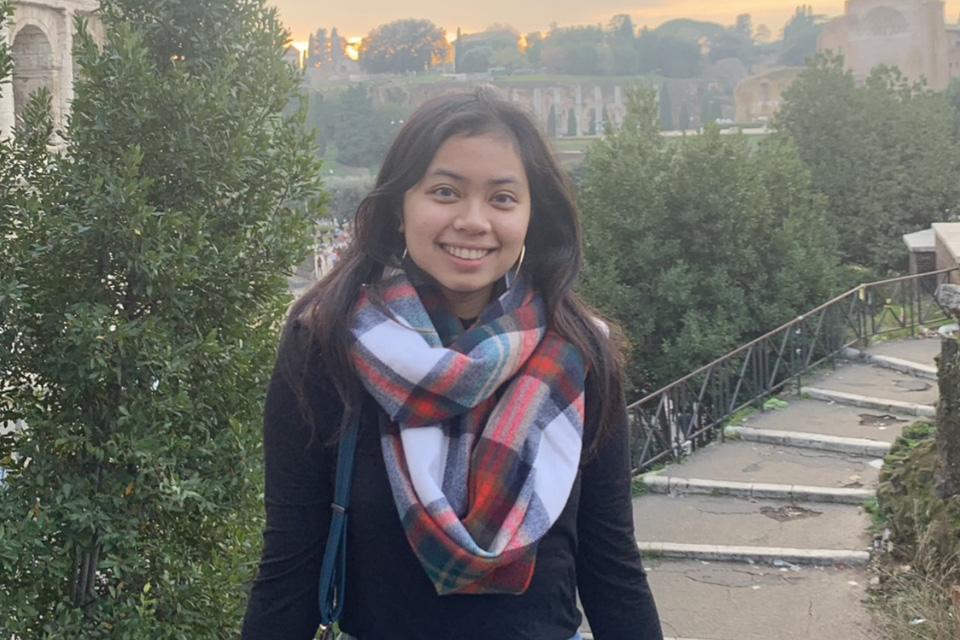 The Gilbert and Marcia Kotzen Scholarship is the most prestigious student award at Simmons. Kotzen scholarship recipients receive full tuition remission over four years. The class of 2026 includes ten Kotzen scholars. We spoke with Justine Paragas about her intellectual interests, career plans, and why she chose Simmons.
What was it like when you found out that you received the Kotzen Scholarship?
I was waiting anxiously with my high school college counselor and advisor for the results to come out. When the notification on my Gmail popped up, I immediately opened the email. When I read the email, I was in tears of joy. My college advisor, who was next to me, was beaming in happiness and said congratulations. I immediately ran to my college counselor and showed her the email.
"You're going to college!" She shared cheerfully and hugged me while I was on the verge of tears. I immediately called my mom on the phone right after. She was beyond elated.
As a first-generation Filipina immigrant, I never thought that I would have come this far. I knew that I wanted to pursue higher education no matter what, but I did not expect that I would have the opportunity to do so in a prestigious institution like Simmons. Finding out that I was one of ten selected Kotzen scholars completely changed my life.
I have always strived to do my best in school. My mom always reminded me that education is a lifetime gift full of opportunities for personal and professional growth. I am excited to maximize the resources that Simmons has for me to accomplish my growth. The fact that my family and I do not need to worry about the financial aspect of exploring my career interests and passions serves as a motivation for me to make the most of my undergraduate experience – from taking the courses that interest me to pursuing co-curricular activities related to healthcare and my other interests.
This scholarship is truly such an honor and I am forever grateful for Simmons and for the Kotzen family for supporting my education. I hope to come out of Simmons prepared to become the best leader and physician I can be to give back to the communities I value.
What is your major and why did you choose this area of study?
My major is public health under the pre-med track. I chose this area of study because of my personal experiences with healthcare. Growing up in the Philippines, my family and I experienced the consequences of healthcare disparities. I lived in a rural city where there is a lack of adequate education and resources to take care of our health. When I moved to the U.S. five years ago, I noticed the same trend in my community in Los Angeles. This sparked my interest in exploring how to support people on a larger scale by providing resources to maintain good health and prevent the spread of diseases.
My passion to explore public health grew when I worked as a research fellow at a public health non-profit organization during high school. I was conducting a needs assessment to underserved communities and clinics nationwide so the organization could provide personal protective equipment and other necessary items to combat COVID-19. I love how public health provides me with the opportunity to explore the intersectionality of healthcare, social justice, and public service. With this field, I can interact and support people from varying backgrounds, which allows me to further diversify my perspective. I hope to apply what I learn in my public health major to my future career as a doctor and fulfill my goal of eliminating healthcare inequity.
Do you have any research projects or internships you would like to tell us about?
I am currently part of the Bonner Community Leaders program. In this four-year program, we are paired with one of Simmons' partner organizations based on our career interest. This program consists of nine students who are passionate about making a difference in the Boston community while exploring different career paths and passions. I am paired with Fenway Health, a healthcare nonprofit organization, as an Outreach Intern. In this internship, I work as co-liaison of the Fenway/Kenmore neighborhood. I support the Department of Government and Outreach Relations on researching different models that Fenway Health can utilize to increase community participation on research projects. I also monitor the requests that Fenway Health receives for speaking and participating in different community events.
I am also participating in Assistant Professor Seth Johnson's biology research lab, assisting a senior working on her capstone project. Prof. Johnson's lab involves working with Drosophila fruit flies. In the fall semester I took BIOL 150 where I learned the general skills involved in working in the research lab, such as dissections and using the microscope. Last semester prepared me for the second semester where I will be developing my first research project with Prof. Johnson.
Finally, I have been participating in a training research experience with Associate Professor of Chemistry Arpita Saha. In the fall semester, I was enrolled in CHEM 150 where I learned different methods such as synthesizing compounds and used basic lab equipment that is involved in chemistry research. I attended weekly journal club meetings where I, alongside six other students, talked about the assigned chemistry research papers that Dr. Saha provided to improve our research reading and presentation skills.
Why were you interested in attending Simmons?
I love how Simmons has a plethora of resources available for me to explore my interest in medicine while being surrounded by a close-knit, small college community. Being located in the heart of Boston, especially its proximity to the Longwood Medical Area, I have resources in and out of campus to explore my passions in medicine, while having the opportunity to meet many people from different backgrounds because of being in an urban area.
Additionally, I love the small size of the campus because I am able to cultivate strong relationships with my professors and thus have a strong support system. The opportunities to easily access mentorship and personalized support in my academic and co-curricular pursuits was a critical component of my decision to choose Simmons. Furthermore, I love how I can easily pursue my personal hobbies, such as cross country.
Having a women's undergraduate experience at Simmons is extremely valuable to me, because I have the necessary support and resources I need to thrive in a male-dominated industry like medicine. Because of Simmons being a woman-centered institution, I have a safe space to express my identity as a Filipina woman while accessing the best resources possible to succeed in STEM.
What do you see yourself doing after graduation?
I plan to go to medical school. As of now, I am considering either pursuing a master's in Public Health (MPH) or applying to a MD/PhD program. No matter which one I choose, I plan to fulfill my goal of becoming a doctor.