Alumnae/i Feature
Making An Impact: Alumna Builds Community Library In Haiti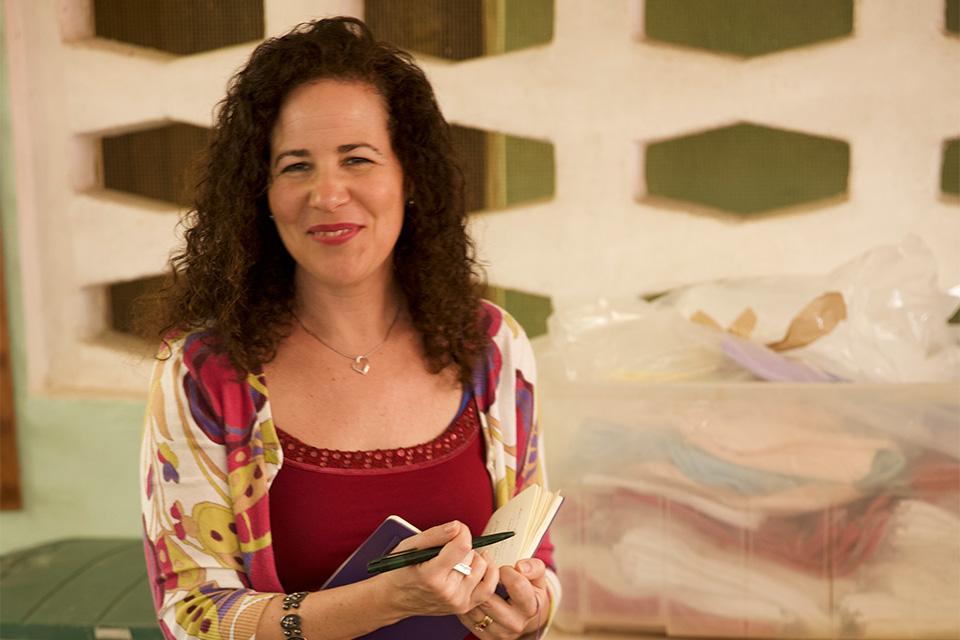 We caught up with Cherie Miot Abbanat '90 about her decision to build a library in Haiti, and her mission to empower women.

The last time we spoke with Cherie, she was raising money for a library in Haiti. Two years later, she's made that dream a reality. 
Tell us about your current position as CEO of Haiti Projects, Inc. 
As the CEO of Haiti Projects, I'm responsible for the operations both in the U.S. and Haiti. We're focused on empowering women in rural Haiti by providing access to jobs, family planning services and educational opportunities. It's a job that requires speaking a few languages, no matter how rusty, including English, French and Haitian Creole. It requires that you enjoy adventure, including, flat tires in the middle of nowhere, lack of cell service and internet, and the occasional hurricane or flood. Also, you must like the challenge of daily problems, such as banking in U.S. and Haiti, problems with utilities, cars that break down, and scrambling for donations, grants and sales — all while still trying to keep an eye on the mission of the social enterprise.  
What inspired you to build a library in Haiti?
I went to Haiti after the 2010 earthquake to study the post-disaster conditions. Many experts from around the world were also studying the aftermath of the earthquake, but they would study and then leave with new information and intelligence, and Haiti would have nothing to show for it. So, I thought: wouldn't it be great if we could create a place to store this information that these experts have gathered about Haiti? I wonder if we could add a repository of knowledge, on-the-ground teaching, and studies from Haiti. What would we have? A library. And, if we add a mobile unit with computers and equipment, we would have a mobile library that could connect with the 136 area schools.
Tell us about the library and its capabilities.
The Library is a 10,000 square foot facility that serves multiple purposes. We have a cyber cafe that's designed to be a fun, inviting hangout for the community. The income generated from the cyber cafe will help pay for the other programs offered. We also have a large auditorium/classroom that people can rent for community meetings and events, and an artisan workshop where we provide jobs to women who are expert embroiderers, sewers and knitters. They make handmade heirloom pieces that we sell in the U.S. and all of the income pays for the salaries and raw materials. 
In addition to a traditional free library, we have a maker library with woodworking tools — various saws, a vinyl cutter, oscilloscopes, robotics elements, programming devices, and other hands-on-learning tools. Our goal is to add a laser cutter and 3D printer to the Maker Lab in the coming months. 
What do you hope to achieve from the creation of this library?
Delivering quality classes, materials and learning to the many children in the region who have nothing and no hope for a better education. I want to cater to those kids who are on the streets all day because their parents can't afford to send them to school. For those kids who can't sit still in school, I want to offer another way of learning, through hands-on learning and vocational training at the Maker Lab. These are the kids who deserve the best of what we can give. These are the kids, the self-starters, the self-learners, who I want to reach out to in one way or another.
How did Simmons prepare you for what you're doing now?
Beyond my degrees in French and economics, Simmons prepared me for a world that is often dominated by men. It helped me find my voice as a young woman and I learned how to grow that voice a little stronger each year. In Haiti, I'm sometimes one of the only women in the room; many of the organizations are run by men and with men. But at Simmons, the women do everything and are expected to play all parts all of the time. So, there is never any question in my mind about whether I can play a role or not. If I'm needed to play a role, I do. If I want to volunteer an opinion or challenge and opinion, I do. I also get to play many roles at the same time. Because I found my strength and my voice a long time ago, I'm not intimidated when I'm the only woman; I see it as a challenge to be heard, to contribute, and to add correction or clarification at times. 
What was the most daring move you've made in your career?
I took over Haiti Projects when it was failing; it was out of money, had poor organization, no direction and poor leadership. The board asked me to take it over with only $15K in the bank. I wasn't sure that I would be paid, but even worse, I wasn't sure that I could pay the women in Haiti. So, I agreed not to take salary until we had funds and I made it a point to pay the women first, so they could care for their families. At a key point, I had to ask the women for help — to wait two months for their pay, an eternity for these women who live day-to-day. I promised that I would find the funds to pay them, but they had to give me two months. They agreed. I worked, struggled, created a campaign and asked for many, many individuals to help support us. By the end of the two months, we paid the women everything we owed them. By the end of that year, we had $500K in the bank and we gave each woman a raise. Each donation was critical. Each donation meant more to me than any one of those donors could have known. Each donor helped put a woman and her family on a steady course to prosperity. That was amazing!  
I took a leap of faith and was never so afraid of disappointing the women and their families. Through this difficult time, I learned to ask for help and that it's sometimes the folks with the least amount of assets, like these women, who give the most. Difficulty can pull us together and demand the best from each of us. I've found that if we can all hold hands across space and time, we — the women, the donors and the staff — can achieve many, many things. If we are willing to give the best, we get the best in return. Now, Haiti Projects can give them not only jobs, but a library with a Maker Lab where we can work together to educate the children.