Student Story
Major Spotlight: Estela Raya-Fouts '24, Political Science and Spanish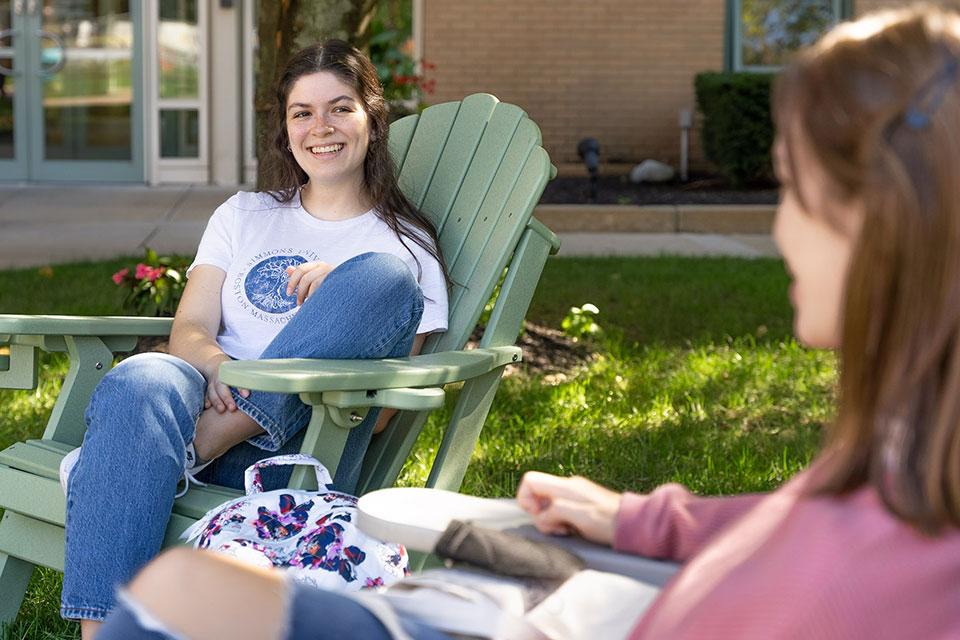 One of my favorite things about [the political science] major is the support I receive from all of the professors, regardless of whether I have taken their class or not.
What were you looking for in a college during your college search process?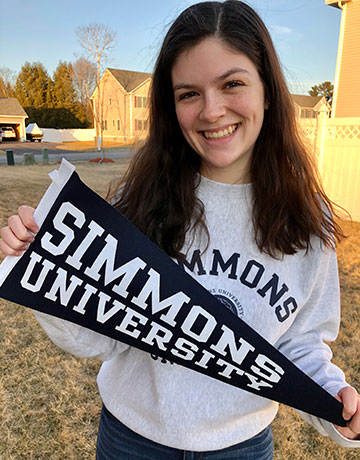 I was looking for that cliche moment of realization that one specific college would be perfect. Knowing that the chances of this cliche occurring were slim, I toured many colleges in Boston because I love the city. I was looking for a small college with green space and a sense of community within the city.
I toured Simmons last minute after visiting a different college in the area, and I immediately fell in love with it. Not only did I have that cliche moment when I stepped into Common Grounds, but I felt the empowerment and community right from the start during my first visit.
What inspired you to declare a political science major, Spanish major and migration studies minor?
I participated in student government throughout high school and interned with different offices in the state and city government. Therefore, my political science major felt like the natural next step because I have always been interested in activism and government. During my first year, I added my Spanish major because I'm fluent in Spanish and have seen how beneficial it is to be bilingual in the US. The study of Spanish-speaking countries and cultures has always fascinated me, and the advanced Spanish courses offered at Simmons cover a wide variety of countries and cultures.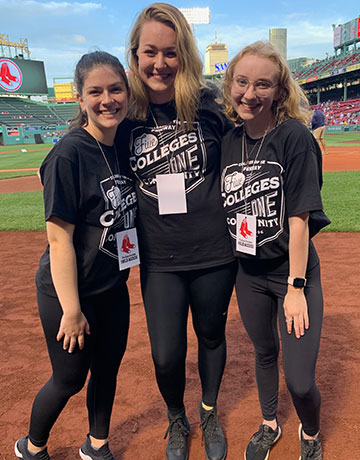 I discovered the migration studies minor through the Colleges of the Fenway (COF) because I was interested in cross-registration. I see this minor as the culmination of my two majors because politics and Spanish overlap in immigration issues, especially with the situation at the southern US border.
I completed my service learning component to my minor this summer with an internship with a refugee resettlement agency. This internship showed me how important politics are to the resettlement process, and I was able to use my Spanish skills to converse with clients. My experience inspired me to continue with the migration studies minor and work with immigrant populations in the future.
Do you have a favorite course you've taken so far?
My favorite course so far has been my learning community "Black Transnationalism." It was made up of a history class on the Americas, a political science class on African perspectives, and an integrated learning seminar. The history class challenged my writing skills and showed me a new perspective on the history of the Americas that I had learned about in Spanish class in high school. I had never taken a course specifically about Africa, so the political science analysis of historical African colonial publications helped me understand different African countries in colonial times. The integrated seminar brought the two classes together in a research paper, and it's still the piece of writing that I'm most proud of.
College is the time to explore new academic interests, and that is something I will continue to remind myself of even while I work toward completing my major requirements.
Do you have any tips for prospective students considering political science, Spanish and migration studies?
For students interested in majoring in political science, I suggest you reach out to any professor in the Department of Political Science and International Relations! One of my favorite things about this major is the support I receive from all of the professors, regardless of whether I have taken their class or not.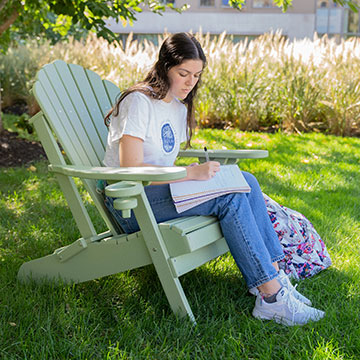 For prospective Spanish majors, I would tell them to believe in themselves. Studying a different language is difficult and can make you feel self-conscious, but it's rewarding in the end.
Finally, for any students interested in migration studies, I would encourage them to check out the classes you can choose from. Since it's a COF minor, students are required to take at least one class at a different college, which is a unique opportunity that we have here at Simmons. The courses offered for the minor range from English to sociology, so it is a great way to discover new interests.
How is Simmons preparing you to become an everyday leader?
Many things within the Simmons curriculum and outside the curriculum prepare students to become everyday leaders. The first thing is the leadership class all students are required to take during their first year. This class examines different leadership styles and helps students identify what their leadership strengths are. I learned that I'm the type of leader who plans things out before executing them and can rally people around ideas.
Another way Simmons encourages leadership is within clubs and organizations. Even though I was only a first-year, I was inspired to run for an e-board position in one of my clubs. Simmons students uplift each other and promote leadership within the community. Finally, I think the Career Education Center does a wonderful job preparing students for leadership experiences outside of the classroom, such as resume building and mock interviews, to prepare for internships or jobs.
What is something you've learned from the last year that you'll take with you?
During my first year, I learned that now is the time to explore different subjects and fields. With the encouragement from my advisors, I was able to choose classes that I found intriguing and brought me out of my comfort zone a little bit. Although I came in with an intended major, I enrolled in history and women's and gender studies classes. Even though those classes did not help with my major requirements, I enjoyed them and would recommend them to any student. College is the time to explore new academic interests, and that is something I will continue to remind myself of even while I work toward completing my major requirements.