Student Story
Madeleine Mulroney '19 Utilizes Networking to Land Her First Job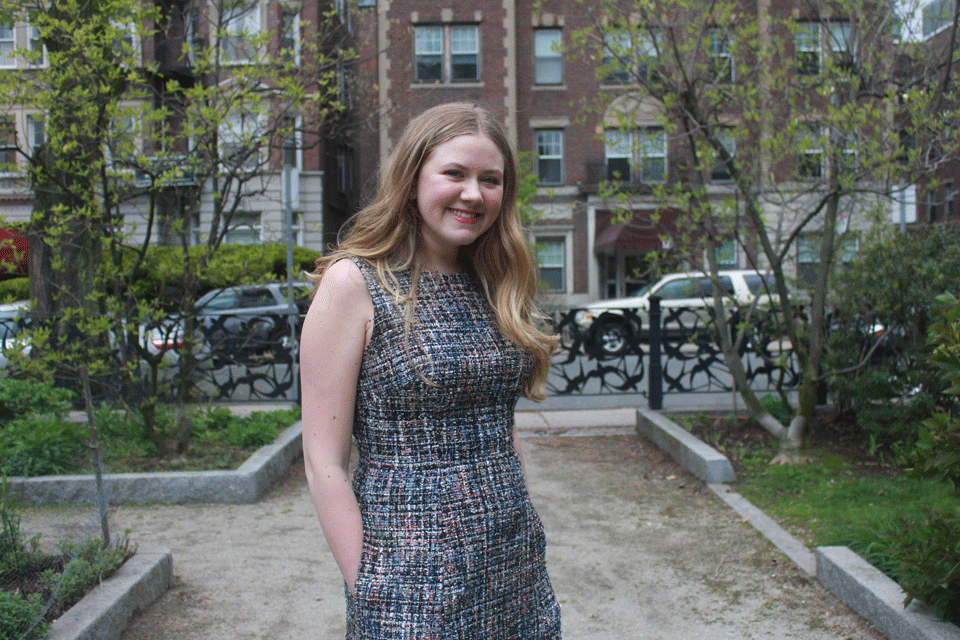 There is power in the Simmons community and in networking and putting yourself out there for any opportunity... People are striving to help others, you just have to ask.
Recent graduate Madeleine Mulroney '19 is now the Marketing and Retail Coordinator at Uwila Warrior, an intimate apparel company founded and run by women. She is in charge of long- and short-term marketing and social strategies, and manages the retail studio and pop-up locations. Intrigued by the start-up culture at Uwila, Mulroney immediately felt a connection to her co-workers, and is part of a three-person team. So, how did such a recent graduate land this position? 
She arrived at Simmons as a sophomore to pursue a marketing degree. An internship in the retail department at The Boston Ballet helped her realize she wanted to double major in marketing and retail management.
 
"I went to Professor Susan Sampson and told her I wanted to do this, and she supported me," says Mulroney. "My Capstone — on a retail ecommerce brand Organic Bath Co. organic bath company — had a retail focus. I was able to approach much of my coursework with a retail focus, including my abroad courses."
During her junior year, Mulroney took retail courses in Milan, Italy. These courses helped her "understand how to capture a luxury audience as well as a global one." 
Time management was vital, as Mulroney had four internships during her time at Simmons.
"I was always running from class to my internship or event jobs," she says. "While it was tough, those experiences led me to my current job. I learned so much about how to manage time and navigate the city."
Her first internship was at the non-profit, Dress for Success Boston. She found her Boston Ballet internship from another student in the School of Business who had connections to the company. Her third was at luxury event company where she planned events, managed employees and entertainment acts. That experience directly prepared her for her current role.
"You have to put yourself out there, take the extra internship or part-time job," Mulroney explains. "That's how you'll make connections and get experience working with different personality types. Being as active as possible is important. For me now, working at a startup, my day is 7-6 p.m. not 9-5. No two days are the same. The more you experience earlier, the less shock you'll get."
After graduation, Mulroney was ready for new challenges. She messaged people on LinkedIn — classmates and more established alumni from the School of Business. "I asked, 'When you hire people, what key qualities do you look for?' I asked them to look at my resume. It's not like that at other schools — Simmons alums care. I had multiple conversations with alumni and graduate students about their careers, which helped me understand more about life and what to expect."
Mulroney was told about the job at Uwila Warrior by another Simmons alum. "There is power in the Simmons community," she says, "and in networking and putting yourself out there for any opportunity. If she hadn't mentioned it to me, I would never have known. It's all about who you know and not being afraid to ask questions. People are striving to help others, you just have to ask."