Retail Management
Our students explore the science of consumer behavior, combining theories from anthropology, sociology, psychology, economics and neuroscience to understand how consumers choose products —and how those choices affect the development of society and culture.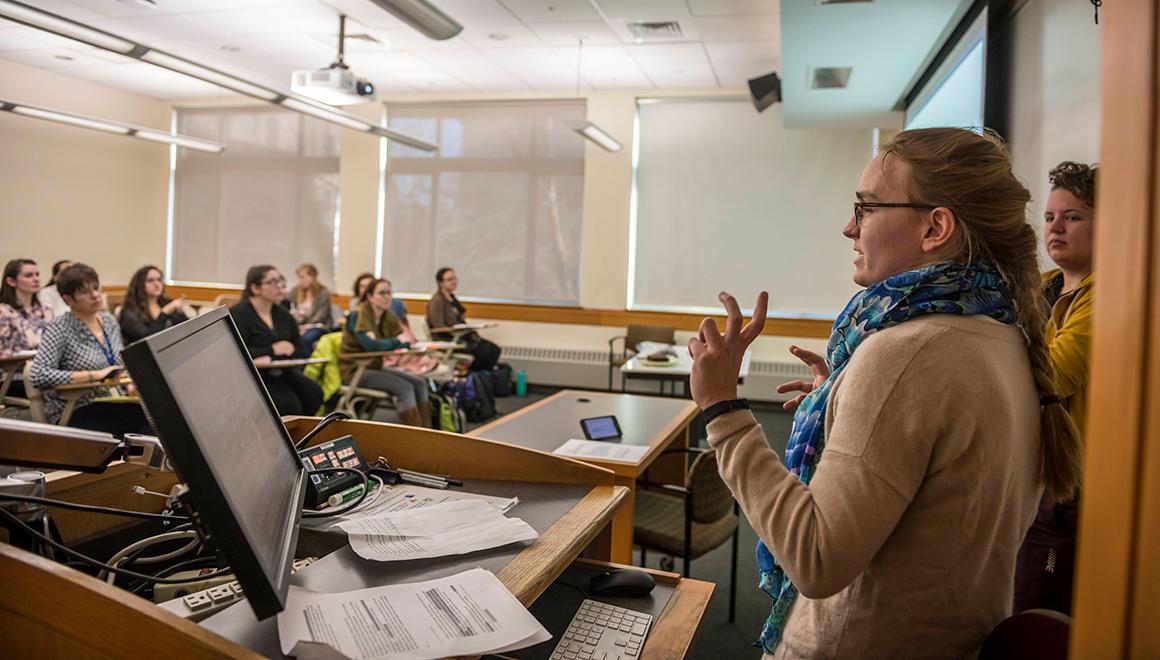 What makes us buy things? Who determines what's fashionable?
Through hands-on case studies, you'll evaluate the impact of technology, globalization, sustainability, green building, social media and merchandise storage and handling. Our students learn to critically analyze consumer behavior and master the latest methods and technology for improving retail profitability.
You'll graduate confident and ready to apply your skills to any organization. Our graduates have found successful careers at companies like Nordstrom, Panera Bread and Macy's.
---
Recent changes to this program will be updated here by late August. Please feel free to contact Todd Herrmann, Undergraduate Program Director, at [email protected], if you have any questions.
Prerequisites for Retail Management Majors
Required Retail Management Courses
The student will select two electives from the following list:
| | | |
| --- | --- | --- |
| BUS 137 | Entrepreneurship and Innovation | 4 |
| BUS 221 | Project Management | 4 |
| BUS 225 | The Manager and the Legal Environment | 4 |
| BUS 230 | Why We Buy | 4 |
| BUS 231 | Creating Brand Value Strategy | 4 |
| BUS 232A | Introduction to Advertising | 4 |
| BUS 232B | National Student Advertising Competition | 4 |
| BUS 233 | Developing Customer Relationships | 4 |
| BUS 229 | Corporate Social Responsibility: Managing People, Planet, & Profit | 4 |
| BUS 335 | Marketing Research | 4 |
| BUS 348 | Sustainable Supply Chain | 4 |
Required Courses
| | | |
| --- | --- | --- |
| BUS 100 | Foundations of Business & Management | 4 |
| BUS 236 | Retail Management | 4 |
Internships are a key component of the Retail Management program. Our students work in retail organizations and agencies in the greater Boston area and beyond, including recent internships at Crate & Barrel, Arnold Worldwide, and Hill Holiday.
Internships encourage students to sharpen their skills, refine their career interests, build their resumes, and develop important relationships.
 Beta Gamma Sigma and Alpha Delta Sigma
Beta Gamma Sigma (BGS) is the premier honor society for students enrolled in business and management programs accredited by AACSB (The Association to Advance Collegiate Schools of Business). An undergraduate student becomes eligible for membership in the second semester of her junior year. The top 10% of each undergraduate class, ranked by GPA, are invited to join. The Society's mission defines this lifelong commitment to its members' academic and professional success: to encourage and honor academic achievement in the study of business, to foster personal and professional excellence, to advance the values of the Society, and to serve its lifelong members.
Alpha Delta Sigma (ADS) is a national honor society sponsored by the American Advertising Federation. It recognizes and encourages scholastic achievement in advertising and marketing studies. The requirements are that the student must be current in dues membership, be a senior or rising senior, have taken at least two advertising or marketing courses, and have a minimum undergraduate GPA of 3.25.
Alpha Mu Alpha
Since its inception in 1937, the American Marketing Association has remained committed to the advancement of excellence in the field of marketing. It was this commitment, which fostered the establishment of the national marketing honor society, Alpha Mu Alpha during the spring of 1981.
So you know that Simmons is a great place to be, you've learned about our programs, maybe even come for a visit...now you're ready to apply! Let's get started.