Campus & Community
Lost & Found in Literature for Young People at Simmons' Summer Institute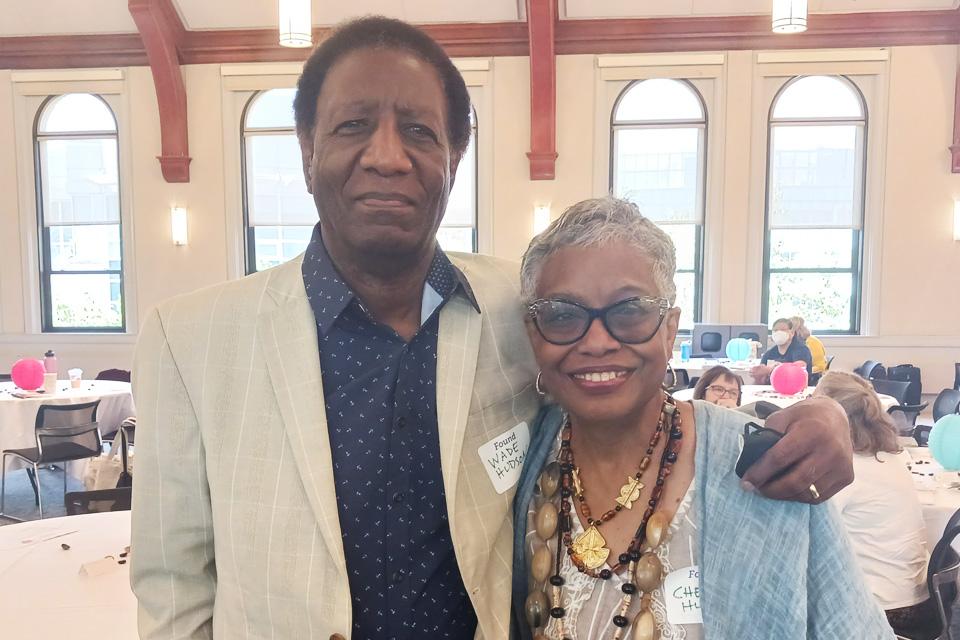 Postponed from the summer 2021, the Summer Institute in Children's Literature returned to Simmons University in July 2022. The Institute theme "Lost & Found" shaped reflections fro authors, librarians, educators, publishers, and critics of children's literature from across the country in this two-day gathering of inspiration and restoration. In opening remarks, Professor and Director Cathryn Mercier called upon us to "write and illustrate, read and tell stories of hardship and joy, of aching beauty and vibrant images. Tell it new, tell it crooked, tell it round and round – but tell it loud and tell it true. We must move forward to create NOW the better and just world our children and embattled teens deserve. To keep the stories alive, to keep them on the shelves, to keep them find-able."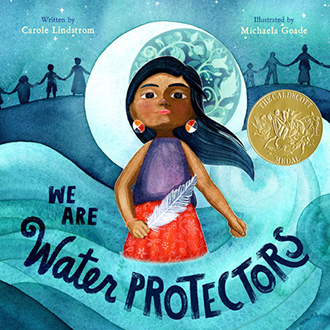 Vicky Smith, former editor of Kirkus and currently at Portland Public Library, found an engaging dialogue with author and illustrator Michaela Goade, who illustrated the 2021 Caldecott Medalist We Are Water Protectors (written by Carole Lindstrom) with watercolor artwork both vibrant and poetic. Goade, a member of the Indigenous Sitka Tribe of Alaska, shared the challenges she faces in accepting her own multilayered identity and her urge to create books that reflect not only her own complex positions but also the complexity of storytelling authority itself. For Goade, representing Indigenous characters and stories means "balancing the present with references to the past. Trying to merge all of those is a constant creative challenge."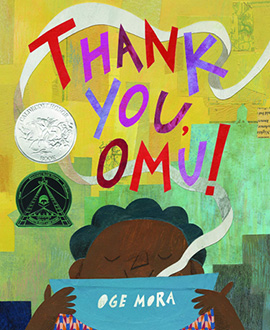 Author and illustrator Oge Mora looks for "lost, leftover, misfit items" to create vibrant collages. Photos of old book covers become brick walls in Everybody in the Red Brick Building (written by Anne Wynter) and old Playbills take on new life in Saturday. "There is something miraculous about how this ordinary, insignificant piece of paper can transform when glued to the page," said Mora, who fills each page with secrets for readers to discover. "To create is to be perpetually lost," Mora noted the considerable societal losses suffered in the past few years. "I deal with what I don't know with what I do know: color, collage, community and, most of all, story."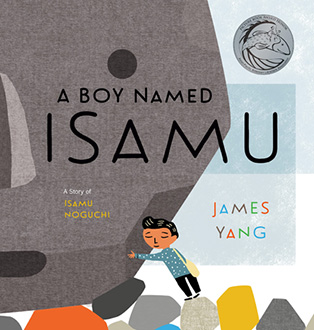 Chief Curator at The Eric Carle Museum of Picture Book Art, Ellen Keiter, traversed an illuminating conversation with author and illustrator James Yang, whose illustrations from A Boy Named Isamu: A Story of Isamu Noguchi were used as the visual theme of the Institute. Yang uses digital techniques for his artwork as he creates settings that, as he described, "look like normal places, but weird stuff happens." When his second book, Stop! Bot! received the Theodor Seuss Geisel Award, he found the confidence to see himself as an author and illustrator, and now thinks of the words and pictures in tandem.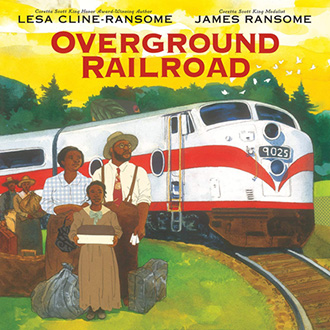 With an endearing rapport developed over their 30 years of marriage, illustrator James Ransome and author Lesa Cline-Ransome traced the many paths of inspiration that feed their work: from his childhood passion for comic books to her interest in history, the two endeavor — individually and as a team — to discover and recover stories of African American experiences. Growing up as the only Black child in the classroom, Cline-Ransome recalled history lessons where African American contributions were limited to stories of enslaved people and heroes of the Civil Rights Movement. Her books, featuring Satchel Page, Langston Hughes, and the composer Joseph Boulogne, bring forgotten histories to today's young people. "All Black stories are stories of joy, because we are still here to tell them," she said. As for the slaves depicted in his book, The Bell Rang, "They still had to live, find love, play games, and laugh," said Ransome, "to maintain their dignity, their culture, their pride, and their faith and belief that things would get better."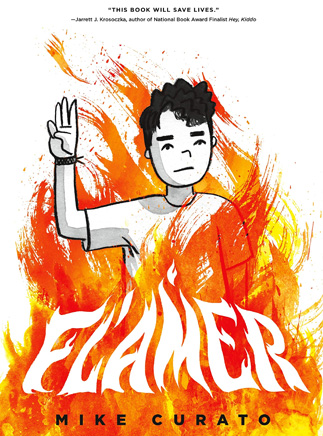 Author and illustrator Mike Curato felt lost after regular rejections from publishers and returned to children's book influences — Frog and Toad are Friends, sculptural illustrations by Chris Van Allsburg, and the enigmatic brilliance of Shaun Tan. He had been doodling a little elephant for years, and he finally decided to uncover the story of this character that lived in his imagination.The resulting picturebook series, Little Elliot, Big City, follows that little elephant through the world. Curato's first graphic novel, Flamer, is a brave exploration of a young teenager's inner conflict with identity, sexuality, and faith — a book called a lifeline by readers in our graduate programs. The book has since been challenged by book-banners who object to its frank depiction of teen sexuality and offers of self-acceptance and unconditional love for a gay teenager, thus exemplifying the power and vital importance of the work in the hands of today's children.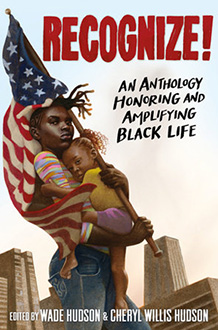 The Mary Nagel Sweetser Lecturers Wade Hudson and Cheryl Willis Hudson provided a detailed and celebratory history of African American publishing in America through slavery, segregation, and Jim Crow. In 1988, the Hudsons established Just Us Books to center Black experiences. "Black people have always fought to define themselves and tell their stories," said Hudson, as he cited the stereotypes that characterized the way Black people were seen and encouraged to see themselves. "We found it rewarding to change those negative images to reflect the truth." The Hudsons stressed that the struggle to include diversity in children's books is not new, but the need for meaningful and accurate representation persists.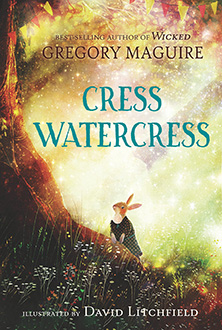 The second day of the Institute began with award-winning author Gregory Maguire '78MA, a member of the first class of the Children's Literature degree at Simmons, and a student attendee at the very first Institute some 45 years ago. In recounting his journey with his most recent novel, Cress Watercress, he tracked the animal story from fables through myth, and finally to the animal stories of Beatrix Potter. His study found that "animal humanity augments our humanity," an important calling as we contemplate environmental justice in this world. Cress, a young child in a complicated and dangerous world, suffers moods that are not identifiable or fixed, as Maguire said, she's "a bit of a mess, just like the best of us."
Author and Adjunct Faculty Anna Staniszewski '06MAMFA and her agent, author Ammi-Joan Paquette, shared their experiences writing across multiple audiences, and the pros and cons of embarking on wide-ranging projects as opposed to focusing on a niche. Distinguishing between "writer decisions" and "author decisions," Staniszewski offered sage advice for writers to foster their creativity at any point in their careers. Paquette warned against attempting to write for any particular market, noting that trends are often fleeting while the process of writing a book is not. She encouraged the audience to find "What you are passionate about. Following your passion will result in your strongest work, the freshest, the most you."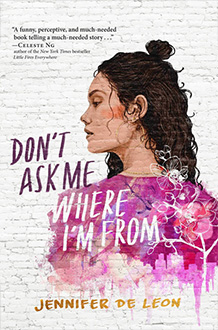 Jennifer De Leon places her first young adult novel Don't Ask Me Where I'm From at the intersection of writing and activism. She intertwined the story of two Jenns: the one who went to a predominantly white suburban school, and the one who spent weekends surrounded by her Guatemalan relatives. Asked "where are you from" by white peers and teachers but sounding "too white" to her family, she felt lost in both worlds. After an eye-opening trip to Guatemala, De Leon decided to lean into those stories of belonging in two separate places, but not fully in either, noting that "nothing would be possible without my parents' struggle to come here and allow us to do what we love."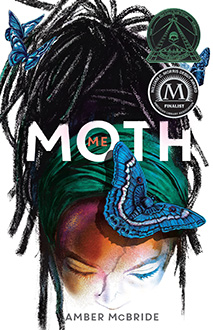 Amber McBride, debut author of Me (Moth), confided her experiences writing her young adult novel of identity and spirituality, a road trip through the past and into ancestral lands, a romance seeking truth and love. The book, written in verse, began as a way of healing from the death of her grandfather. She deepened it with knowledge of herbology and Hoodoo spiritual practices to tell Moth's multivalent story of connection and her growing awareness of the earth itself. McBride asked, "How do we find ourselves when we are the thing that is holding us back?"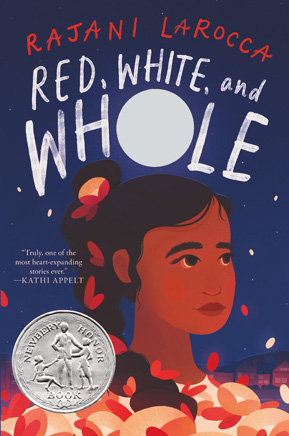 Rajani LaRocca, MD, is a practicing primary care physician and published author. Her Newbery honor-winning middle grade novel Red, White, and Whole draws from her own childhood: her budding interest in medicine, parental conflict, a love of 80's music, and the struggles of a girl caught between two worlds. "That book is rooted in true emotions," said LaRocca, who noted how particular songs powerfully evoke poignant memories. "We lose our childhoods," she said. "You can't miss something that is permanent. Loss is the other side of love — we miss it because we love it. And love is the key to finding it, again…Through music and food and sensory memories, we can lean into these things to find those we've lost."
Faculty seminars throughout the weekend included writing exercises with Michelle Cusolito and Elaine Dimopoulos '08MFA, a discussion of pandemic reading with Kelly Hager, family book clubs with Nicholl Montgomery, guidelines for writing biographies for children with Anita Silvey, and an overview of international picturebooks with Vicky Smith. Shelley Isaacson '21MAMFA served as Institute Coordinator and Frugal Bookstore, a Black-owned independent bookstore located in Nubian Square, sold books on site throughout the conference. As Professor Mercier stated in her closing remarks, "Our speakers invited us to unlose our way, to help our young people find their way as they not only seek justice, but also to experience it; to know belonging and love; to feel the thrill of achievement; to find joy even if there's pain. As a group and individually, these speakers are compasses. In following their true north, can we harness their courage and the faith to engage in making a better world?"