Alumnae/i Feature
Linking History, Archives, Family, and a Love of Books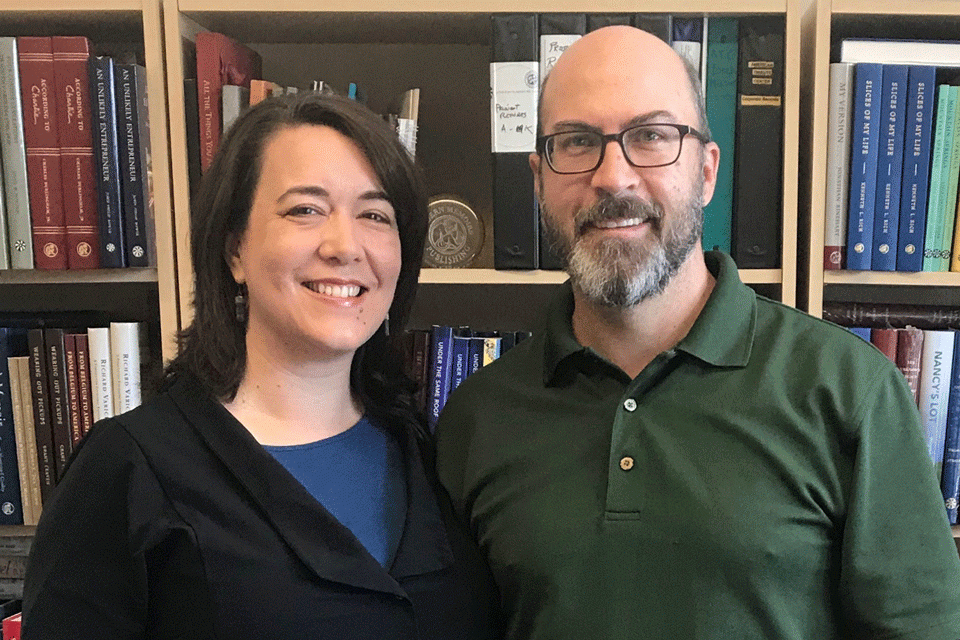 Simmons Lecturer Megan Dowd Lambert '02MA and partner Sean St. Marie '19MS have a deep interest in history, especially personal and family histories. After editing her uncle's self-published memoir, Megan came across Modern Memoirs, Inc., a non-commercial publishing company founded in 1994 that specializes in personal and family histories. Immediately intrigued, Megan contacted founder and then-President Kitty Axelson-Berry, only to learn she was retiring and looking to sell the business. "Sean and I decided this was a too-good-to-miss opportunity," Megan says.
At the time, Sean was finishing up his master's in library and information science: archives management concentration, and had worked on two collections of family papers in internships at UMass Special Collections and the Jones Library Special Collections. He immediately saw the potential for expanded services beyond the editing and publishing of personal and family histories: "We're offering 'Personal Archives Management' services."
Whether clients are preparing to downsize, donate their papers, or are managing a loved one's affairs, Sean's archival experience is well-suited to the task. While he can complete the process entirely, he can also set up systems for clients to use on their own, depending on their needs.
"I offer confidential review, preservation, organization, and digitization of photographs, documents, and other materials," he says. "I'm building on my Simmons degree and archivist training with a certification in genealogy so that I can better help clients with family history research."
The company also continues to provide commissioned and assisted memoir services. This process involves interviewing the client, transcribing the interviews, and then using the transcriptions to create the memoir text.
"For a commissioned memoir, we act as what Kitty Axelson-Berry termed 'personal historians,'" Sean says. "Our training with Kitty underscored that the heart of this work is the maintenance of the client's voice and to serve their vision."
An assisted memoir is for clients who prefer to write their own manuscripts. "We edit at the level they wish, again paying special attention to maintaining the authenticity of the author's voice." 
Both services include book design, often using client photos, captions, and materials like genealogy charts, documents, letters, translated materials, and custom maps. They guide clients through printing and binding options, and finally, have the books printed and bound and delivered to the client's doorstep. Though most clients do not wish to sell their books, Modern Memoirs works with an affiliate who can design a custom book-website, secure global distribution, and create ebooks, though they don't handle sales and marketing.
Megan earned her MA in children's literature at Simmons and has taught here since. "I've devoted a good deal of my career to studying book-design and reader-response to illustration and design, so I've absolutely loved learning more about the production side of things," she says.
Meanwhile, Sean also works up the street from the company's office as the Administrative Coordinator at the Emily Dickinson Museum, and he notes that many clients incorporate their own poetry into their memoirs.
Their shared love of books and family history has inspired Megan and Sean on this new path.
"In his retirement, my father immersed himself in genealogy research, tracing our Québécois and Acadian family history to 16th-century France," says Megan. "I'm so grateful for all he's shared with our family about our roots."
Sean's mother, a consummate storyteller, passed away earlier this year. "We make it a point to tell her stories often so we will remember all she shared with us. Our next step is to write and publish them for our family." By drawing on their experiences at Simmons, the couple is eager to help others do the same work, through whatever kind of services best serve their vision.