Alumnae/i Feature
Librarian Eileen Fontenot '14MS Combines Customer Service with Creativity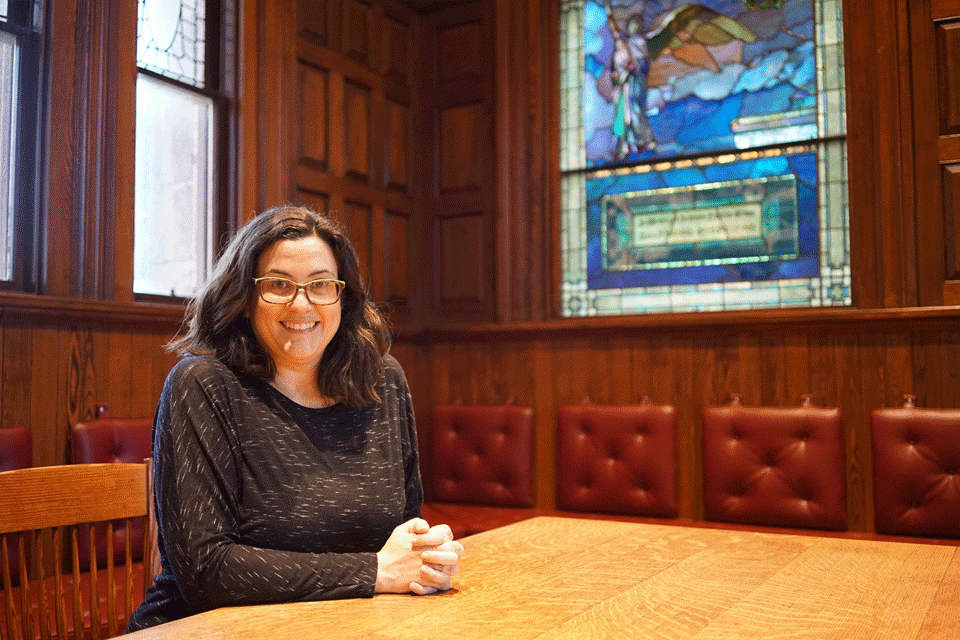 Yes, libraries are about books and knowledge, but the skills that I use every day are communicating with patrons, listening, and understanding their needs.
A librarian of all trades
As an Adult-Services-Generalist Librarian, Eileen Fontenot '14MS has created more than one niche for herself at Thomas Crane Public Library in Quincy, Massachusetts.
"I like knowing a little about a lot," says Fontenot. "Because I don't have an official specialty, I can go to my supervisors with ideas and projects and I'm thankful that they're open to suggestions."
Fontenot is the primary content creator of the monthly newsletter, program calendar, and social media accounts. Fontenot is also part of the adult programming team, co-chair the accessibility and inclusion committee, offers one-on-one tech instruction, updates the website, and helps with displays and merchandising.
Pioneering a book club for Millenials
Her favorite part of the job is hosting a book club for Millenials. "We meet at a local bar or restaurant every month to discuss a variety of genres and formats." Fontenot believes that field trips enhance the experience.
"We read The House of the Seven Gables by Nathaniel Hawthorne and went to Salem to tour the actual house," she says. "I love programming as well. Few things give me greater satisfaction as when an event comes off successfully and I hear from folks that they enjoyed themselves."
Fontenot's book club, which included meetups outside of the library and thematic field trips, was recently included in Book Club Reboot: 71 Creative Twists. 
How can current students prepare themselves for work in a public library?
"Hone your customer service skills to a fine point!" Fontenot advises. "Yes, libraries are about books and knowledge, but the skills that I use every day are communicating with patrons, listening, and understanding their needs."
Also, focus on technology and instruction skills: "Many patrons of all ages and backgrounds have low digital literacy skills. Many activities can only be done online these days, so be prepared to help folks apply for jobs, fill out health forms, and more."
Finally, she advises to develop a thick skin. "Everyone who comes through these doors has their own difficulties. If you get snapped at, just remember it's not something you've done. Reboot yourself in the moment, put on your smile, and help their day get better! Public librarianship, especially in urban settings, is not for the faint at heart. Be ready to deal with tough situations, but also protect your physical and mental health and those of your colleagues. Don't be afraid to reach out for help from coworkers, friends, or family. I also recommend keeping an eye out for physical or mental health wellness opportunities from your city, union (if you're in one), or professional organizations like MLA or PLA."