Alumnae/i Feature
Krittika Ghosh '99 on Her Commitment to Social Change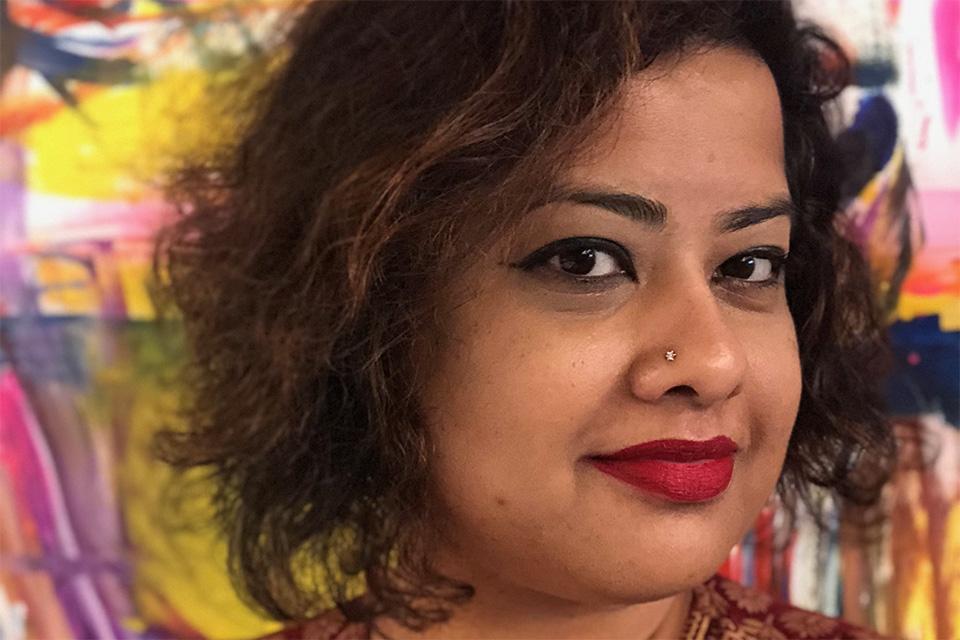 We caught up with Krittika about her career and new role as executive director of the Asian/Pacific Islander Domestic Violence Resource Project.
Tell us a little bit about your background.
After graduating from Simmons with degrees in sociology and women's studies, I moved back home to New York City. I started volunteering for local agencies that worked with immigrant women experiencing domestic violence, and domestic workers who were experiencing workplace abuse. My first job was as a program assistant at Sakhi for South Asian Women. I helped with both outreach and responding to the needs of survivors of intimate partner violence. 
Over the years I continued to work as a community organizer on post 9/11 hate crimes, specifically on intersectional issues in immigrant and refugee communities. I also managed a public health project in the South Asian community and started Shakti Peer Group, a grassroots project of new immigrant women who were trained to raise awareness of gender-based violence. I just returned to the U.S. after spending almost 8 years in Toronto, Canada where I managed a provincial program on violence against women with the Ontario Council of Agencies Serving Immigrants. I also made policy recommendations to the government as a member of the Provincial Violence Against Women's Roundtable.  
I recently joined the Asian/Pacific Islander Domestic Violence Resource Project (DVRP) in Washington, DC as its executive director. In this role I continue to expand the programs of the agency, including our recent grant from the TIME'S UP Legal Defense Fund to do work on the #MeToo campaign. We're focusing on immigrant and marginalized women, and have trauma arts therapy workshops across DC, Maryland and Virginia.  
What has been your biggest "aha" moment?
The realization that successful social change, especially when it comes to ending gender-based violence, involves change on several levels. We need changes in direct services, like engaging our communities in discussions to change beliefs and behaviors, as well as on a systemic level, where we have bills, laws and regulations that protect the interests of survivors.  
Also, in order to engage communities, it has to be done from a survivor-centric lens using creative strategies. This led me to develop a multilingual graphic novel on sexual violence last year, which has been used for outreach and education across Canada.
Finally, developing leadership skills of others and learning from their experiences will ensure the continuity of the movement.
What is your "one word" to describe Simmons?
"Illuminating" because in many ways, I discovered who I was at Simmons and developed confidence, leadership skills, life-long friends and more. I learned so much in all my classes, and that knowledge has stayed with me throughout my life. 
I was also very active in various student organizations — I was the president of both the chorale and Model UN, and it taught me immense leadership skills.
Was there ever a time you wondered if you were on the right path?
I strongly believe in the work I do. However, the non-profit industrial complex can be very challenging and at times, an abusive space, especially for Black, Indigenous, Queer, people of color, etc.
I've left abusive work places when the internal politics took more of my time and energy than my actual work. I sustained myself by doing grassroots work on my own at the same time. I pushed through because I was surrounded by amazing friends and my chosen family who were there to support and listen to me. 
What advice would you give your 21-year-old self?
Hold on to that belief in social change and your desire to transform the world. You're going to go through many challenges in life, but you'll get through it.