Alumnae/i Feature
Juliette Mayers '01MBA Wins Gwen Ifill Trailblazer Award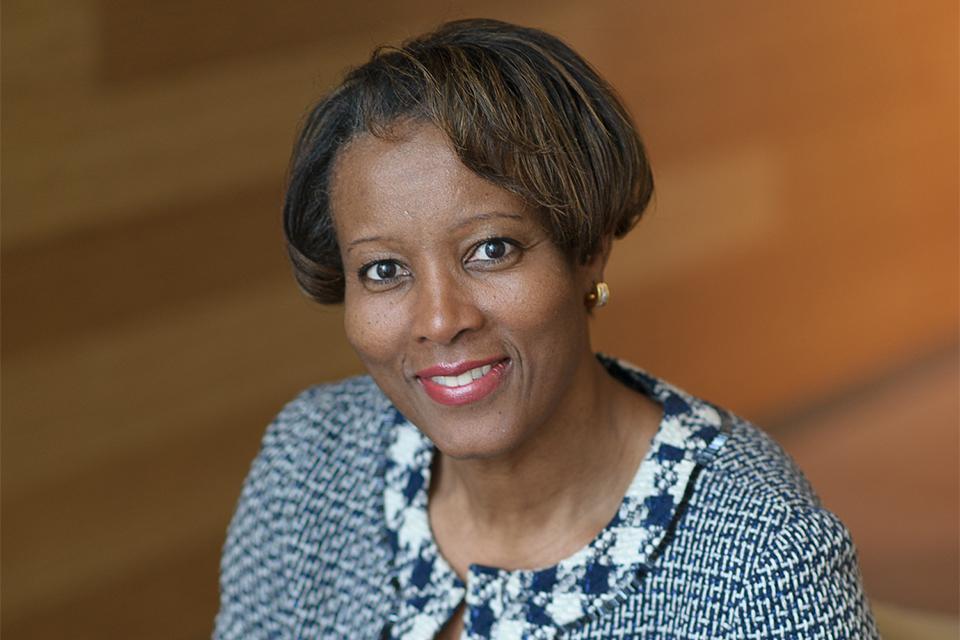 Today, Juliette is being honored with the Gwen Ifill Trailblazer Award at the Black Alumnae/i Symposium!
On winning the Gwen Ifill Trailblazer Award
I'm deeply moved, joyous, humbled and grateful to have been selected for this prestigious award named after the incomparable, Gwen Ifill. I'm an immigrant from the island of Barbados, West Indies, so Ms. Ifill and I shared a common heritage through her parents. 
As with every milestone since my mom's passing, I reflected on her life and the many sacrifices she overcame, to pave the way for me. This award is for her and for my amazing husband, Darryl, who has been a true partner in this journey called life. 
On creating Inspiration Zone
I started Inspiration Zone seven years ago and in 2014, I took the plunge to pursue my vision of being a full-time entrepreneur. Each day I live my passion by helping corporations and individuals by advising on diversity, engagement and inclusion strategies and by motivating and inspiring workforces across the country. I have the privilege of working with executives and leaders who truly want to make a difference in their lives and in their organizations. As author, consultant and professional speaker, I'm "living the dream" and working to help others achieve their highest ideals. 
On becoming an entrepreneur
Most of my career was spent in corporate America starting with GE Capital's leadership program which shaped my mindset and heavily influenced my entrepreneurial tendencies within organizations. At every company, I embraced my "change-agent" role and innovated new programs and processes. When I published my first book, A Black Woman's Guide to Networking in 2011, I needed a separate legal entity for book-related transactions and speaking engagements. I was still employed as a full-time marketing executive, so the first iteration of my company was centered around my book and the management of my corporate job and side-gig. The inspiration for the book is a much longer story, but suffice to say, it had a lot to do with reflections of my mom and a dream that had been deferred a bit too long.
On why she loves her job
I love helping others succeed. It gives me joy to receive a letter or an email thanking me for changing someone's life. That's pretty powerful—particularly, since they are the ones responsible for making the changes. 
On inspiring others
Whether its a workshop or a keynote address, the one thing I want people to take away is inspiration to take positive action. There are so many deferred dreams and so many people trying to figure out how to become "unstuck." Everyone who has worked with me knows that I have a bias for action. I think that conversations are important and at some point, there needs to be movement—steps that people will take to create a new reality. We as individuals have a lot more control over our lives than we realize. I'm thrilled when people walk away with clear action plans about what they will do next—I absolutely love it!
On her vision in one word
That's easy: Inspiration!
On career advice
The best career advice came from my mom. It's the one piece of advice that I continue to reflect on: "Never let your circumstances define you." It implies that the power is within you to define your situation—and it is!
On choosing Simmons
Pursuing my MBA was a dream and it was another first for my family. I love to learn and consider myself a perpetual student, so as a business professional, I saw the MBA as the best match in terms of the skills I hoped to strengthen. Given that I went back to school in my late thirties and with two small children, I was looking for a supportive environment. I was intrigued by the school's focus of preparing women for positions of power and leadership. Also, the one-year accelerated, full-time MBA, was very appealing. I knew that it would be a rigorous year and I have no regrets. I received two awards of distinction—one in marketing and the other in organizational behavior—I made the right choice!
Simmons played a key role—particularly in navigating my career change from the financial services sector at that time, to the healthcare industry. The support from professors, my classmates and the negotiation skills that I learned at Simmons helped to increase my confidence as a business executive.
On the woman she most admires
I'm a huge admirer of Gwen Ifill for the reasons we all loved her. However, my Mom is the woman that I most admired. She and Ms. Ifill were both resilient, forward-thinking women of integrity and women of conviction. My mom taught me to have a thirst for knowledge, even though she only had the equivalent of a 5thgrade education. She taught me to dream big, even though she struggled to make ends meet. She taught me to have faith, even when hers was tested and the storms of life seemed overwhelming. She taught me that I could be anything that I wanted to be, even when she couldn't see a clear path. She taught me to "hold my head up high" and to not allow others to define me. These lessons I hold dear, because I would not be where I am today, without her sacrifices, perseverance and commitment to charting a new path for me and my sisters.