Student Story
Juliana Gamba '20: Receiving the Ifill Scholarship is a True Honor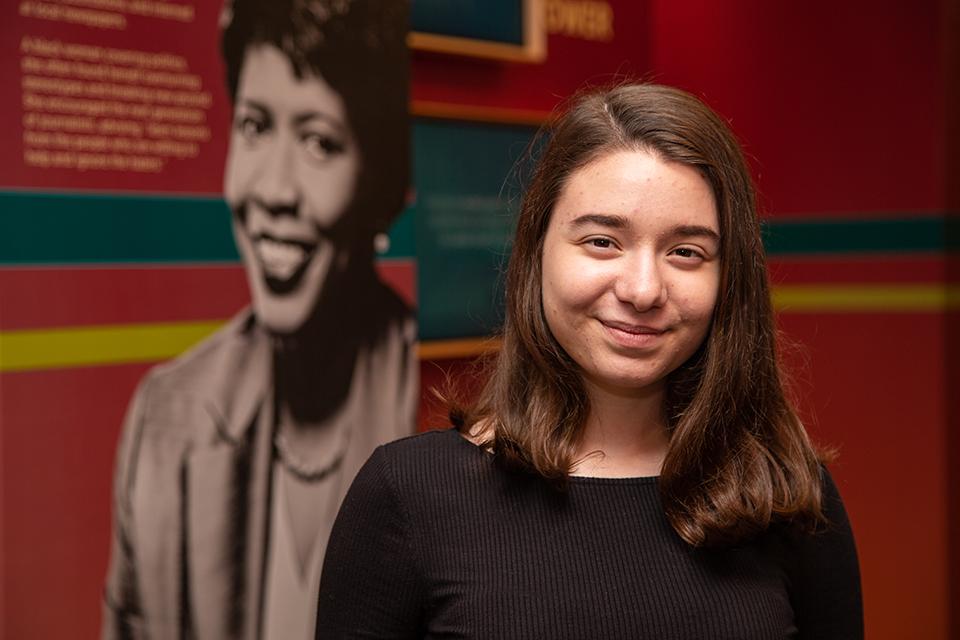 To be chosen for a scholarship that bears Gwen Ifill's name inspires me to bring that same attitude and ethic to my own work, whether it's an academic, professional, or creative undertaking.
Why did you choose to attend Simmons?
During my college search, I knew I wanted to attend a school with a community-oriented atmosphere where I would be able to build personal relationships with my mentors. I've been lucky enough to find that community in the Communications department, where I truly feel that my professors know me and care about my success and wellbeing.
What professors have helped you reach your goals?
I couldn't be more grateful to the staff and faculty for all the ways they have encouraged me and provided me with opportunities during my time at Simmons. I'm always touched by the ways Professors Erica Moura, Rachel Gans-Boriskin, and Judith Aronson go out of their way to support me academically, provide guidance, and push me to do my best both in and out of the classroom.
Dr. Briana Martino was my SURPASs mentor and is currently my academic advisor. While I came to Simmons knowing I wanted to study Communications, they are the person that truly sparked my passion for studying theory and applying it to my creative projects. Their course "The Critical Lens" is the best class I've taken at Simmons — the topics from this course have been the basis for my academic passions and self-directed learning, which I plan to continue throughout the rest of my senior year and after graduation. Professor Martino's intelligence, care, and enthusiasm for supporting my independent learning has been an invaluable part of my growth as a student.
What does the Ifill Scholarship mean to you?
Receiving the Ifill Scholarship is a true honor. Gwen Ifill is a role model for all humanities students who approach their work with dedication, pride, and a desire to do what's right. To be chosen for a scholarship that bears Gwen Ifill's name inspires me to bring that same attitude and ethic to my own work, whether it's an academic, professional, or creative undertaking.
How do you think students in the Gwen Ifill College will carry on her legacy and impact the world?
Gwen Ifill has left behind a legacy of integrity, honesty, intelligence, and determination. I not only see the students around me exhibiting these qualities through their academic pursuits, but also through the way they work to make Simmons a more fair and equitable campus. Members of the student body epitomize Gwen Ifill's values when they demand accountability, push for structural change, and pursue justice in their communities at Simmons and beyond.
What do you hope to do after graduation?
Over the summer, I had the opportunity to intern at the International Institute of New England, a nonprofit organization that offers resettlement, education, career advancement, and legal assistance programs to immigrants and refugees in New England. Through this position, I used my experience in the field of Communications for a cause I'm passionate about and personally tied to, and with an organization that I felt was playing a positive role in its community.
After I graduate, I want to continue this trajectory and find a career where I'm able to apply my passion for design and creative visual communication to social justice initiatives, especially those in the arena of Latinx visibility and immigrant welfare. In the future, I plan to attend grad school, where I want to pursue scholarly work in media studies, postcolonial theory, and Latinx cultural studies.
As you look to the future, how do you hope to connect your passion to a lifelong purpose?
My goal for my professional life is to use my skills, strengths, and passions for the purpose of social good and community wellbeing. I feel that having a well-rounded Communications education that's grounded in theory and practice means that I will have the opportunity to pursue this goal, whether my professional life leads me to a role in non-profit work, creative production, or even academia. Regardless of the long-term career I end up in, I feel it's my purpose to pay forward the guidance I've received from my family, professors, and peers, and play a role in my community where I can support and encourage the success of others.