Faculty Spotlight
Joining the Global Conversation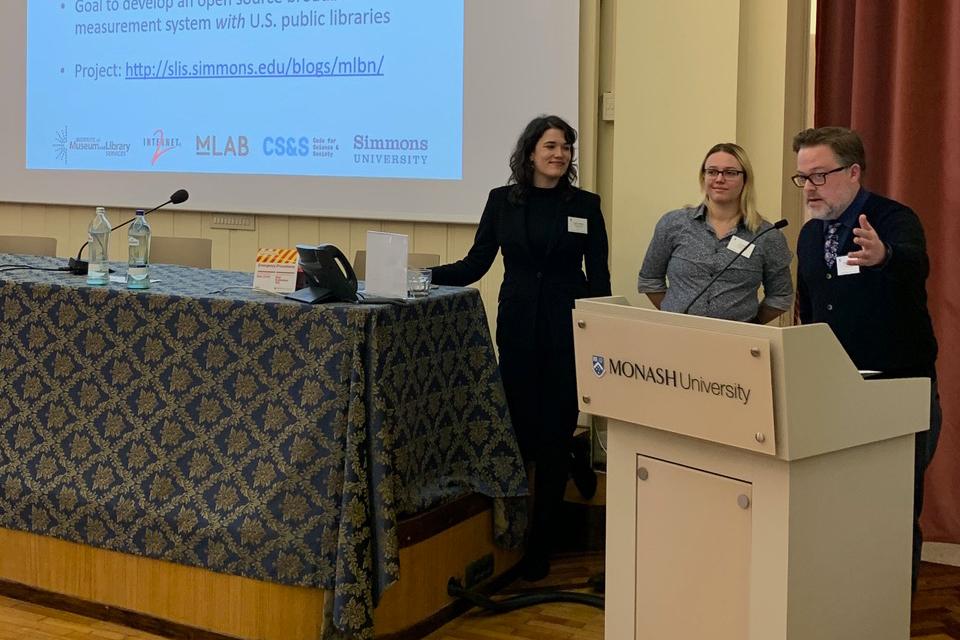 In November 2019, Assistant Professor Colin Rhinesmith and SLIS students, Jo Dutilloy '20MS and Susan Kennedy '20MS presented their research at the 17th Community Informatics Research Network Conference (CIRN) in Prato, Italy. The research project, funded by a grant from the U.S. Institute of Museum and Library Services (award # LG-71-18-0110-18), involves public libraries in developing an open source broadband measurement system, with the goal to give libraries more data about the speeds and quality of service of their library broadband internet connections.
The presentation in Italy was one small piece of this project. "The presentation was about one day of the entire two-year grant," said Rhinesmith. "That day was a workshop that we held in Chicago in 2018, at the beginning of the grant." They invited 10 libraries to the workshop — one person from library services and one from information technology from each institution, to bridge the gap between these departments.
The workshop was facilitated by Laurenellen McCann, an educator focused on civic engagement and community technology, who used participatory design methods. The analysis of these activities by Dutilloy and Kennedy led to the presentation in Italy. "We wanted to share the analysis with the community informatics audience because the participatory design methodology has been used in community informatics to involve communities in the design of technologies," said Rhinesmith.
"Leading up to the conference, we took an in-depth look at transcripts from this workshop," said Kennedy. "We were deep in qualitative coding analysis. I had done some qualitative analysis before, but there was a learning curve for me to learn this type of analysis. It's exciting that it led to actual conclusions in the paper."
The workshop discussion and the analysis have proved valuable. "We got more information about why broadband measurement matters to librarians, as well as their perspective on what their current needs are," said Dutilloy. "We were able to confirm and expand upon a lot of things that we assumed would be important about measuring broadband, with a lot of direct support that I think is really compelling. It speaks to what the project aims to cultivate in terms of community engagement — listening to the voices of library staff, administration, and patrons in creating a measurement technology and a regular form of internet speed measurement analysis."
The CIRN conference, hosted by Monash University and held in Prato, Italy, just outside of Florence, is the main international venue for community informatics research and practice. Rhinesmith has attended before and saw the opportunity for the presentation.
"The work we do fits squarely within community informatics," he said. Kennedy agreed, "I was excited that other presenters were also talking about participatory design as a very key aspect of their work. Our presentation fit in the conversation."
The topic of the conference, "Whose Agenda: Action, Research, & Politics," referenced the conversation around participatory design and who is included in the conversation. As for the students, the experience gave them a broader understanding of the topic. "It introduced us to the global informatics community," said Dutilloy. "That was the intention and the result of Susan and I going, because we're doing a lot of this work without knowing all that much about how many different kinds of research can be done."
As the federal IMLS grant cannot be used to cover international travel, Rhinesmith asked the Simmons Office of Sponsored Programs for funding opportunities. They found an opportunity for funding for students presenting research with faculty, for which both students applied and received partial funding. They also received funds from the Carole J. and Henry J. Mankin fund for SLIS faculty and students.