Alumnae/i Feature
Jennifer Gordon '02MS Wins Milken Educator Award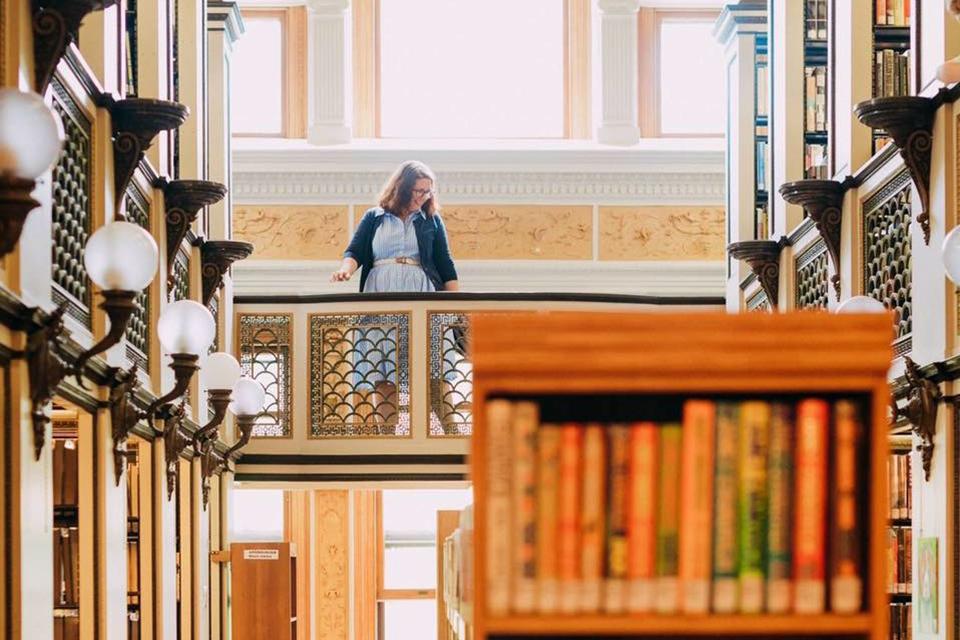 I'm in my career because of Simmons!
Credited for making the library cool again, Jennifer tells us what it was like to win this $25,000 award.

On pursuing library science
I've wanted to be a librarian ever since I was a kid. I used to draw check out cards in the backs of my books and would make friends and family check them out. Reading has always been my favorite pastime, but I never realized that going to school to be a librarian was something people could do. 
I went to college as an English major and was in my last year, unsure of what to do after graduation. One of my part-time jobs was assisting in the Writing Center and my boss just threw, "Why don't you go to school to become a librarian?" at me. It clicked — like one of those cartoon characters getting hit in the head with a brick. I applied to Simmons that day.  
On attending Simmons
I'm in my career because of Simmons! I was in my first semester and hadn't settled on a direction yet when I found a job listing in that trusty jobs/internships binder for my current position at Benjamin Banneker Charter Public School. I applied, got the job, and fell in love with working in a school library — specifically THIS library. I've gone back to Simmons since graduating to take a few more classes, work on my practicum, get certified, etc. 
On her rewarding work
I find this position most rewarding when kids are excited about reading, getting good books into their hands, reading with other students — everything. There's nothing better than a class getting upset when you've stopped reading at a good part because it's time for them to leave. I love it when they bargain to come in for recess so they can keep reading, or when kids have release dates of books memorized and they're chomping at the bit to read it first. It's also amazing when they demand an old favorite that they've read every single week for the last two years because it makes them happy. I love that my kids love books.  

On winning the Milken Award
I was shocked to win the Milken Award — I'm STILL shocked. When you think the day is going to go one way (setting up for an assembly, prepping for a reception for the Commissioner, rearranging classes, etc.) and it ends up with you winning an award and being featured on the news? Surreal city! But it's really so wonderful for my school and my profession to be acknowledged like this — I'm beyond honored.  
On making the library cool again
I think that my enthusiasm for books and reading goes a long way — when I love a book, they almost always end up loving that book. We also do a lot of hands on activities in the library. I try to tie my makerspace projects to STEAMS (science, technology, engineering, arts, mathematics, and social studies) and I'm a firm believer in physically creating something. We're constantly building things with different materials, I have a collection of cardboard just in case we need or want to construct something, and the kids love it. I have the added benefit of working with students outside the library in reading groups, our school band, and our Adventure Club, as well as during recess and lunch duty.
In a world that's so driven by technology, I love that my students still love physical books. They cannot wait for new books to arrive, we love pouring over illustrations, anticipating the new read — it's so awesome to see.