Announcement
Jenna Bush Hager and Mindy Kaling to Keynote 42nd Annual Simmons Leadership Conference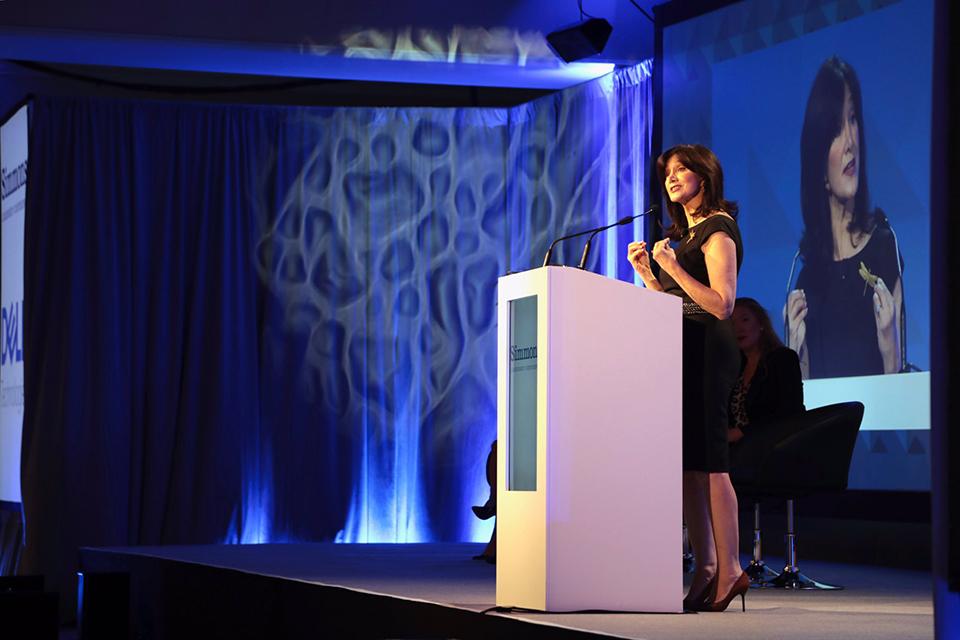 This has been a challenging year with the global pandemic, and we are grateful to have the opportunity to expand access to this powerful conference that will enable individuals to engage, connect, and come away feeling inspired.
— Simmons University President Lynn Perry Wooten
Simmons University today announced that registration is now open for the 42nd annual Simmons Leadership Conference, the preeminent women's leadership forum, which this year will feature keynote addresses from Jenna Bush Hager, co-host of TODAY with Hoda and Jenna, and actress, writer, and producer Mindy Kaling.
"The theme of the virtual conference, 'Resilience and Authenticity,' underscores characteristics that have been essential to courageous and inventive leadership during these extraordinary times," said Susan MacKenty Brady, CEO of the Simmons University Institute for Inclusive Leadership. "Our speakers will share their personal stories and the techniques that have helped them to survive and thrive in their personal and professional lives. Through Q&A with our exceptional speakers, shared wisdom from our business panels, and networking with other women leaders, the conference affords formal and informal ways to connect and build relationships."
The conference event will be held on March 23 (9 a.m.-2:15 p.m. EST) and feature more than a dozen speakers and panelists. For the first time, the conference will also expand the one-day program through a "Signature Session" series – highlighting one thought leader each Tuesday in April. Attendees will have access to each of these four, one-hour interactive Signature Sessions, which will take place from 12-1 p.m. EST on April 6, 13, 20, and 27, and also be available through video-on-demand for 90 days following the conference.
The Simmons Leadership Conference is the longest-running leadership forum in the nation, inspiring more than 100,000 leaders from across the globe for 42 years. The virtual format of this year's event, which is not constrained by the limits of a physical facility, makes it possible for more individuals – approximately 6,000 participants – to participate and connect. Register here.
"Our mission at Simmons University is to educate and empower the next generation of women leaders, and we are excited to showcase the tremendous resiliency, innovation, and leadership of these prominent women," said Lynn Perry Wooten, president of Simmons University. "This has been a challenging year with the global pandemic, and we are grateful to have the opportunity to expand access to this powerful conference that will enable individuals to engage, connect, and come away feeling inspired."
The conference is an offering of the Simmons University Institute for Inclusive Leadership, which is an emerging authority on the intersection of leadership, equity, and inclusion – with an emphasis on developing the mindset and skills of leaders at all stages of life so they can foster gender parity and cultures of inclusion. This year, the Institute will honor Simmons University's eighth president for 12 years of distinguished service by presenting the inaugural Helen G. Drinan Visionary Leader Award at the Leadership Conference.
'Resilience and Authenticity,' underscores characteristics that have been essential to courageous and inventive leadership during these extraordinary times.
March 23 Conference – Notable Speakers and Moderators
Co-host of TODAY with Hoda and Jenna, Jenna Bush Hager, is the chair of UNICEF's Next Generation, dedicated to reducing the number of preventable childhood deaths around the world. She has traveled throughout Latin America and the Caribbean with UNICEF, where she has seen firsthand the plight faced by the disadvantaged. She co-authored the bestseller, Sisters First, with her sister Barbara Pierce Bush, and she has written two children's books with her mother, Laura Bush.
Mindy Kaling first gained recognition for her work on The Office, in which she acted and served as a writer, executive producer, and director. For her work on the series, she was nominated for Emmys for Outstanding Writing in a Comedy Series and five times for Outstanding Comedy Series. She created, produced, and starred in the comedy series The Mindy Project, and has created other popular shows including Champions, Four Weddings and a Funeral, and Never Have I Ever.
Named to Fast Company's League of Extraordinary Women, Tiffany Dufu is the Founder and CEO of The Cru, a peer coaching platform for women looking to accelerate their professional and personal growth. Her memoir, Drop the Ball, shows women how to cultivate the single skill they most need to thrive: the ability to let go. 
Whitney Johnson is the CEO of WLJ Advisors and has been named by Thinkers50 as one of the 50 leading business thinkers in the world. She is best known for her work on driving corporate innovation through personal disruption. Johnson is a popular contributor to the Harvard Business Review. Her Linked course, "Fundamentals of Entrepreneurship," has been viewed more than 1 million times.
Distinguished as Oprah's "All-Time Favorite Guest," Dr. Tererai Trent is a scholar, humanitarian, motivational speaker, educator, mentor, and founder of Tererai Trent International (TTI). TTI's mission is to provide universal access to quality education to children regardless of their gender or socio-economic backgrounds, and also to empower rural communities.
Emmy award-winning journalist Joyce Kulhawik and Susan MacKenty Brady, CEO of the Simmons University Institute for Inclusive Leadership, will serve as the conference co-hosts. Conference moderators are Lynn Perry Wooten, President, Simmons University, and two executives with the Institute for Inclusive Leadership: Kerry Seitz, Vice President, Women's Leadership, and Elisa van Dam, Vice President, Allyship and Inclusion.
Signature Sessions
April 6, noon-1 p.m. EST – Dr. Margie Warrell is a bestselling author and global authority on courageous leadership. She is a member of the advisory board of Forbes School of Business & Technology and an honoree of the Women's Economic Forum. Warrell has led "courage-building" programs with organizations including NASA, Google, Deloitte, Dell, Abbot, UN Foundation, AstraZeneca, and Salesforce.
April 13, noon-1 p.m. EST – Dr. Neha Sangwan, an internal medicine physician, combines the science of medicine with the art of communication to improve productivity and outcomes. She has pioneered programs that measurably improve metrics related to culture transformation, employee engagement, productivity, provider-patient communication and client satisfaction. She is the author of Talk Rx: Five Steps to Honest Conversations that Create Connection, Health and Happiness.
April 20, noon-1 p.m. EST – Angela Duckworth's TedTalk, "Grit: The Power of Passion and Perseverance," has 22 million views. She is the Founder and CEO of Character Lab, a nonprofit whose mission is to advance scientific insights that help children thrive. She is the Rosa Lee and Egbert Chang Professor at the University of Pennsylvania, faculty co-director of the Penn-Wharton Behavior Change for Good Initiative, and faculty co-director of Wharton People Analytics.
April 27, noon-1 p.m. EST – Ally Love is the CEO and Founder of Love Squad, the in-arena host of the Brooklyn Nets, Peloton Instructor, adidas Global Ambassador, and model. Love uses her influence to celebrate and champion diversity in race and culture through conversation and sweat. Love Squad supports conversations and change through moderated panels and open discussions around women empowerment.