Alumnae/i Feature
Jane Carney '17 Supports Living Artists as Art Consultant at Boston Art, Inc.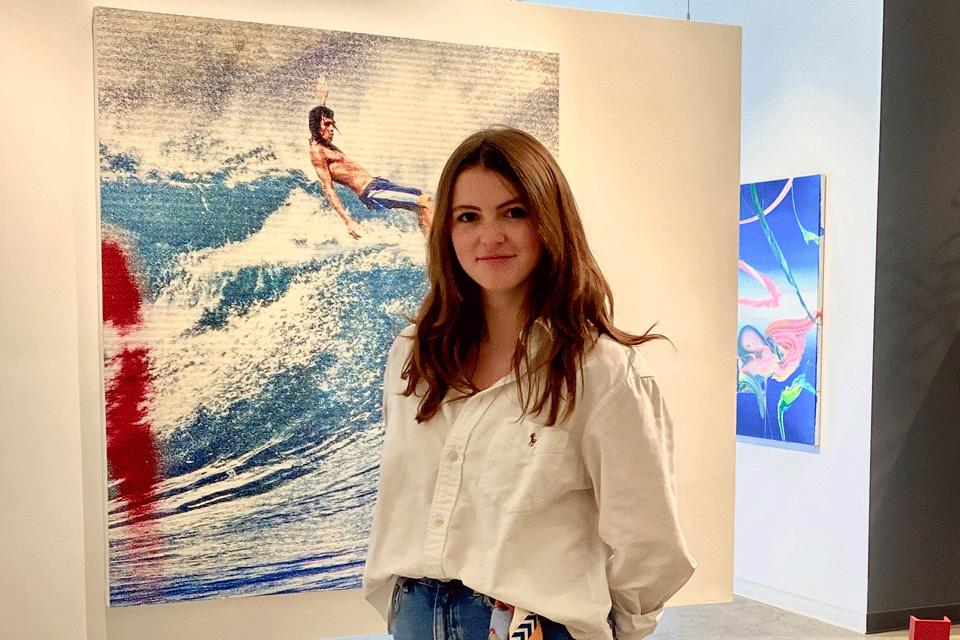 What led you to study Arts Administration at Simmons?
I had been exploring a science-based career, and Simmons has a great Environmental Science program. My first semester I took one Introduction to Arts Administration class with Director of the Arts Administration Program Heather Hole, which included tours of different art institutions in Boston, like the Museum of Fine Arts, Skinner Auction House, and the Boston Ballet. We met with people from every sector. At Skinner we met with a Simmons alum who was the auction administrator, who told us how she sets up the showroom, manages clients, registers people for the auction — definitely a high stress environment.
After that class I went to Prof. Hole and said that I wanted to work at an auction house. She set up one-on-one meetings for me with the alum at Skinner and I ended up working there throughout college. Simmons creates tangible contacts that you can turn into a career. Prof. Hole loves to build networks. I changed my major within two weeks of starting that class. I grew up in a family committed to the arts, but I didn't know that you could have a career in the arts without being an artist. Arts Administration is a great way to explore that passion and develop an understanding of what it means to be in the art world.
Tell us about your current role at Boston Art, Inc.
While at Simmons I attended the Arts Administration Institute in New York City, which is basically a hyper-collaborative version of that introduction class, where we toured around New York institutes, met with curators at the MET and conservators working on old master's paintings. Every single day of the summer was filled with "what's behind the curtain," from the New York City Ballet to Broadway. It was an amazing experience, and I decided that I needed to stay in New York for a while.
I did a preliminary interview at Sotheby's Institute of Art. I remember a faculty member, Jaclyn Kain, had a poster of Sotheby's master's program in her classroom, and I had wondered what it was like to go to a school at an auction house. Faculty in the Art and Music department coached me through the process of getting into the program. I worked at Christie's while completing the degree at Sotheby's, and lived in New York for five years.
I've found that the hardest part of working in the Arts is to do what you love but also make a sustainable living. When I was ready to move from New York, I wanted to find a place that would allow my career to grow. The right next step, not just a step. Finally, Boston Art, Inc. had an opening for an Art Consultant. I was hired the day of my interview and have loved it ever since. Prof. Hole has brought students to visit me at my work. They seem so excited to get their career started, and I remember that feeling!
Tell us about your role as an Art Consultant.
Essentially, I assist clients with the purchase of artwork, whether that means curating the collection for a massive hotel, or helping a large corporation with a strategy to build an investment portfolio and argue why it will grow in value over time. I also assist private clients purchase artwork for their home, some with budgets of just a couple hundred dollars.
In this role I see all areas of the market; currently, 90% of my sales are from living artists. Supporting living artists in the Boston area means the artists we love who, who make our world colorful and interesting, can earn a living from their art. The art world in Boston should not be overlooked! The Institute of Contemporary Art will present an exhibition at the 2022 Biennale di Venezia, which is one of the world's most important art fairs. Boston provides a vibrant art scene, and the program at Simmons is well connected to that scene.
How did Simmons prepare you to become a leader in your field?
I think the best skill that Simmons taught me was to just go and ask questions. People in the field want to talk about art. If a student approached me I would say, let's get coffee! Simmons alums want to bring you along because they want to see other Simmons alums out in the field. Your network will carry you through life and you can build some amazing friendships through it too, as well as professional connections.
Once you enter the Boston art world, everyone knows each other. It's really easy to liaise between places. Visit galleries on Newbury Street, and artist studios in the South End of Boston. Attend the annual Open Studios in Jamaica Plain, where the artists are sitting there waiting for someone to talk to about their art. It's also a great way to buy art directly from the artist.
Any advice for students interested in working in the arts/arts administration?
Try it all! Give yourself the opportunity to explore. Enter arts administration as an internship while in school, low stakes. It's a great chance to build your own knowledge of what you love. When I started at Christie's I thought I wanted to work with "blue chip" art: household names everyone knows with million dollar price tags and sales that make headlines. When I got there, I found that it could become stale very quickly. Monet doesn't know that you sold his artwork, and artists often do not directly profit from those sales. That was a big wakeup call for me and inspired my move into contemporary and emerging art and working with living artists.
Favorite museum?
I have tons of favorites for all different reasons! My most transformative museum and exhibition was at the MFA. As a freshman, I found a work-study position in their education department. My job was to run up to patrons leaving exhibits to conduct on the spot surveys. At the time, it was totally out of my comfort zone to approach strangers and talk about art! The Simmons alum who trained me had held the same work study job all four years, she told me to lock this position down because I would learn so much. She suggested I schedule some hours early in the morning or late at night, so I could walk through the museum alone. I would walk through the Impressionists exhibit at 7 a.m., spending time alone in those halls. In my art history classes I was learning about Manet and Degas, and getting to marry that whole feeling together with the art itself was inspirational. The MFA is a state of the art institution. I would wander the museum from 7 a.m. to 9 a.m. and then walk over to Simmons for classes.