Announcement
The Investiture of Dr. Lynn Perry Wooten, Ninth President of Simmons University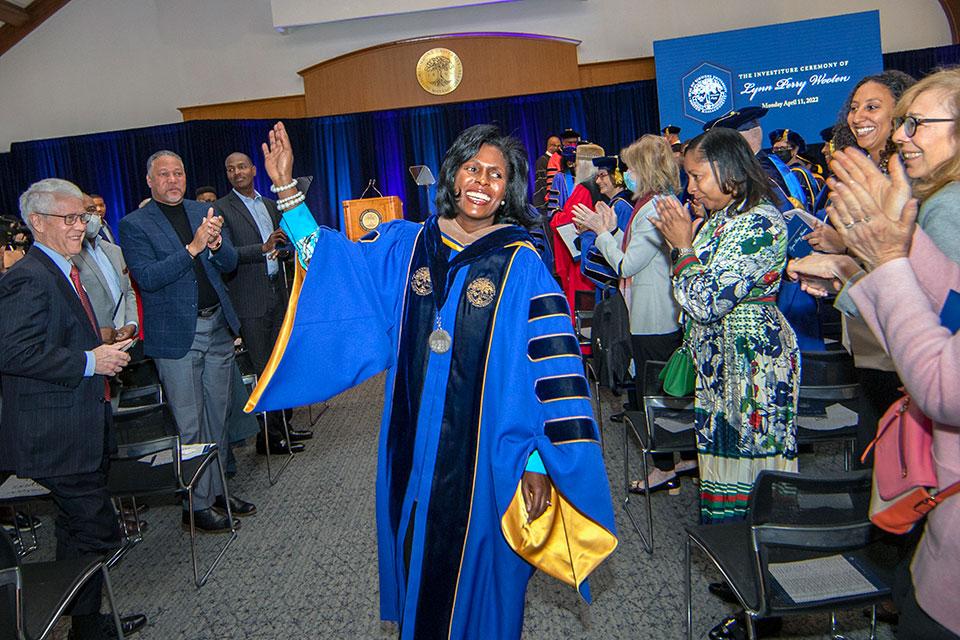 While I do believe in humility, Simmons should no longer be content to be quiet. This is our moment we have much to be excited about. It is time to tell the Simmons story - our collective stories - loud and proud. - President Lynn Perry Wooten
Students, alumni, board members, colleagues, family and friends convened both in-person and virtually for the Investiture of Dr. Lynn Perry Wooten on Monday, April 11. Wooten is the ninth president of Simmons University, and the first African American to serve as president. 
The investiture ceremony, which took place in the Linda K. Paresky Conference room, began with an academic procession of faculty. The crowd was greeted by cellist Patrice Jackson, who performed "Julie-O" by Mark Summer, followed by vocalist Uzo Ngwu singing the Black national anthem, "Lift Every Voice and Sing." Faculty in the audience could be seen mouthing the words as she sang. Reverend Julie Johnson Staples offered an Invocation to open the spoken remarks, followed by Regina Pisa, Chair of the Simmons University Board of Trustees, who exclaimed, "President Wooten, we have been waiting for you for 120 years." 
Others may feel the same, given how Wooten's presidency began. She joined Simmons in the summer of 2020, at the height of the pandemic. By the time of her official investiture, she has been president for 22 months. This likely bolstered the feeling that, as Pisa expressed, this event was a celebration for the entire Simmons community. Pisa praised Wooten's passionate dedication to her work, with mentorship at the heart of her leadership practice. "President Wooten is convinced that the world needs Simmons University, and she inspires us to believe that, too." 
U.S. Senator Edward Markey noted that he was recently in Washington, D.C. to celebrate the appointment of Ketanji Brown Jackson, the first African American woman to serve on the Supreme Court. "What an honor it is to celebrate these two firsts," said Markey, "and to witness history in the making." He quoted poet Amanda Gorman in his remarks, and acclaimed Wooten for her scholarship, strategic skills, courage, and commitment to diversity, equity, and inclusion. "Starting a presidency at Simmons in the middle of a pandemic was no easy feat, but you rose to that challenge," said Markey. "By your example you will empower the next generation of social justice champions. Congratulations, and here's to making history." 
Before Simmons, Wooten was the David J. Nolan Dean and Professor of Management and Organizations at the Dyson School of Applied Economics and Management at Cornell University. An innovative leader, author, and presenter, she is the author of two books, Positive Organizing in a Global Society: Understanding and Engaging Differences for Capacity Building and Inclusion (2016) and Leading Under Pressure: From Surviving to Thriving Before, During, and After a Crisis (2010), and has provided leadership development and training for a variety of institutions, including the Kellogg Foundation, Harvard University's Kennedy School, and Google.
Virtual congratulations were offered throughout the event in pre-recorded messages from U.S. Senator Elizabeth Warren, U.S. Representative Ayanna Pressley, and Boston Mayor Michelle Wu, as well as various alumni and colleagues from the Colleges of the Fenway, including Jennifer Eckert '08MSW, Janet Foutty (co-author of Arrive and Thrive: 7 Impactful Practices for Women Navigating Leadership with Wooten and Susan Brady), Sandi Fenwick '72, Lauren Brisky '73, Professor and Dean Emerita Betty Rawlins '67 '03HD, Executive Coach Rob Kramer, Judy Habib, Enna Jimenez '91 '06E, City Councilor Priscilla Kenzie Bok, Executive Director of the Colleges of the Fenway Claire Ramsbottom, and Alexia Hudson-Ward '18MS. Grammy nominated jazz vocalist Nnenna Freelon '79 performed Nina Simone's "Feeling Good," and Wooten's daughter Jada shared, "You are truly a woman who does it all and in doing so exemplifies black girl magic."
Wooten's colleague, Dr. Dwight McBride, President and University Professor at The New School in New York City–another "COVID President" who took the role during the pandemic–praised Wooten's leadership and intellect, stating "I cannot imagine a person who more embodies this vision of Simmons than President Wooten." He noted that, as the first Black president of the University, "Some will expect Lynn to prove, every day and in every way, her worthiness for this role. She will work hard to turn those challenges…into opportunities. That is the price for People of Color in leadership."
Erika James, Dean and Reliance Professor of Management and Private Enterprise, at the Wharton School of the University of Pennsylvania, a close friend and colleague of Wooten's, became emotional while addressing Wooten's family. "Each of you have contributed to her life in precisely the ways that led her to this calling. Your love and support have prepared her for this day as a university president."
Faculty Senate President Geoff Turner offered remarks on behalf of the Simmons faculty, and undergraduate student Tabytha Smith '23 recalled her own struggles to find her place as a girl in the world of computer science–until she came to Simmons. Next semester, she starts an internship at Boeing. "When Simmons leads, we become the representation we desperately wanted to see as kids." Graduate student Dante Turrell Davis, Jr. '24, a first generation college graduate, shared why he chose Simmons for nursing. "What do you do when you are passionate, even when it's painful? I chose Simmons because it provides the space to run after your destiny." He offered words of encouragement directly to President Wooten, "We believe in you. We believe that you will build upon the foundation of those who have come before you. President Wooten, when you lead, Simmons leads." 
The keynote speaker, Cornell University President and Professor of Computer Science, Information Science, and Linguistics, Martha Pollack, focused on Wooten's scholarship in the area of crisis management, inclusion, and organizational effectiveness. "A core part of Simmons isn't just diversity, equity and inclusion, it's belonging," noted Pollack. "I know that [President Wooten] will lift all of Simmons as you climb together to new heights." Robert Ifill, Vice-Chair of the Simmons Board of Trustees, recalled, "fifteen minutes into our first conversation, I was all in. I'm just glad that you use your powers for good." Alondra Bobadilla, Boston's first youth poet laureate, read an untitled poem about collaboration within the community, the "collective model of growth," extending the metaphor of lifting while we climb. After which, Pisa officially invested Wooten as the ninth president of Simmons University, and Ifill placed the medallion around her neck.
Smiling at the applauding crowd, Wooten began by thanking her family and friends in attendance, either in-person, virtually, or in spirit, addressing their personal and professional impact on her life. She shared the African Proverb, "every success has a foundation," and shared how her foundation began with her family, her community, and her own college experience. "I love college! I really do," she said, shouting out to former classmates in the crowd. "Because of my extensive experience as a college student, graduate student, faculty member, parent paying tuition, dean, and University president, I know the transformative power of higher education." In spite of unforeseen challenges, she looks back on the past 22 months as a testament to passion and resiliency. 
Simmons graduates are "healers and helpers, learners and doers, making the world a better place," said Wooten. "While I do believe in humility, Simmons should no longer be content to be quiet. This is our moment we have much to be excited about. It is time to tell the Simmons story - our collective stories - loud and proud." She announced the Jennifer Eckert Center for Leadership and Engagement, to support faculty scholarship, and Simmons University's inclusion in the Bonner Network, supporting first generation students and, in turn, their communities. "We also have to continue our commitment to becoming the most inclusive campus," she said, emphasizing the importance of experiential equity. "If one does not lead inclusively, one is not leading at all."
The event concluded with Patrice Jackson's performance of her original composition, "Bach Blues," and remarks from Priyal Goyal '14, a member of the alumni association executive board, followed by a final benediction from Reverend Mashod Evans, senior pastor at the Bethel AME Church in Ann Arbor, Michigan, who described the Investiture as "a match between a leader and a community."