Faculty Spotlight
The Importance of Supporting Artists with Space and Time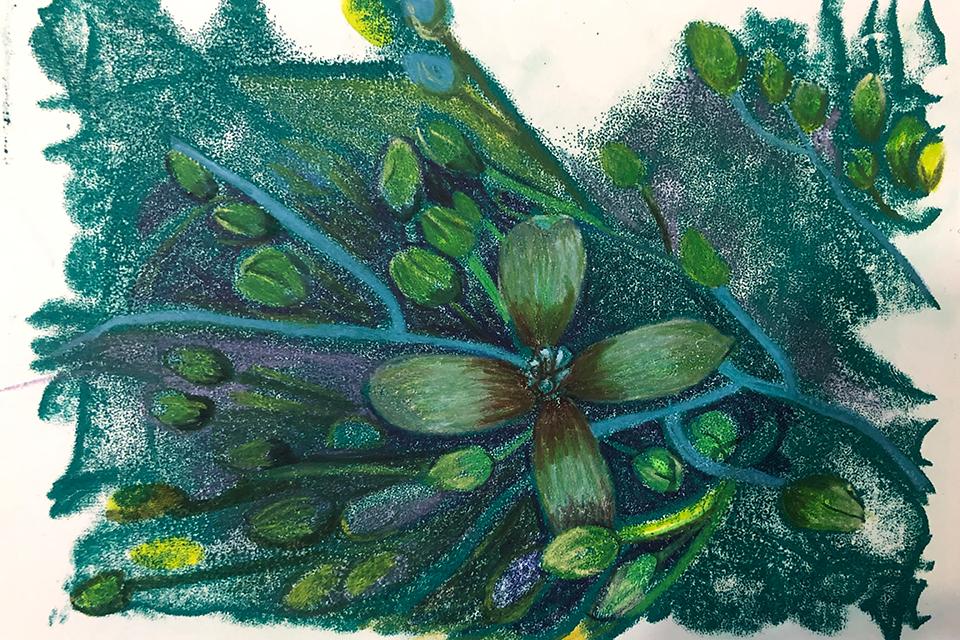 This work is good for your soul — to write, to draw, to sing, to dance — to do those things that may not earn a living but make life richer.
Associate Professor Ellen Grabiner selected for a fellowship at the Virginia Center for the Creative Arts.
Communications Associate Professor Ellen Grabiner earned a fellowship at the Virginia Center for the Creative Arts (VCCA). VCCA selects writers, visual artists, and composers from around the world to be hosted at their facilities in Amherst, Virginia and Auvillar, France — it has hosted over 6,000 fellows since its founding in 1971. The fellows are given time and studio-space to devote to their work. 
Grabiner, who was a fellow at VCCA in 1996 and 1998, says, "It's an amazing place. An old farm in the middle of nowhere in the Shenandoah mountains. They converted barns and other outbuildings into studios. It's multidisciplinary — last time there were composers working on their pianos as well as writers and visual artists."
Fellows are assigned a studio that supports their work, a dorm room for sleeping, and all meals are provided. "They used to bring lunch pails to your studio so you could work right through if so inclined," says Grabiner. Nearby Sweet Briar College has an arrangement with VCCA so fellows can use the pool, gym, and library.
"You get into a rhythm," Grabiner says, "have breakfast, go to the studio, or maybe take a walk, take photos, go to a thrift store in town. One night we went disco bowling. In the evenings sometimes artists read their work or show their slides. It's a wonderful, privileged experience. The only thing you have to do on your own is your laundry." 
Grabiner, who teaches visual communication at Simmons, is currently on a year-long sabbatical until September 2020. During the fellowship, she will focus on her creative work. "I've been intermittently working on a memoir over the past ten years about being a lesbian mother, and I'm now converting that text into a graphic memoir. I've got the first chapter done and it's taken me many years to get that far. I'm hoping the time I'm there [at VCCA] to really focus and make some headway on the next chapter. But at the same time I'm always drawing in the background so that may also happen as well." 
Her process for the multimedia memoir includes creating a storyboard for each chapter, then sketching on tracing paper and scanning these drawings into the computer. She draws on her iPad and downloads images to include in her work. Each page is a mixture of drawings, photos, and text. 
"For example, the first chapter is about my father, who worked in my grandfather's luncheonette," says Grabiner. "I have one of those old malted milk machines — old and big and clunky and wonderful — and I've included a photo of it in that chapter."
"I'm fortunate to teach things that I'm excited about and engaged in, but teaching is all-encompassing. During this break, I could spend the whole day in the studio." Grateful for the time to focus on her work, Grabiner is open to learning new techniques. "In June I took a workshop at the Provincetown Fine Arts Workshop, which combined using photoshop and woodblock printing. I've never done woodblock printing, and since then I've been exploring all kinds of printing — gelli prints, mono prints — it's been exciting. I do a lot of work digitally, I'm on the computer a lot. Computers are so exciting in what they can accomplish, but I start to miss the tactile, physical part of art-making."
That said, teaching often fuels her creative work. This past year, Grabiner created a learning community called "Word and Image" with English Professor Lowry Pei, who teaches non-fiction writing. They held a seminar where students looked at doing work with words and images and explored the strengths and challenges of each.
"I'm pushed to learn new things and to share with my students what I'm learning and what I'm focusing on," Grabiner says. "Inevitably my students do things that blow me away and send me back to the studio inspired. There is a definite give and take there."
Grabiner acknowledges the pressure this generation of students faces professionally. "They are driven and focused on getting jobs. There's not much wiggle room for them to play and explore, so I encourage them to try in spite of all the pressure and loans they have to pay back. This work is good for your soul — to write, to draw, to sing, to dance — to do those things that may not earn a living but make life richer."