Campus & Community
Hispanic Heritage Month 2023: Celebrate with Latinx Literature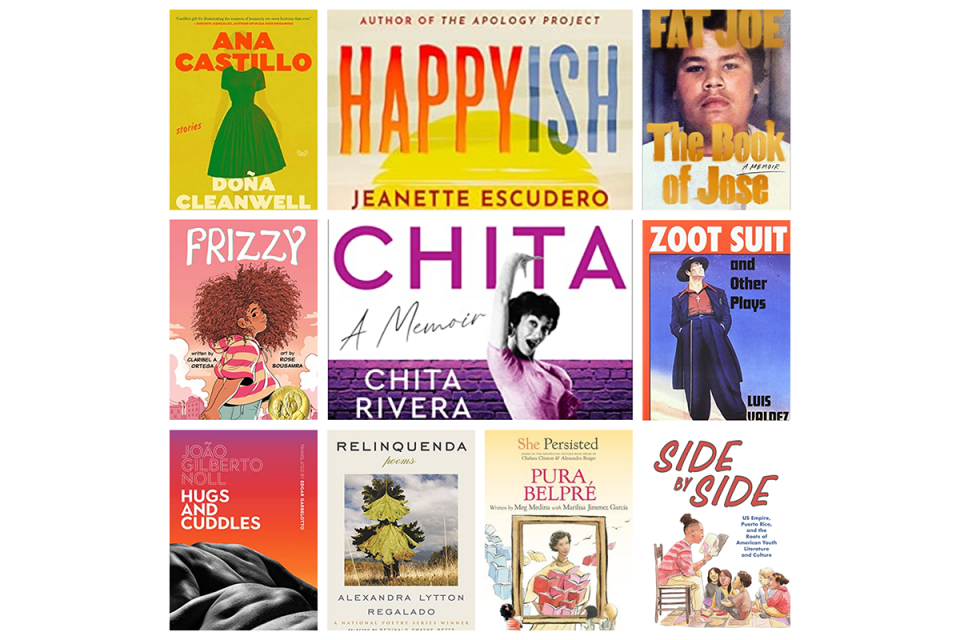 Hispanic Heritage Month, honored annually from September 15 through October 15, acknowledges the meaningful contributions and diverse histories of Latinx individuals and cultures. This year's theme is "Latinos: Driving Prosperity, Power, and Progress in America." To get the celebration started at Simmons, we have compiled a reading list of plays, novels, short stories, biographies, memoirs, children's books, academic monographs, and poetry collections by Latinx authors. Happy reading!
Fat Joe [Joseph Cartagena], The Book of Jose (ROC Books, 2022). As America honors the 50th anniversary of hip-hop, we would do well to celebrate the contributions of Latinx hip-hop legend "Fat Joe." Born Joseph Cartagena to Puerto Rican and Cuban ancestors, he grew up in the housing projects in the South Bronx. Amid the drugs and violence of his surroundings, he found friendship and art. In his autobiography, Fat Joe reconstructs a life punctuated by tragedy, inspiration, and innovation.
Ana Castillo, Doña Cleanwell Leaves Home (Harpervia, 2023); Spanish edition: Doña Cleanwell se va de casa (HarperCollins Espagnol, 2023). Known for her innovative perspective on Chicana feminism — which she has coined Xicanisma — Mexican-American writer Ana Castillo is one of the leading voices in literary portrayals of the Latina experience. This story collection delves into the complex lives of Latinx individuals, some of whom come of age during anti-war protests, second-wave feminism, and immigration in the 1960s.
Jeanette Escudero, Happyish: A Novel (Lake Union Publishing, 2022). In this book by an award-winning Cuban-American author, recent divorcee Alex Martinez receives a devastating medical diagnosis. She then embarks on an impulsive voyage to Costa Rica, Puerto Rico, and beyond, exploring how to find happiness and interpersonal connection in the face of grief and uncertainty.
Meg Medina and Marilisa Jiménez García, She Persisted: Pura Belpré (Penguin Random House, 2023). Featuring an introduction by Chelsea Clinton and illustrations by Alexandra Boiger and Gillian Flint, this children's chapter book narrates the life of Pura Belpré, a Puerto Rican librarian and author who introduced Spanish literature into the New York Public Library system. She is also the namesake of the Pura Belpré Award. Established in 1996, this award acknowledges the work of Latinx writers and illustrators who celebrate their culture in literature for children and youth. Co-author Jiménez García is an Associate Professor of Children's Literature at Simmons who specializes in Latinx youth literature and culture.
Marilisa Jiménez García, Side by Side: US Empire, Puerto Rico, and the Roots of American Youth Literature and Culture (University Press of Mississippi, 2021). Winner of the Children's Literature Association's annual book award, Side by Side explores youth literature and culture as a means to comprehend the complex contours of power relations between Puerto Rico and the United States. As Simmons Associate Professor of Children's Literature Jiménez García writes, "representations of closeness and universality. . . are often a guise for colonial violence and tie to deeply embedded, interrelated notions in US culture about race, literacy, embodiment, language, and, ultimately, citizenship." Read this recent Simmons News article on Jiménez García to learn more about her thoughts on Latinx literature.
João Gilberto Noll, Hugs and Cuddles, translated from Portuguese by Edgar Garbelotto (Two Lines Press, 2022); Acenos e afagos (Record, 2008). Set in Brazil, this novel addresses themes of political decline, homosexual awakening, plague, and poverty. Through it all, the narrative takes readers on a journey toward self-discovery and inner peace.
Claribel A. Ortega, Frizzy (First Second, 2022); Spanish edition: Rizos (First Second 2023). In this heartwarming middle-grade graphic novel, New York Times-bestselling author Claribel A. Ortega and debut artist Rose Bousamra narrate the tale of Marlene, a young Dominican girl who is afraid of hair salons due to her frizzy curls. Frizzy offers a story of struggle and triumph that ultimately reveals the radical power of self-acceptance. This book received the 2023 Pura Belpré Children's Author Award and the October 2022 Indie Bestseller's Award.
Chita Rivera, Chita: A Memoir (HarperCollins, 2023); Chita: Una Memoria (HarperCollins, 2023). In her new memoir, three-time Tony Award-winner, Kennedy Centers honoree, and recipient of the Presidential Medal of Freedom Chita Rivera (born Dolores Conchita Figueroa del Rivero) recounts how she became a Broadway icon. After playing Anita in West Side Story in 1957, Rivera starred in several other musicals, including Chicago, Nine, and Kiss of the Spider Woman. Moreover, her book explains how her Puerto Rican, African, and European heritage shaped her career.
Alexandra Regalado, Relinquenda (Beacon Press, 2022). This award-winning poetry collection came into being during the COVID-19 pandemic, when Regalado was separated from her family in El Salvador. Her lyrical, and often bilingual, poems offer meditations on cancer, caregiving, the death of loved ones, and the power of community.
Luis Valdez, Zoot Suit and Other Plays (Arte Publico Press, 1978); Bilingual edition (Arte Publico Press, 2005). Mexican-American playwright, actor, screenwriter, and director Luis Valdez is regarded as the father of Chicano film and theater. During the 1960s, he founded El Teatro Campesino, a farm worker's theater ensemble that helped educate and boost the morale of migrant laborers. Zoot Suit and Other Plays contains three of Valdez's critically acclaimed works.
In 2012, the Tucson Unified School District banned this book. According to the District, Valdez's work, in addition to other books that were banned (or "confiscated") that year, "promote the overthrow of the United States Government… promote resentment toward a race or class of people," or "advocate ethnic solidarity instead of the treatment of pupils as individuals." That same year, the District's Mexican-American Studies program was suspended, and then reinstated in 2013 after a federal court order.