Alumnae/i Feature
Hannah Dike '20 Gets a Head Start as a Physical Therapist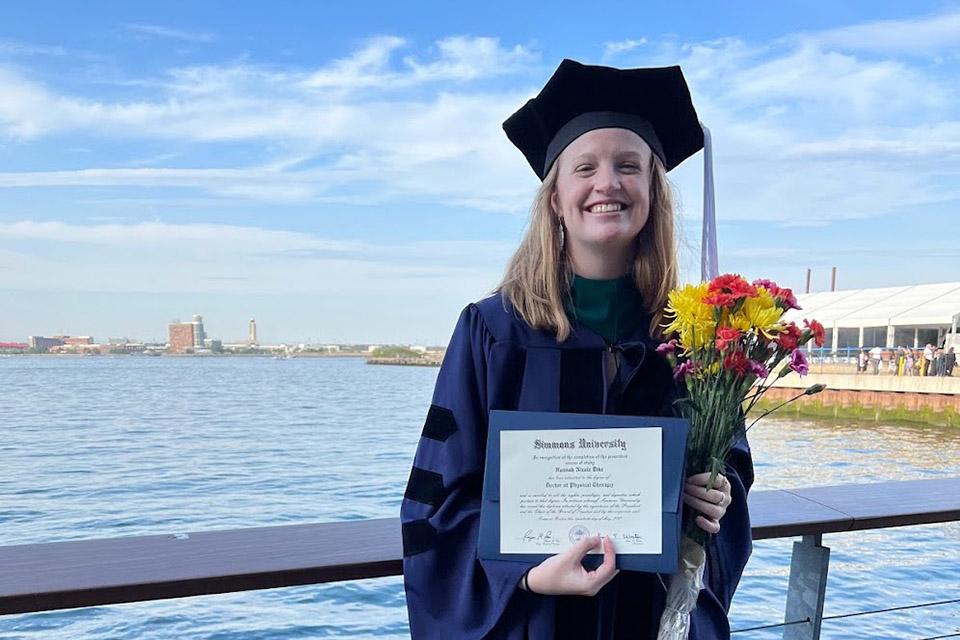 Hannah Dike completed her undergraduate and doctoral work in an astonishingly fast six years and is now working as an orthopedic physical therapist. She spoke with us about her passion for physical therapy and how Simmons helped prepare her for this line of work.
Tell us about the kind of work that you do.
This past May, I graduated with a doctorate in Physical Therapy. Shortly after that, I accepted a job as an orthopedic physical therapist at Newton-Wellesley Hospital in their outpatient clinic. I see a variety of patients with diverse backgrounds and diagnoses, including post-surgical cases, complex musculoskeletal conditions, and chronic pain. Additionally, a good portion of my caseload consists of patients that have received treatment at other clinics but have not improved.
How did you become interested in working in physical therapy?
I first became interested in physical therapy when I was in middle school, and was most intrigued by how many different fields within physical therapy there are. Therapists can specialize in many different areas, such as neurological, cardiopulmonary, and pelvic health.
I was initially interested in doing a neurological-based physical therapy. However, throughout my coursework I was able to complete a clinical rotation at Newton Wellesley, working under one of our orthopedic and pelvic health clinicians. I was intrigued with the variety of complex cases I saw as a student, and how this encouraged you to incorporate the whole patient into your plan of care, not just the ailment you are treating.
How did Simmons prepare you for your field?
Simmons gave me all of the fundamentals I needed to pass the boards. More importantly, Simmons encouraged me to take initiative in our own learning and gave me the tools I needed to teach myself. I often have patients with a past medical history of conditions I have not heard of before, so I have to do my own research in order to provide the best care possible. Because of this skill, I now feel more confident in broadening my horizons.
Were there any particular Simmons faculty members who inspired you?
There are two physical therapy professors that I was particularly inspired by in my time at Simmons. Assistant Professor of Practice Rachel Verrill, who is now one of my co-workers, is a fellow Simmons graduate and teaches the introductory graduate anatomy course. She is very accomplished and has always offered me a listening ear. Associate Professor Justin Beebe directs the physical therapy program and was also my research advisor. He is an active member of the physical therapy research world and is consistently investigating new things. I hope to contribute to more physical therapy research projects in my professional career.
Do you have any advice for current students wanting to pursue a similar path?
The program I took was very fast-paced, but I appreciate how it helped me get ahead in my career. My advice for students on a similar path is to take a break from classwork and take time for yourself on holiday breaks. You need to relax and unwind, and this balance is necessary for you to be fully present when you go back to school or work.