Campus & Community
The Gwen Ifill College Receives Gwen Ifill's Awards and Journalism Memorabilia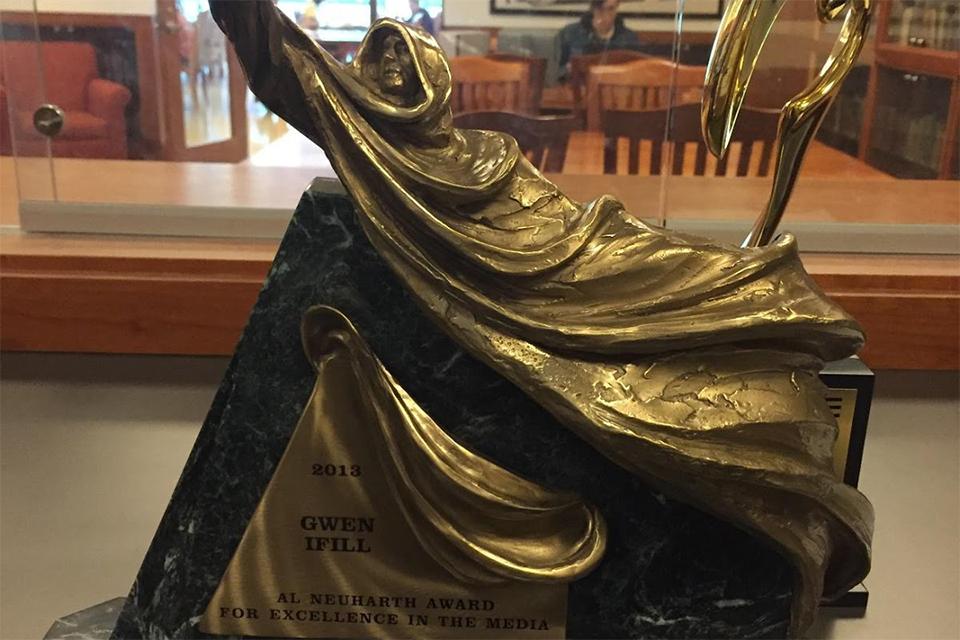 WETA (PBS) generously donates recently discovered awards and memorabilia.
In late August, Alla Lora, former senior producer of Washington Week at WETA, the public television station for Greater Washington, DC that produces the program, contacted Simmons. Lora had been a producer at Washington Week for esteemed journalist and beloved Simmons University alumna, the late Gwen Ifill '77 '93HD, for many successful years. Lora had made an important discovery and a deeply generous offer. She had come across some awards and other memorabilia that had been put in storage after Ifill's death, and thought perhaps Simmons would be interested in having these items for the Gwen Ifill College of Media, Arts, and Humanities.
Fast forward to the end of September, a few days before Gwen Ifill's birthday, Simmons University Archivist & Deputy Director of the Library Jason Wood; Dean of The Ifill College of Media, Arts, and Humanities Brian Norman; and Archivist and Digital Initiatives Librarian Lauren Loftis exchanged anticipatory glances over four large cardboard boxes. They were about to open a veritable treasure of historical artifacts from the life and career of Gwen Ifill to add to the permanent collection at Simmons, including:
2004 CINE Golden Eagle Award for Flashpoints USA: God and Country (Gwen Ifill, Host)
2004 Gracie Allen Award: "The Gracie," presented by the Foundation of American Women in Radio and Television for Outstanding Program Host, News: Gwen Ifill, PBS
2008 Peabody Award
2013 Freedom Forum Institute Al Neuharth Award for Excellence in the Media
2017 Walter Cronkite Award for Excellence in Television Political Journalism for National Network Program: PBS NewsHour
Some of these awards will be on display for the first time during the Ifill Forum: A Discussion on Media, Race and Democracy, which will be hosted by The Ifill College at Simmons University on October 19. Among the panelists are two of Ifill's former colleagues from PBS NewsHour: White House Correspondent Yamiche Alcindor and Anchor and Managing Editor Judy Woodruff. 
The memorabilia generously donated by WETA will join artifacts from Ifill's student days and her journalism career, which were previously donated by the Ifill family. While many of these are stored in the University archives, some are on display for the campus community in a permanent case in the Knight Foundation Board Room, adjacent to an interactive display about the journalist's life and career. 
"In addition to sharing the memorabilia from Gwen Ifill's life and career with the Simmons community and the public, we are proud to carry her legacy forward here at Ifill College through our work preparing the next generation of truth seekers and through the discussion and exploration of the important issues of today, " said Dean Norman. "Gwen Ifill was always ready to ask difficult questions about important topics, and that's the spirit in which we embark on our first Ifill Forum."