Campus & Community
The Gwen Ifill College Hosts "Remembering Gwen"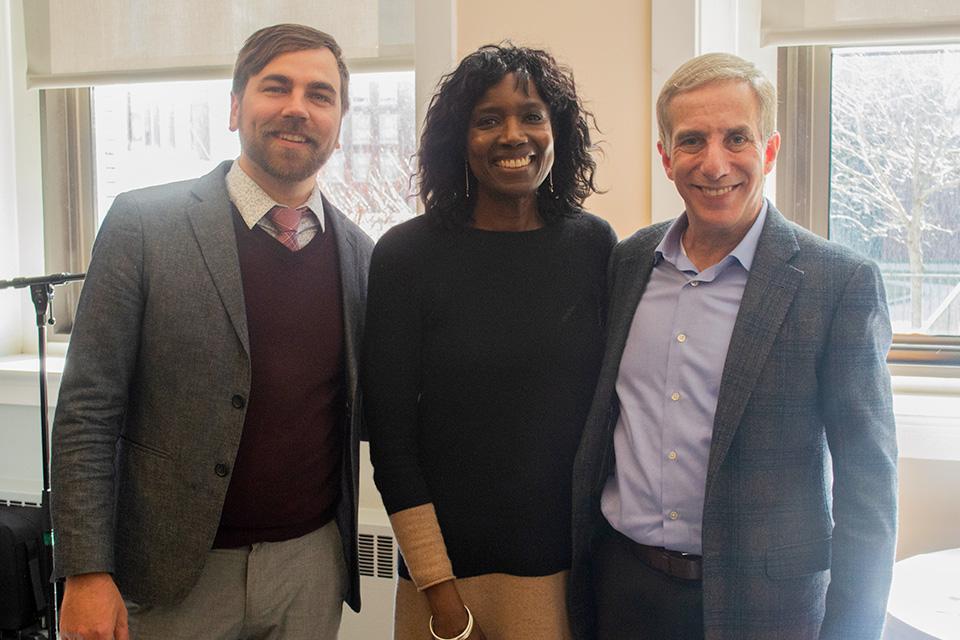 Rick Berke and Mentor-in-Residence, Nancy Ancrum discussed Gwen Ifill's lasting legacy.
"Conversations that matter." That's how Brian Norman, Dean of The Gwen Ifill College of Media, Arts, and Humanities introduced the March 26 Ifill College community meeting. 
That was an especially meaningful descriptor for this particular meeting, "Remembering Gwen Ifill," featuring Nancy Ancrum, Editorial Board Editor of the Miami Herald and Ifill College Mentor-in-Residence, and moderated by Rick Berke, Editor of STAT News, who both counted Gwen Ifill as a professional and personal friend.
Both Berke and Ancrum noted what it was like to be at Simmons University. Berke recalled how "Gwen felt such affection for the school and her education," while Ancrum said it's an opportunity to "make real Gwen's legacy."
Ancrum went on to describe her friendship with Ifill on a personal level — bonding over good restaurants, singing in the car, watching their favorite TV shows — before discussing Ifill's discipline as a journalist. She noted that she can see "young women here carrying out her ethics, rigor and seriousness."
Berke remembered their time together at the Baltimore Evening Sun and being awed by Ifill's "amazing gift" in her ability to talk about public affairs." She also served as a mentor to Berke, encouraging him to never lower his standards as journalist.
The conversation turned to covering politics today and Ancrum noted the acronym "WWGS," meaning "What would Gwen say?" She and Berke agreed that Ifill would be covering today's news the same way she always did – on point reporting and solid facts.
When asked what the future holds for today's graduates, their answers reflected their good friend Gwen Ifill. Ancrum advised that individuals need to be grounded in journalism ethics as well as knowing how to tell a story in multiple platforms. Berke concluded that what would "make Gwen proud" was ensuring students were knowledgeable and going on to wonderful careers.