Alumnae/i Feature
From Struggles to Strengths: Overcoming Mental Health Challenges and Helping Others to Do the Same with Socio-Ecological Research and Treatment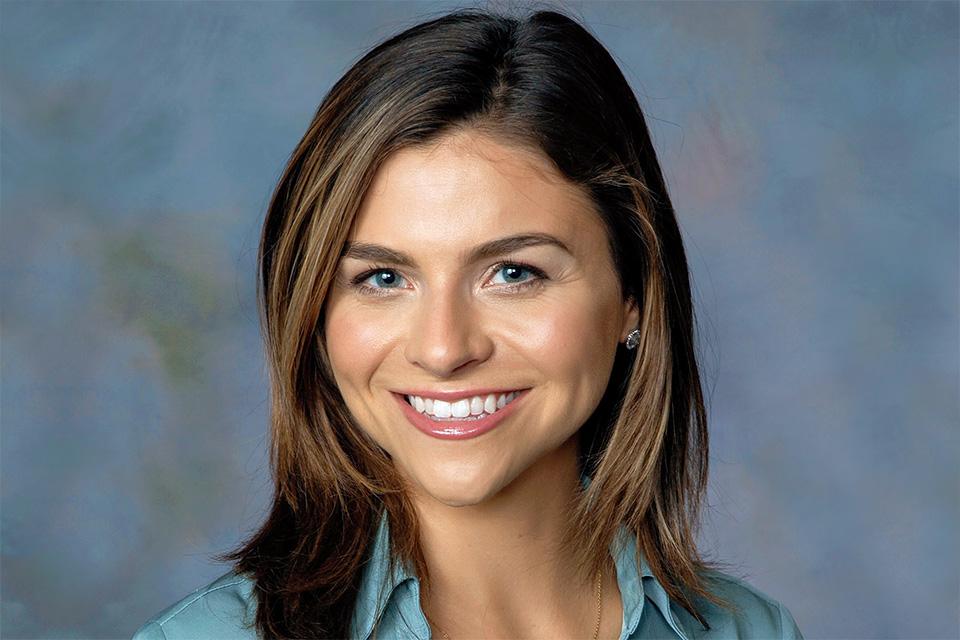 Genevieve Peck Nowicki '20 studied Neurobiology at Simmons and is now pursuing her PhD in Counseling Psychology at Northeastern. She shares with us her approach to research and how Simmons prepared her for further studies.
What made you choose to pursue Neurobiology for your Undergraduate degree?
I had a nontraditional path to college. I came to Simmons when I was 24 and had completed two years of undergraduate study at a different university. Due to mental health challenges, I had taken a leave of absence. When I was ready to return to my studies, I knew I was looking for a university with a different perspective than most others. Our society stigmatizes mental health issues, and this is particularly prevalent in academia. I noticed that taking time off to recover was viewed differently for mental health issues than for medical issues. I wanted to continue my education at a school that would view my mental health journey as a form of diversity, something unique that I brought to the table, rather than a deficiency.
Simmons felt so different from the other schools I visited. In interviews with administrators, and when visiting classrooms, I found a welcoming community. At Simmons, I was able to challenge the stigma I had internalized and build a renewed sense of purpose as a psychologist, which gave my studies a higher level of importance. I loved biology and had thought of studying medicine, but my newfound interest in mental health led me to shift my focus to psychology and understanding these issues from a biopsychosocial perspective with the Neuroscience and Behavior major.
Did you have internships while at Simmons?
I found my first internship through a connection with an alum of the neuroscience program. Associate Professor Amanda Carey had invited a previous advisee, Dr. Kelsea Gildawie '18, to practice her dissertation defense for our class and offer insight into her PhD experience at Northeastern. Kelsea was so friendly and eager to share information about her PhD and help us build our professional networks. She helped me to find a faculty member at Northeastern, Dr. Rachel Rodgers, who conducts research on eating disorders, my topic of interest.
I went to Northeastern after class once per week to collaborate with Dr. Rodgers and the APPEAR lab. I loved the experience and the type of work we were doing. The focus wasn't on specific biological mechanisms that influence behavior, but rather research aiming to holistically examine an individual's relationships with food and their bodies, considering the impact of interpersonal, cultural, and systemic factors. Our work also emphasized social justice, considering disparities in eating disorder prevalence and treatment access for marginalized groups and how these can be eliminated.
Is this related to your current research?

I continue my work as a PhD student in the same lab where I interned as a Simmons student, and Dr. Rodgers is now my PhD advisor! Currently, I am working on several studies aiming to better understand the complex relationships between micro-level (e.g., individual behavior and family influences) and macro-level (e.g., cultural norms) factors that influence disordered eating behaviors. My research perspective is shaped by my training in the scientist-practitioner model, which encourages reciprocal relationships between research and clinical practice. As a counseling psychologist in training, I consider advocacy and activism an important component of my work as well.
How did Simmons prepare you for further study, including your PhD?
Everything I did and learned at Simmons helped to shape my perspective on research, clinical practice, and advocacy! My Simmons education along with my research experience drive me to seek out opportunities to advocate for those affected by eating disorders, such as taking part in the National Eating Disorders Association (NEDA) Boston walk. I've also participated in legislative advocacy to address societal issues like weight discrimination and unregulated social media platforms pushing pro-eating disorder content to adolescents.
Through my Simmons coursework, I developed an understanding of allyship which emphasized the importance of not just advocating for myself, but also leveraging my privilege as a white, cisgender woman to make higher education and doctoral study more accessible to others. While working as a clinical research assistant at McLean Hospital, I began volunteering with colleagues to develop and launch a paid, mentored summer research program for undergraduates from racial and ethnic backgrounds underrepresented in neuroscience and psychology, the McLean Mental Health Research Summer Program. I don't think I would have had the knowledge or confidence to identify and actively challenge systemic racism in psychology without my Simmons education. I encourage all interested and eligible students to learn more and apply!
Of course, it's not just the coursework that helped me get here. I gained confidence in myself through the close relationships that I developed with peers and professors, facilitated by the small liberal arts college environment. I had so many wonderful conversations with my faculty advisor, Professor Gregory Feldman, and my fieldwork advisor, Professor Sarah Martin. They were both crucial to my success in the field!
Simmons helped me to build a sense of purpose and confidence that I would not have found anywhere else. At Simmons, the administration, staff, and faculty want to see students of all backgrounds, ability levels, and life experiences thrive. And the Simmons community does everything in its power to make that happen.