Alumnae/i Feature
From Scientific Research to Collective Bargaining: Neuroscientist Nora Monahan '21 Secures Research Assistants' Rights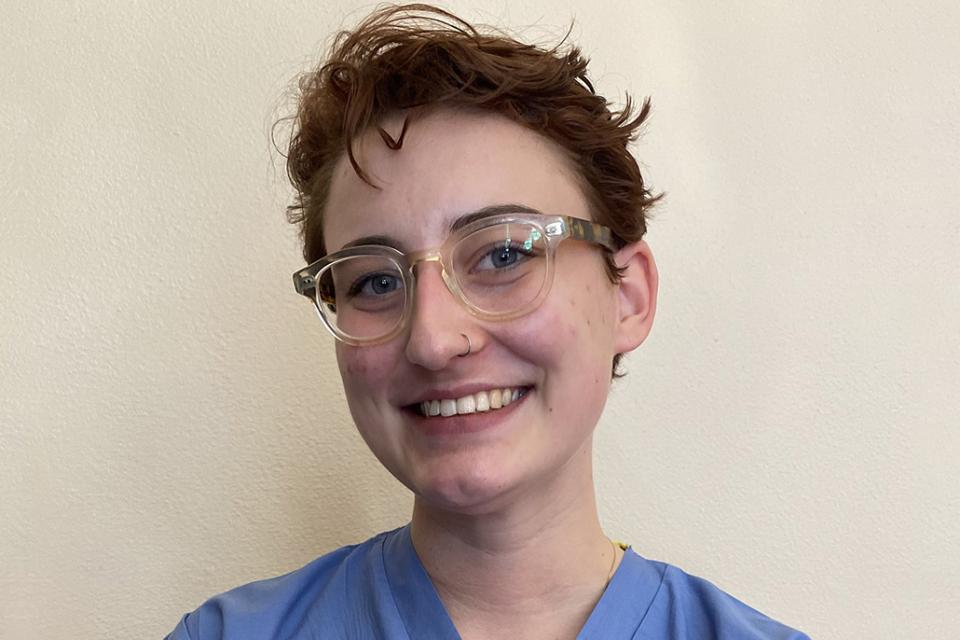 After Nora Monahan graduated from Simmons with a degree in Neuroscience in 2021, she promptly began a research position at a prominent mental health treatment and research center. While still engaging in full-time scientific research, she has taken on a new role related to workplace advocacy. She spoke with us about her passion for unions and the importance of securing the rights of women in STEM and beyond.
Tell us about your current position.
I work at McLean Hospital [a psychiatric hospital in Belmont, Massachusetts] as a Research Assistant in their Behavioral Biology and Neuroimaging Lab. Our research focuses on understanding the neurological mechanisms of addiction and finding effective treatments for opioid use disorder.
Research is a wonderful experience that prepares you for graduate school and other kinds of careers, but it tends to be poorly paid. Moreover, lower-level employees are often women, whereas the bosses are often men. This gender inequity creates a lot of disadvantages for young women in STEM.
How did you get involved with the union?
The pandemic was a major catalyst for the formation of our union at McLean. When I began my position at McLean in 2021, two employees had just decided to unionize the Research Assistants. That is when we connected with the American Federation of State, County, and Municipal Employees (AFSCME).
AFSCME is a national union that helps organize and support local unions. My union is part of AFSCME Council 93, which is the conglomerate of all the AFSCME-affiliated unions in the Boston area. They help workers unionize and negotiate their contract, and provide other crucial resources and modes of mentorship. Their mission is to enforce a fair and safe workplace, and to support the right that all workers have to unionize.
I ended up on the bargaining committee, and we negotiated for an entire year. After an uncontested election, I am now President of the McLean Research Assistant's Union, and have worked with AFSCME to write and enforce our contract.
Why is it especially important for workers in academia and women to unionize?
When women and workers in fields with systemic gender and racial inequity (such as academia) unionize, they create a built-in system that can uplift and amplify their voices. Women's voices are too often dismissed and silenced, particularly when they have male supervisors. Instances of exploitation and harassment tend to affect women more, especially women of color. When women speak up for their rights, having a union in place protects them from unfair retaliation in the workplace. Supervisors are now legally obligated to listen to me and respect me.
This is the best part of being in a union; I have a team with me who can back me up. It is also incredibly rewarding to secure the rights of my fellow employees.
Why did you choose to attend Simmons?
My mom went to Simmons in the 1980s [class of 1986]. I wanted to stay in Boston, and she had great memories of Simmons that she shared with me. My older sister attended another women's college, Wellesley, and I consider both my mom and my sister very empowered and outspoken. I realized that a women's-centered environment is a safe space to build your self-confidence, so Simmons was the perfect fit for me.
How did Simmons prepare you for your career and advocacy work?
At Simmons I received a great liberal arts education. Even though I was a Neuroscience major, I took classes on a wide range of subjects, including gender, race, and media. The sheer diversity of my college education is very valuable to me. It has increased my outlook on the world and has given me a deeper comprehension of my part in it. Learning in a liberal arts and women's-centered environment helped me thrive.