Campus & Community
Emerita Professor Josephine Fang Turns 100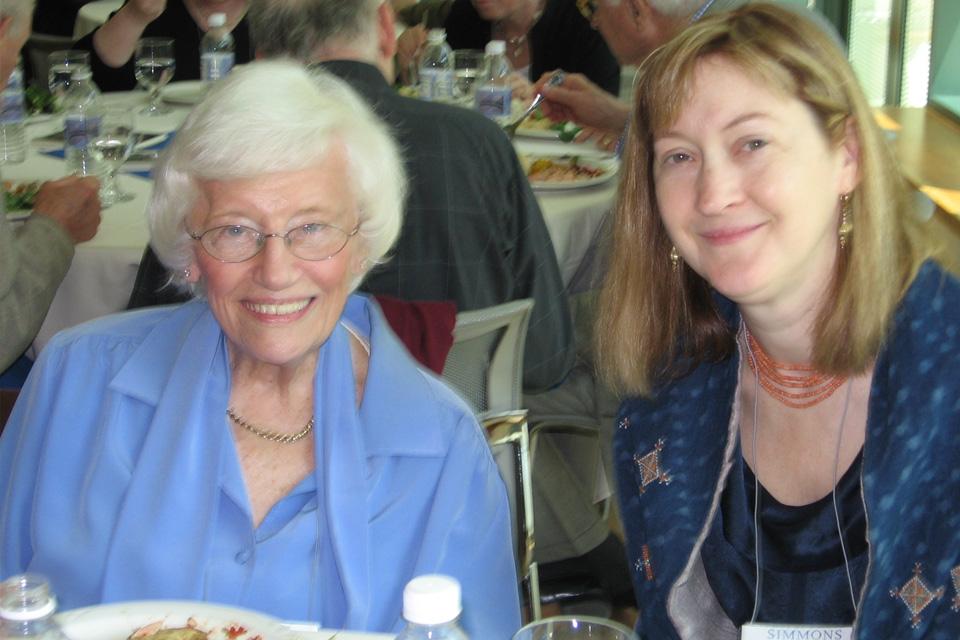 Simmons was a little college when I joined it. Now it's a University! But I'm very happy and proud of Simmons and the opportunities it gave me to teach.
In April of 2022, Emerita Professor Josephine Fang celebrated her one hundredth birthday. Fang was a professor in the School of Library and Information Science for 20 years. Her children (her daughter, Anna Fang '86, is a Simmons alumna) established the Josephine Riss Fang Endowed Scholarship in May 2006, for students pursuing librarianship with a focus on international librarianship or preservation and conservation, and the Josephine Riss Fang Current Use Scholarship (est. June 2009). She was the first woman to be promoted to full professor in the School. She taught many courses including Cataloging (Organization of Information), Preservation, and International Librarianship, among others.
"Of course, I knew about Josephine even before I met her," recalls Professor and Dean Emerita Michele Cloonan. "She was well known in the International Federation of Library Associations and Institutions (IFLA) — a true internationalist."
Cloonan first met Fang in the late 1980s, when she was the Preservation Officer of the Brown University Libraries. Fang invited her to be a guest lecturer in the course she taught on Preservation. "Josephine started the course in 1980, so Simmons was one of the earliest LIS programs to offer it," recalls Cloonan. "She was an enthusiastic and gracious host, and I enjoyed my afternoon at Simmons immensely. It was my first time on campus."
When Cloonan became Dean of Simmons SLIS in 2002, she was eager to see Fang, who had since retired. "She welcomed me as an old friend, even though we had met only once." The following year the two were roommates in Berlin, Germany for the IFLA Conference. "She was so much fun to be around, and she knew everyone." That year, the U.S. Embassy did not host a reception for American delegates. As Josephine had been born in Austria, she was invited to a reception at the Austrian Embassy and brought Cloonan along as her guest. "What a wonderful evening we had. The always elegantly-dressed Josephine was a lively presence at the soiree. Once again, she knew everyone. She was an international library ambassador."
Em Claire Knowles '88DA, '07E, Assistant Dean of COCIS (retired), first met Fang while interviewing for the role of Assistant Dean for SLIS in 1988. When Fang became president of the Women's National Book Association - Boston Chapter (WNBA), she asked Knowles to serve on its advisory board. "I got to know her on a personal level," Knowles recalls. "This commitment enabled us to meet monthly for programming and other activities. She was a quite organized person, not only in her professional life; a person who gathered others to socialize or conduct community outreach." After working together for a number of years, Fang, Knowles, and the late Linda Watkins '84MS (SLIS Librarian) began to meet socially to celebrate birthdays and attend symphonies, movies, museums, and vacation together on Block Island. "The social meetings were always scheduled so as not to conflict with family events or her gatherings with those that she met for tea, or attended lunch with members of the Austrian or German clubs," says Knowles, who also got to know Fang's ten children and 18 grandchildren. There are also Simmons alumnae/i in Fang's family: her daughter, Maria Fang '76, and her granddaughter, Christina Fang '16.
"I'm still in contact with Josephine once a month either by telephone or by mail," says Knowles. "She remains an inspiration to me, and although I am on the West coast, I am always reminded of her beautiful smile, generous spirit, and great intelligence. How lucky I am to have got to know her as my trusted colleague, and as my beloved friend."
On a phone call with Fang this summer, she reflected on her time at Simmons, saying that she still hears from students. "Simmons was very dear to me," said Fang. "It was a little college when I joined it. Now it's a University! But I'm very happy and proud of Simmons and the opportunities it gave me to teach."
As for the library and information science field, "it's a wonderful field and it has many possibilities for jobs and so forth. I would like to recommend students to study library science."
If you would like to give to Simmons in honor of Josephine Fang, you can donate to the Josephine Riss Fang Endowed Scholarship.