Student Story
Ella Cornu '20 is Checking the Boston Marathon Off Her Bucket List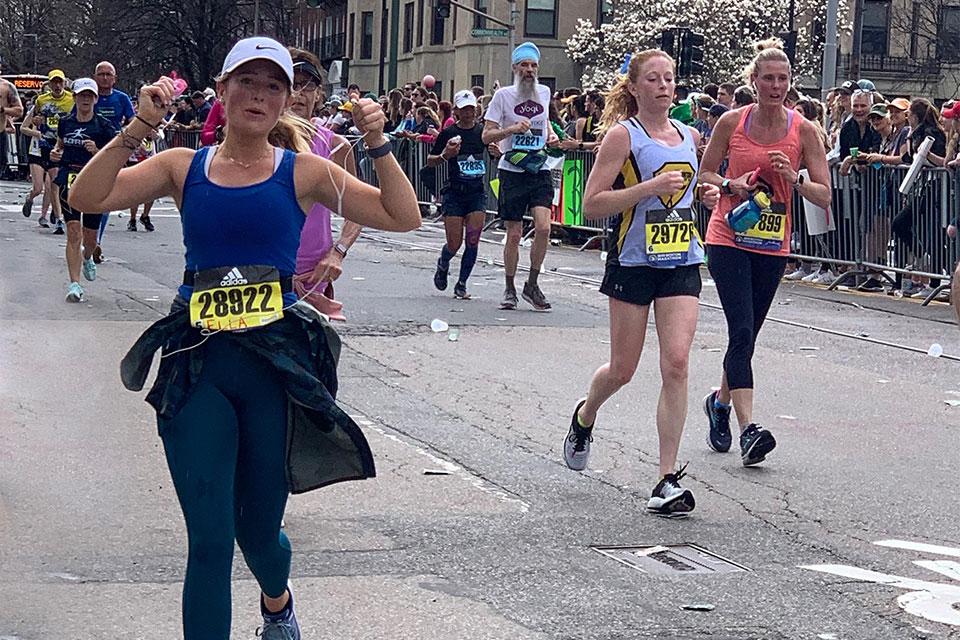 We caught up with Ella about training for the Boston Marathon and how she learned to believe in herself.
What made you want to study nursing?
Growing up I had a lot of nurses in my family, including my mom, so I think that really peaked my interest at a young age. I've always wanted a career where I could help and support others, and for me that was nursing. Now in my Junior year, I couldn't be happier that I've chosen this path for myself. I love going into clinical and knowing that I have the ability to brighten someone's day, and be there for them when they need it most. It definitely has its ups and downs, but I wouldn't change it for the world.
Why did you choose to attend Simmons?
I was looking into lots of different nursing schools in New England, and when I found Simmons I knew it was the perfect choice for me. With high national ratings and incredible NCLEX passing rate, the decision was a no-brainer. Simmons nurses also have amazing reputation in the Boston hospitals, and that really goes a long way when you are looking for a job as a new grad. 
What inspired you to run the Boston Marathon?
Running the Boston Marathon has always been on my bucket list, but I never really believed I'd get around to it, especially while still in nursing school. At first I thought it was going to be too hard because I have a very heavy spring semester, but I eventually realized that there's never really a "right time" to do anything. I was really nervous at first because I'd never run more than 10 miles before. But I've come so far since then and I'm really happy I decided to just go for it. There's always going to be a hundred reasons to put something off, but if you really want it, you should just go for it and everything else will work itself out.
What are some of the challenges you've faced while training?
There have definitely been times in my training when I don't want to go out and do those longer runs. Maybe it's snowing outside, or I have three exams that week, and I'm really just not feeling up for it. In those situations I just picture the last mile and how good it's going to feel crossing that finish line. I also remember everything I've worked for thus far, and usually that's enough to get me back out there. 
Another issue is definitely just believing in myself! I've never considered myself an athlete, and I think that's mentally created a bit of an issue for me. I think, there's no way I just ran 17 miles, because before college I was never a runner. I know it's crazy because I've been training for 20 weeks and I put in the work everyday, but sometimes it can be hard for me to accept my accomplishments in training. I just have to remind myself that I've come so far, I'm in great shape, and I can do whatever I set my mind to.
What song pumps you up the most while running?
Right now I really love a group called Two Friends. They do these two hour remixes of hit songs which is so nice! I can start one of their remixes, and by the time it ends, the long run is already half over! I'm someone who likes to change the song every minute, so remixes are nice because the beat is always changing and it really helps keep me moving.
What are you most looking forward to on race day?
The energy of the runners and the crowd. Training and fundraising have been fun so far, but I know that when Marathon Monday rolls around I'm going to be even more excited. Yes, it's painful and uncomfortable at times, but it's so much more than that mentally for me. I really never experienced "runners high" until I started doing 13+ mile runs, but I now understand that once you get into your zone, you truly feel on top of the world. And then of course crossing the finish line and being able to say I did it!
What's the first thing you're going to do after crossing the finish line?
I'm going to find my boyfriend and give him a big hug, because he's been my biggest supporter throughout this process! Then we're heading straight to Wen's Ramen on Newbury street. A huge bowl ramen noodles isn't the best thing for marathon training, so once I finish on Monday I'll probably walk over there (if I can still walk), and enjoy a nice bowl of ramen. Most people wouldn't want to run 26 miles and then eat a bowl of soup, but Wen's is truly just that good.
What charity are you running for?
I'm running for the Hopkinton Public Library Foundation (HPLF)! I grew up in Hopkinton, and the library does so much for the town, so I'm really excited to give back to them. Growing up I remember spending Sundays at the library with my mom and older brothers, and while the boys and I usually spent more time running around than reading, we always had a lot of fun. I decided I wanted to support the library so it can continue to grow, and others can enjoy it just as much as I did! The HPLF is looking to fund materials, resources, technology, educational and special projects, and long-term improvements. I'm really excited to help such an awesome part of our community grow even more.
What's your favorite Simmons memory?
My maternity clinical at Tufts this semester! I recently had the opportunity to shadow a nurse in Labor and Delivery, and I was able to witness a birth! I helped the nurse hold the mom's legs up, and encourage her while pushing. When the baby was finally delivered I almost teared up! It was a beautiful moment and I feel so lucky that Simmons has given me the opportunity to experience these sorts of things. It really reminded me of why I'm in nursing school in the first place.