Alumnae/i Feature
Elizabeth Valencia '20MSW Applies this Key Social Work Lesson Daily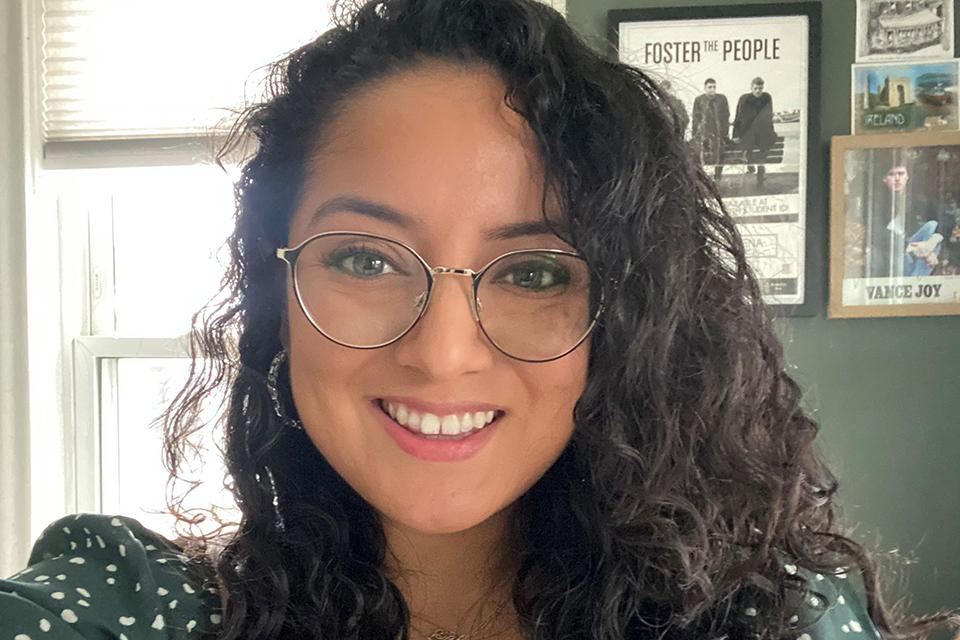 Simmons teaches us to think critically—to think outside of the 'one-size-fits-all' model. I apply this learning and experience daily.
What the job entails
Elizabeth is a clinical supervisor for Adult Community Clinical Services at Bay Cove Human Services, one of the largest human services providers in Massachusetts. Working in Boston's Dorchester, Mattapan, and Roxbury neighborhoods, her team helps people with severe mental illnesses to build skills and supports to live independently. She and two caseworkers partner with 30 clients to develop person-centered treatment planning based on an individual's assessed needs, which often involve securing housing, employment, or benefits.
As supervisor, Elizabeth also works one-on-one with individuals facing potentially destabilizing life events, such as a family death, job loss, or illness. "Because we maintain such close relationships," she says, "I'm able to respond quickly and help my clients manage their stressors." 
What brought her to Simmons
After graduating with a degree in psychology from UC San Diego and serving two years with AmeriCorps, Elizabeth embarked on a career in social work, she says, "for its emphasis on social justice." She attended an open house at Simmons and immediately appreciated the warm, supportive environment. "The faculty and staff felt caring," she says. "They took the time to understand who I was and why I wanted to pursue this degree. I felt listened to and heard."
How Simmons prepared her
Elizabeth enrolled in the Social Work + Trauma Practice Certificate Program at Simmons. Her first field placement was at TechBoston Academy, where she provided individual and group counseling to middle- and high-school students. In her second year, she interned at the Justice Resource Institute, a comprehensive human services agency. As a member of its Boston Trauma Response, Elizabeth offered rapid crisis support to individuals who had experienced community violence.
She also facilitated "Trauma Talk," a therapeutic group for male inmates at the Suffolk County House of Correction and students in Boston Public Schools. Particularly valuable in the field, she reports, were courses on trauma across the life span and dissociative identity disorder. In addition, Elizabeth was a graduate research fellow for Associate Professor Tamara Cadet. "Simmons teaches us to think critically—to think outside of the 'one-size-fits-all' model," she says. "I apply this learning and experience daily."
Why it's rewarding
"I love practicing in the community because I am truly meeting the person where they're at," says Elizabeth. "When my clients allow me into their spaces and homes to work together, it's an experience that many clinicians never get to have."