Voices of Simmons
Eliot Stanton '22 Researches Technology for Trans Liberation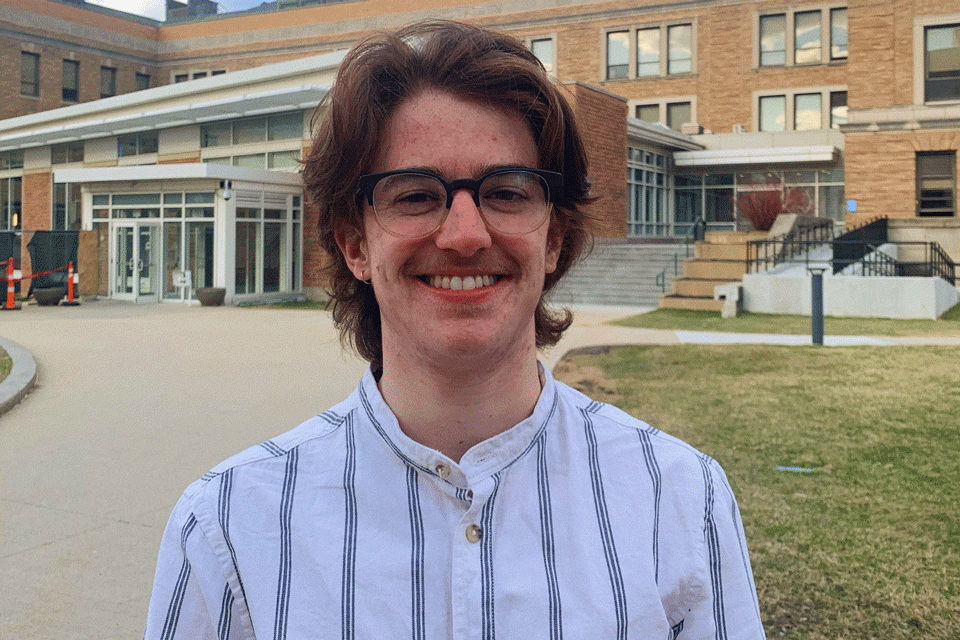 Data Science major Eliot Stanton '22 was chosen as a keynote speaker at the Undergraduate Symposium. Stanton will present their research paper, "Binaries in Binary: Harmful Consequences and Radical Possibilities of Technology for Trans Liberation."
---
What made you choose to pursue data science? 
I've always liked math and statistics and working with numbers, but data science offers specific potential to really make an impact in a multitude of fields. It's a tool to solve a problem, so it should give me a wide variety of potential options. Simmons was the first place I found to have an explicit data science major, which was relatively new for undergraduate studies. 
Why did you decide to attend Simmons?
Growing up in Portland, Maine, I thought coming to Boston would be a good move — it's a city with a lot of opportunities, a great place for young people to experience college. I attended an accepted students event and met Professor Nanette Veilleux who became my advisor — she's a great example of the way faculty at Simmons have close relationships with students. Also, the small size of Simmons appealed to me as a place where I could fit in, in the middle of the city.
What inspired you to research this topic?
My thesis doesn't involve data science; it's a theoretical gender studies paper that takes my interest in technology and combines it with my interest in making the world a better place for trans people. I chose this topic after taking Transgender Politics and Freedom with Assistant Professor Lena Zuckerwise, which laid the theoretical trans studies foundation for me to get into some really cool research being done by scholars from a variety of disciplines.
I'm considering technology as an object of study itself, guided by the question "is it helping or is it hurting trans people?" Is it encoding the gender binary? Are there ways technology can help us destabilize the idea of gender as equivalent to sex? What impact does it have on trans movements? For example, you can't read gender on someone's body, but there are technologies that attempt to do so. Like facial recognition software, automatic gender recognition assigns genders to faces and ends up misgendering people. How are corporations taking this data and using it for marketing or surveillance? When trans people don't fit those boxes and present in an atypical way, they are often flagged for higher surveillance. The airport security scanner is ubiquitously feared by trans people — security has to guess what gender you are before you walk through, which leads to increased pat downs of trans people. These technologies aren't just harmful for trans communities, but lead to greater surveillance of Black/brown people, with less effective facial recognition and gender assignment. 
Trans people are among those who are extra marginalized by technology. When a radical movement is mainstreamed, it demands inclusion in existing systems, but inclusion into these technologies doesn't make them equitable. We don't want technology to do a better job at surveilling trans people, we want to struggle against surveillance entirely. These technologies present a lose-lose scenario: inclusion into it or exclusion by it all have negative consequences. Pretending that technology is neutral and objective leads to bias and structural violence; we need to envision technology design that doesn't single trans people out.
How is Simmons preparing you to become a leader in your field?
My professors have pushed me to deepen my critical thinking. I've definitely struggled with imposter syndrome, but my professors believe in me and give me a confidence boost when I'm stressed. I'm not a "stand on a platform and shout to the masses" kind of person, but Simmons has shown me different types of leadership. I don't have to want to be a manager, but I can lead in my work and in everyday interactions with my peers. Also, I've spent my entire academic life asking a lot of questions, and Simmons has offered me a space where my curiosity can thrive.
What do you hope to do after graduation?
I've been accepted into the Data Science for Social Good program at the University of Washington, where small teams of fellows from different backgrounds will come together for ten weeks to research and address an interesting, socially-relevant problem. After that, I'm looking to stay in Boston next year. Ideally I'll find work as a data scientist for a cause that interests me. I definitely need a break from always having some writing and reading hanging over my head. This year, my statistics homework has been my escape — my treat — from working on my thesis!