Student Story
DPT Students Present Research at National Meeting of American Physical Therapy Association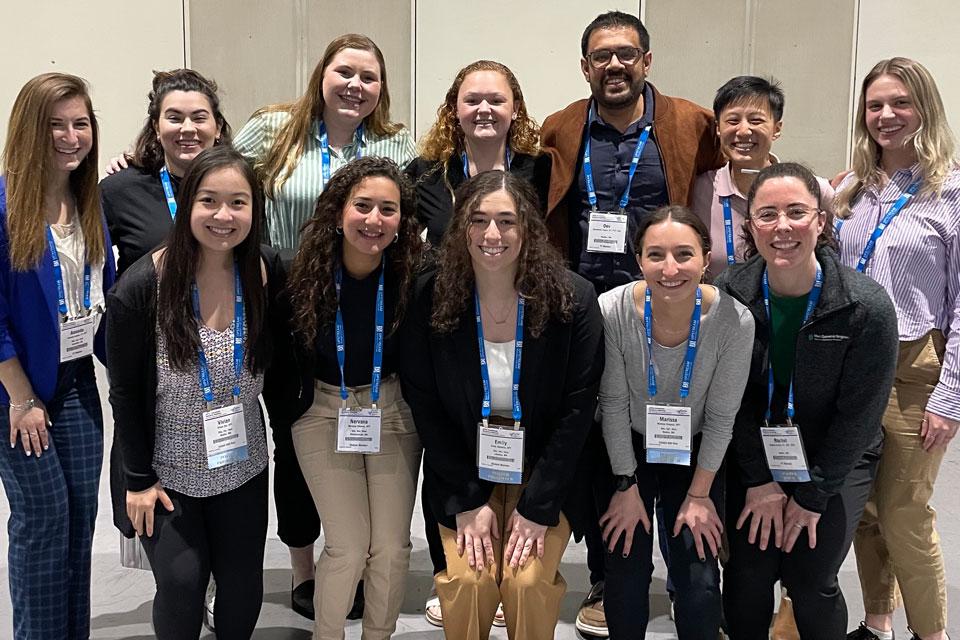 During this year's Combined Sections Meeting (CSM) of the American Physical Therapy Association, seven third-year students in the Simmons Doctor of Physical Therapy program presented their collaborative, peer-reviewed research. This is the largest gathering of physical therapists in the country, bringing together all specialties within physical therapy (PT) together for three days of keynote speeches, vendors, and poster presentations.
Two groups of students were accepted to participate in this year's conference, which took place in San Diego. PhD candidate and Assistant Professor of Practice Rachel Verrill '14 '16DPT worked with one group, which included students Vivian Bui '21 '23DPT, Marissa Chiauzzi '23DPT, Rebecca Collette '21 '23DPT, Rachel Pfeiffer '21 '23DPT, and Emma Stock '21 '23DPT. These students presented, Effect of Recumbent Versus Alternative Labor Positioning on Birthing Parent Outcomes: A Scoping Review.
"We talked about the impact of alternative positions during the first stage of labor, during dilation and leading up to delivery," says Verrill. "The students' researched the impact of walking, dancing, and massage, as well as the use of a yoga ball during this stage, and how this can improve outcomes after delivery and lowers the rate of C-sections, compared to patients who remained in recumbent positions."
PT students are paired with faculty members with experience in their area of interest. "If they are interested and excited about what they are doing, it goes a long way," says Verrill, who now specializes in physical therapy for pelvic floor issues. "I worked in an orthopedic clinic for people with chronic pain," says Verrill. "I had a colleague in pelvic floor PT and had the opportunity to meet with her patients. Seeing their motivation to get better rekindled my love for PT and pushed me to pursue caring for this population."
The second group of students — Emily Barbella '21 '23DPT, Christie Bott '21 '23DPT, Nicole McCardle '21 '23DPT, and Harmeek Singh '23DPT — worked with Associate Professor Amitabh Dashottar and presented A Scoping Review of Cueing Practices in the Management of Lower Extremity Musculoskeletal Conditions.
"Sharing research at CSM was an honor and amazing opportunity! My classmates and I worked extremely hard over the last year and a half reviewing literature, developing our research question, synthesizing results, and making important clinical connections. It was very rewarding to showcase our research and participate in clinical conversations with practicing PTs and other PT students," says Barbella, who encourages every student to attend a professional development conference while at Simmons, and to share research, if given the opportunity. "[CSM] allowed me to make networking connections and attend continuing education lectures," says Barbella. "Not only was it beneficial to present our findings, but now I can take what I've learned through my research and the conference and apply it to my future practice as a physical therapist."
As for Verrill, she uses her own experience to encourage students to enter the PT field. "The world of PT is so vast, and there are so many different specialties and opportunities," says Verrill. "Over my seven year career, I've worked in four different medical settings, and I now own a small private practice. You get to fall in love with one aspect of PT, then change your mind ten years down the road and still have an excellent career. In this field, there is room to pivot when you're ready to try something new."