Alumnae/i Feature
Donna Stewartson '93MBA Returns to Simmons as Director of Operations for The Gwen Ifill College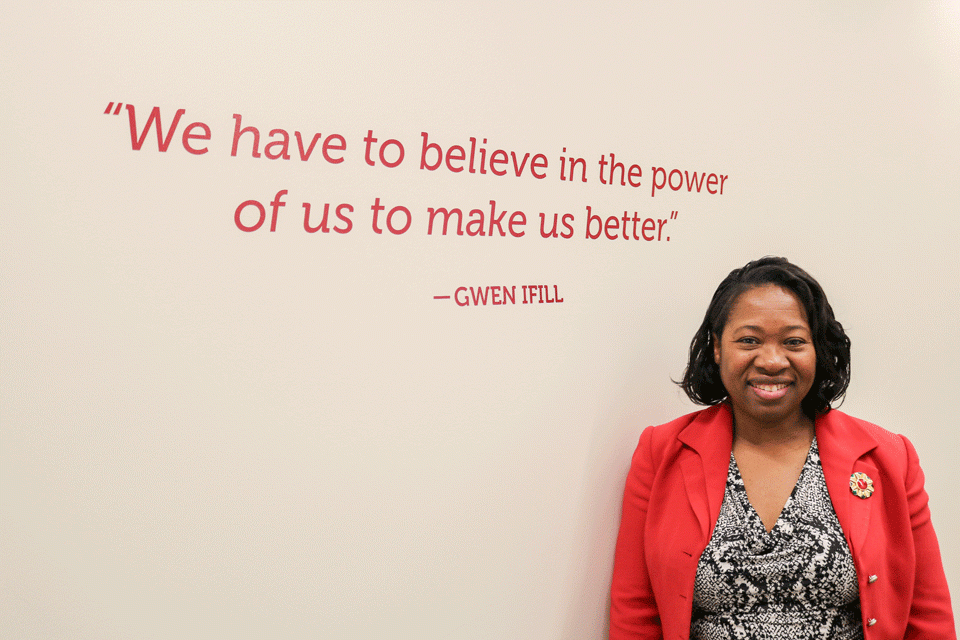 I love that I work for a college named after Gwen Ifill. It's wonderful being here working with Dean Norman to do the best to honor her name. It's our job to let the students know who Gwen was and how we must represent her tenacity wherever we go.
Donna Stewartson '93MBA returned to Simmons last year as Director of Operations at the Gwen Ifill College of Media, Arts, and Humanities.
"I manage the academic and operational processes and procedures," Stewartson says. "This includes representing the College in campus-wide academic and operational projects. I oversee the College's budgets and data acquisition and analysis." 
Although she's a new employee, she never really left the Simmons community. Stewartson was an active alumnus, working on International Women's day projects With Diane Hammer in Community Engagement and attending African American Alumnae/i Association events.
Stewartson notes how different it is to be back as a staff member. "Simmons has changed," she says. "I see more young women passionate about social justice. When I was a student, the focus was on how women could break the glass ceiling. Now the focus has shifted from a corporate mindset to community service or working abroad — there are more paths for women to make a difference." 
Stewartson was born in Barbados and at eight years old, moved to Brooklyn, NY. At 15, she was accepted into A Better Chance program, which provided funding for her to attend a college-preparatory high school in South Hadley, MA, and to live on Mount Holyoke's campus. She began her MBA at Simmons at 25 years old and was one of the youngest women in this program predominated by career-changers. She completed her MBA in 18 months, and the accomplishment made a lasting impression.
"I came to the MBA to be a leader," Stewartson explains. "Now, when I approach a daunting project and think, 'this is difficult,' I think, 'well, so was statistics, so was operations management.' I did that, now I can conquer anything!" 
After a career spent as an administrator for Boston Public Schools, UMass Boston, and Martin Luther King, Jr. School, Stewartson knows the importance of supporting your community. "Simmons has a good reputation in the community of giving back, which makes me proud."
Stewartson is a mentor for students in the first generation program, and accompanied undergraduate students of color to a National Black Journalism Convention in Miami. While a student at Simmons, she had no shortage of mentors. "We had trailblazer Deans — Anne Jardim and Margaret Hennig — who taught us that we can succeed in a male-dominated business world."
Now, the College is named for another trailblazer and Simmons graduate, Gwen Ifill.
"I love that I work for a college named after Gwen Ifill," she says, noting that she shares a similar background with Ifill, who had parents from Barbados and lived in Queens, NY. "I loved PBS and grew up watching and admiring her political knowledge. It's wonderful being here working with Dean Norman to do the best to honor her name. It's our job to let the students know who Gwen was and how we must represent her tenacity wherever we go."