Alumnae/i Feature
Derek Mosley Selected as Fellow of the Society of American Archivists
Derek Mosley '11MS has received the highest honor bestowed by the Society of American Archivists. Mosley will be inducted as a Fellow of the Society of American Archivists (SAA) during an awards ceremony at Archives * Records 2023 in Washington, D.C. this July. An archivist and division manager at the Auburn Avenue Research Library on African American Culture and History, Mosley has dedicated his career to the preservation of Black history, thereby increasing awareness of and access to the documentation of Black history and culture in the nation's archives. In addition to his work in Georgia and Louisiana, he played a key role in the IMLS grant-funded project, "Archiving the Black Web," and is a founding member of the Atlanta Black Archives Alliance, which strives to engage Black communities in documenting and sharing their stories. We spoke to Mosley about what it means to be an SAA Fellow, and the importance of diversifying the historical record.
Tell us about the Atlanta Black Archives Alliance.
I realized during my graduate studies that there are not a lot of [archival] records of Black people or people of color in general.
Atlanta is a hub for Black collections. There are probably 20 different archives in the city and all of them collect around Black themes. I helped to found the Atlanta Black Archives Alliance, a group of archivists very interested in preserving Black culture and history in the city. We offer training and workshops for local community archives to make sure they are knowledgeable about how to best preserve these records. Our goal is to make sure there is a collective record of Black life in Atlanta.
One of the more important documents that we collect [at the Library] are funeral programs. These documents sum up a person's life and their legacy. They are also useful for people researching family history or trying to understand a particular place and time, to see the types of clubs or activities in which people were involved and the types of schools or education background they had. It's a real view into their everyday lives.
Any advice for future archivists looking to diversify historical records?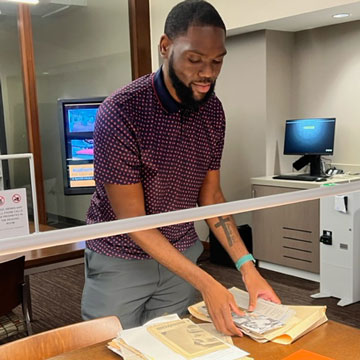 I recommend that archivists reach out to the communities they serve and try to document locally, whether it's collecting documents, or helping local places to document. Go outside your doors to collect with other groups and other people. Listen to community voices. It's valuable for future researchers and for the preservation of these materials.
In my archive, we work with scholars and a lot of local citizens looking for information on a club or a building, or their family that lived in Atlanta for a long time. The majority of our collection is not digitized. People come in or request scans be made and sent to them if they can't visit. We're trying to put more things online, but there is a cost barrier.
Recently, we had researchers looking through a collection of photos from a Jacksonville, Florida portrait studio for photos they lost during a fire. There's always a new or different spin our patrons are looking for in the archive. That's the value of having many perspectives on what people are looking for; they're not just academics who are here to write books. They have questions, and archives are able to provide the answers.
Every day in the archives I find new and interesting things. It's a never-ending adventure with any archive. I've been in my position for seven years, but I'll open a box and see something I've never seen before, then go down a rabbit hole to find out what it is.
What does being a SAA Fellow mean to you?
It definitely lets me know that what I've done in my career is important and has been recognized by my professional organization. So many of my mentors and professors have also been named fellows — Professor Emerita Jeanette Bastian, Associate Professor Kathy Wisser, Steven Booth '09MS — to walk the same line as they have has been a true honor. It says something about the [quality of the] program at Simmons.
How have archives changed during your career?
When I was in school in 2009 and 2010, we were focused on the digital world and how to digitize things. Since then, the rise in community archives and the ever-changing landscape of what an archive is — more than just paper and photos — is an evolution of what the field is.
The pandemic made us document current events. So many places actively documented COVID-19 with oral histories and websites, providing a view of what was going on so that the next generation would be able to understand. We found photographs from the influenza pandemic of 1918; but this time, people were documenting their lives, not just waiting for 15-20 years from now. Those records exist and people can use them for research. It's also interesting to look at those histories from state to state, and see the different ways that states responded to the pandemic. We can look back and see the error in our ways and correct that for the next time something like that happens.