Alumnae/i Feature
Steven D. Booth '09MS Expands the Possibilities of Archival Work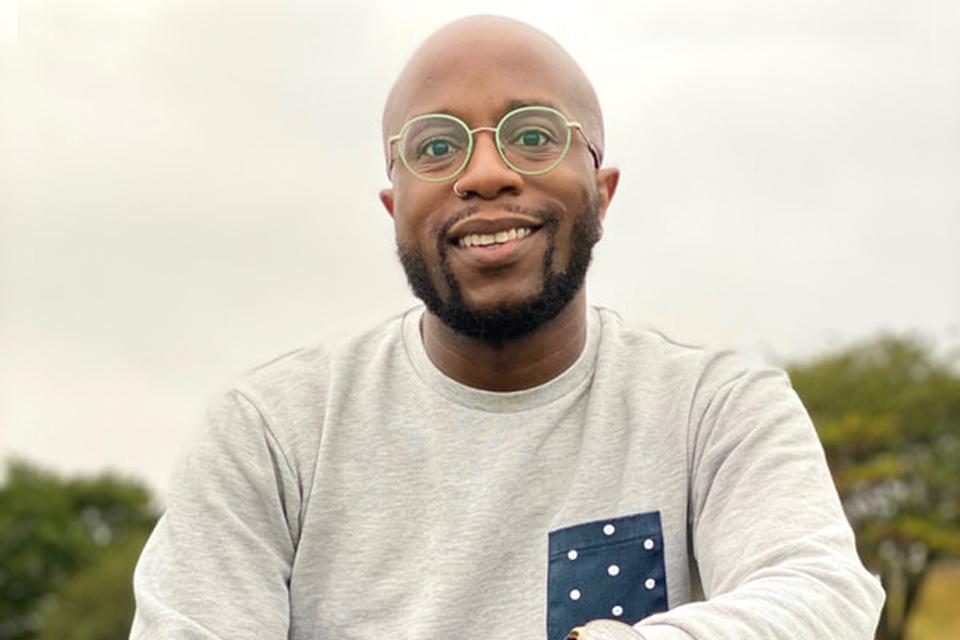 Archivist and independent researcher Steven D. Booth '09MS was recently named a Fellow of the Society of American Archivists. Booth has worked in both traditional and unconventional archival settings, including his current role at the Getty Research Institute, and is a co-founder of The Blackivists, a collective of trained Black archivists in the Chicago area. He spoke with us about his career and how Simmons helped him succeed in his field.
Tell us about the kind of work that you do.
I am an archivist and have done traditional archival work at places like the National Archives and Records Administration, the Howard Gotlieb Archival Research Center at Boston University, and now at the Getty Research Institute as the Johnson Publishing Company Archive Manager.
As an archivist, my work is primarily centered around preserving materials that document people, places, communities, and events. I help make these materials accessible to the public that exists now, and the public that will exist in the future.
I have been part of a few archivist collectives, one of which is The Blackivists. This is a collective of six Black archivists from Chicago who facilitate archival education for a number of residents and communities. We help people who are documenting their families, organizations, or communities to create self-sustaining archives.
I am also an independent researcher. In other words, my research is not affiliated with any of the institutions for which I work. Right now, I am collaborating with Brenda Gunn from the University of Virginia on a survey of transitional moments and shifts in the archival profession from the 1980s to 2020. I'm also working on a book project with Barrye Brown, examining the founding of the Archivists and Archives of Color Roundtable, which is a member-affinity group of the Society of American Archivists.
How did you become interested in working in archives?
Growing up, I've always had an interest in history, particularly American and Black history. My family planted this seed long ago. However, it was not until senior year of college that a professor made a suggestion that I go to library school, because I had really good research skills.
Before then, I had worked at a Chicago Public Library branch as a library page. And at college I worked for a music camp, which included working in the music library. I also performed library duties for the Glee Club in college. I ended up doing an internship at the Atlanta University Center Robert W. Woodruff Library. During that internship, I became more acquainted with archives. The curator there suggested I attend Simmons School of Library and Information Science.
How did Simmons prepare you to become a leader in your field?
I believe that Simmons is the best program out there. One of the things Simmons does very well is it not just teaches theory, but also offers practical experiences. There are wonderful internship experiences which prepare Simmons graduates to be very successful in the field. When you come out of the program, you know how to process a collection, create a MARC record, or do a digitization project. Many of my successes can be traced back to the foundation I received at Simmons.
Are there any specific Simmons faculty members who were especially inspiring to you?
I had numerous professors at Simmons who were wonderful. One that especially stands out to me is Tywanna Whorley, Ph.D. She is absolutely amazing, and she led Simmons' efforts to recruit students from historically Black colleges. The program that she created gave a lot of us our footing in the field. Professor Whorley was also one of the first Black archival educators, and I was very excited to study with her.
Do you have any advice for current students in library and archives programs?
Keep an open mind about your career and the work you want to do. Many of the opportunities I had I did not seek out; numerous positions fell into my lap. By keeping an open mind, you will find that a lot of interesting opportunities will present themselves. In the current job market for archivists, it is easy to limit yourself to academic institutions and museums. But trying something outside your comfort zone might end up being the best thing for you.