Student Story
Dan Nguyen '23 Receives Robert Y. Young Award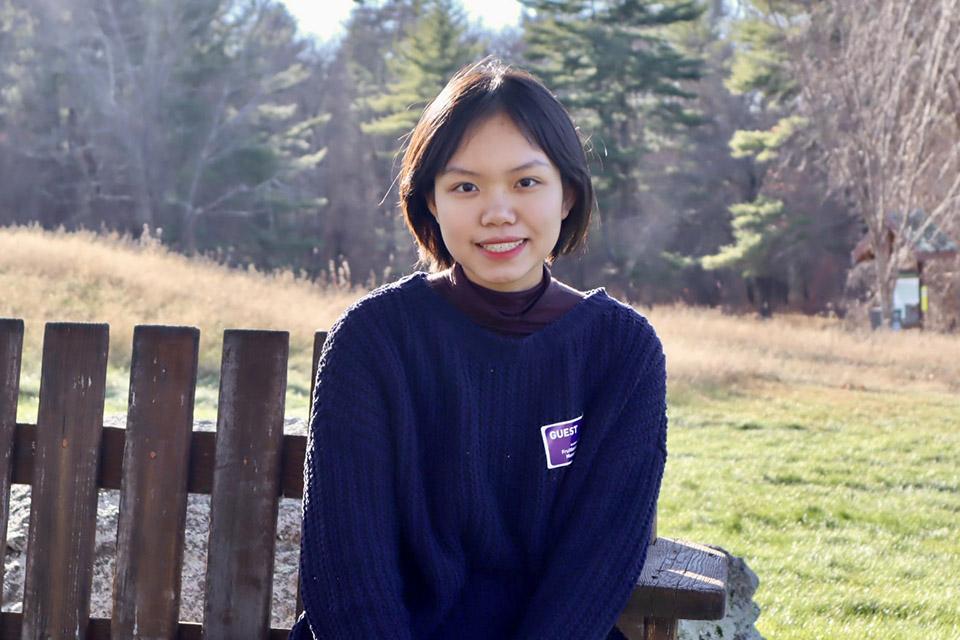 Physics major Dan Nguyen has received a prestigious award from the Acoustical Society of America (ASA). Nguyen began her research as a SURPASs (Summer Undergraduate Research Program at Simmons) scholar and is now testing her theories at the new science building. She spoke with us about her project, what drew her to Simmons, and her future plans.
What does it feel like to receive the Robert W. Young Award?
It feels great. I could not believe it. I submitted my application in the beginning of September, and I had not heard anything since then, so I thought I was ghosted. I did not expect it at all and was very surprised by the result. I am very happy to receive this award, as is Professor Phillip Jason White, my research mentor. I have been working on this research project since the summer, so this is extremely satisfying and rewarding.
Can you tell us about your research project?
My project, "Experimental Detection of Skull-based Ultrasonic Lamb Waves as an Intracranial Pressure Monitoring Method," is a study of biomedical acoustics. I am studying if ultrasound can be a non-invasive method to detect pressure under the skull. When ultrasound travels through the skull, it has certain physical parameters that can be used to characterize the liquid underneath. The project proposal is that we can use those properties to understand how the pressure has changed under the skull.
Currently, I am testing my theoretical predictions that I generated during SURPASs. I will begin testing my theory on a plastic plate first, and a plastic cylinder, then finally using a skull.
Professor White is supervising this project, and it will be performed at the Simmons University Biomedical Ultrasound Lab with Leila Aydibi '24. Whereas my earlier research as a SURPASs scholar was conducted remotely [because the science building was not open during construction], I will now begin to conduct physical experiments in a laboratory setting. This will allow me to get some experimental data. We are using a fish tank filled with water and immersed ultrasound transducers to run the experiments .
Why did you decide to become a physics major?
I did not study physics until my senior year of high school so the decision was made fairly late. I found its quantitative aspects very exciting and enjoyable. When I applied to college, I found out that a degree in physics is versatile and will allow you to explore many fields within the natural sciences. Physics lays the groundwork for most sciences, and your skills will be transferable to many fields.
Why did you choose Simmons?
I found out about Simmons by attending a field trip called Science, Engineering, and Technology in the City, or SET in the City. The opening speaker was a chemistry professor at Simmons [former Simmons Professor Mariam Ismail], and I was astonished by her work. I knew that I wanted to attend a women's centered college, or a college in a big city, and Simmons is the perfect combination. Another bonus is that Simmons is located near many reputable research hospitals and medical institutions.
What is your experience being an international student?
As an international student from Vietnam, my experience has been great. I planned very well, and this is key, because it can be complicated for international students to do summer internships beyond their own campus. I am very thankful for the SURPASs program at Simmons, and these kinds of internal resources can be an excellent option for international students. There are a lot of student-centered events hosted by the Center for Global Education and student clubs that can be very meaningful to international students.
Can you tell us about your activity as the DEI Officer for the Chemistry and Physics Liaison?
This is my second year holding this position. Last year, I held a workshop where we discussed how to identify unconscious bias in the scientific field. Most recently, I delivered a presentation on deserving scientists who did not receive the Nobel Prize. I wanted to get a conversation started on how to rethink meritocracy in the sciences. In the future I also plan to apply for the Women in Physics group grant, so the Liaison can better support the growing numbers of physics majors on campus and organize more outreach events.
What are your plans after graduation?
I am applying to pursue a bachelor's degree in biomedical engineering as part of the 3+2 Engineering program at Simmons. This unique dual degree program will enable me to receive a degree from both Simmons and Columbia University.
Do you have advice for students who want to pursue a similar path?
Having a goal for everything you want to do is very helpful. Don't waste time hesitating; take on new challenges and stay committed and engaged. Try to follow through as much as possible, and keep an open mind. You can learn about new things by joining events and organizations on campus. Simmons offers a number of networking and socializing opportunities, so take advantage of them.