Alumnae/i Feature
Community Leader: Enna E. Jimenez '91, '06E Supports Students and Engages Alumnae/i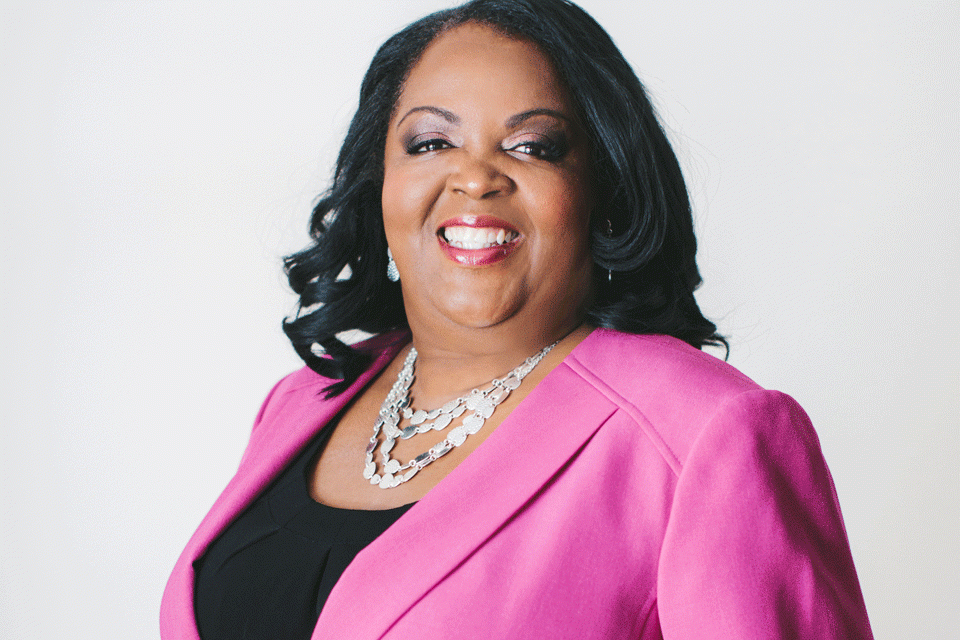 Simmons gave me the ability to fight for others and realize that I can make a difference.
I owe a lot of my success to Simmons.
For Honorary Trustee, Enna E. Jimenez '91, '06E, a life-long passion for community leadership began at Simmons. "I came into my own and realized the power that I had, using my voice," reflects Jimenez, who studied computer science and Spanish as an undergraduate.
Joining the Black Hispanic Organization (BHO) in her first year, Jimenez quickly noted how many Latinas were on campus. She mobilized her peers to create a student chapter of the Organization of Latin American Affairs and transform the BHO into the Black Student Organization.
"That was my first act of doing something that was for the community, and it has driven me for the rest of my life," says Jimenez. "Simmons gave me the ability to fight for others and realize that I can make a difference. I owe a lot of my success to Simmons."
She's stayed connected to Simmons over the years, speaking to student groups, leading the alumnae/i association and joining the Board of Trustees in 2015. Jimenez is also a Dean's Council member for the College of Organizational, Computational, and Information Sciences (COCIS), and attended the fall retreat to work with COCIS faculty on inclusive classroom practices.
This year, Jimenez was appointed by President Wooten as a Presidential Advisor for Alumnae/i Engagement. She will work with the President's Advisory Council on Diversity, Equity, and Inclusion to identify critical diversity issues.
Jimenez is continuously recognized for her leadership expertise. In October 2019, Jimenez received the 2019 National Top Latino Leader Award from the Council for Latino Workplace Equity and National Diversity Best Practices. The award was presented to her at the 5th Annual Latino Leadership Conference in Los Angeles. She was also recognized by the Office of Massachusetts Governor Charlie Baker with a Citation for Leadership and Excellence for her work with the Boston Chapter of the Association of Latino Professionals for America (ALPFA), which received Chapter of the Year during her presidency.
She recognizes the challenges Latinx professionals face, which led to her involvement in ALPFA. "How can we make sure that Latino students can see themselves in professional positions in the future? What role models do they have, and what am I doing to provide them with people to look up to? Are they equipped with the right tools to be successful in life? Those are the things that energize me," she explains.
Jimenez learned a lot by watching her parents, who were entrepreneurs and involved in community organizations. "They struggled to keep the family afloat, but they were not afraid of struggling — or of speaking up. I inherited that drive from my parents, and now I'm trying to make a better place for young Latinos."
She'll use that drive in her new advisor role at Simmons: "The ALANA class this fall is the biggest in Simmons' history. What do we need to do to support them? I want to bridge the gap between alumnae/i and students in a way that will engage our alumnae/i and strengthen the student experience."