Voices of Simmons
COMMing Back to Simmons: The Importance of Networking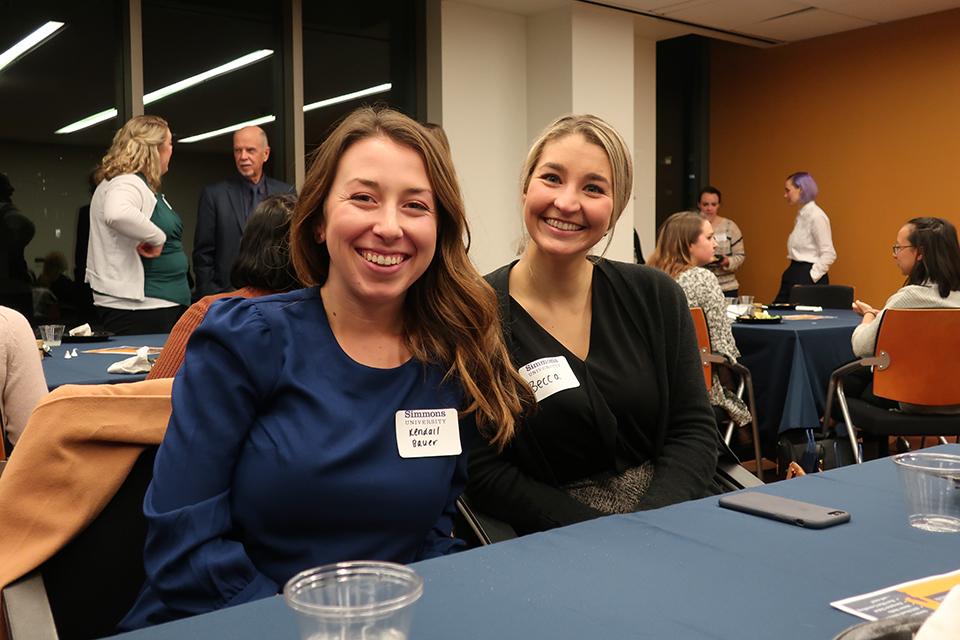 The Communications Liaison hosts 5th annual networking event for students and alumnae/i.
Students sat with communications alumnae/i at the fifth annual networking dinner on Thursday, November 8 to talk graduation, careers and life after Simmons.
The dinner, hosted by the Communications Liaison was a mix of 45 students, 14 alumnae/i and faculty members. President of the liaison, Catelyn Kimball '19 kicked off the event, followed by Chair of Communications Ellen Grabiner, who welcomed attendees to the first of these dinners in the new Gwen Ifill College of Media, Arts, and Humanities. 
The alumnae/i came from a variety of industries, from health care to finance. Students moved from table to table, asking about the careers of the graduates, living in Boston and life after they turned the tassel. 
"We talked about the adjustment from college to adulthood and the challenges they faced. These were valuable and genuine conversations that I'll remember after I graduate," said Caroline Smith '20. 
While students inquired about post-grad life, alumnae/i shared their experiences of navigating the job market as recent graduates. Some alumnae/i had even attended previous networking dinners as students and were now returning as full-time professionals.
"I loved attending as a student and it was great to be able to return and offer advice to the current communications students. It's also a great way to reconnect with friends and make new professional relationships," said Madison Florence '18, who now works at Boston Lyric Opera.
There were seemingly endless laughs and embraces in the room, creating a palpable sense of community. By 8 p.m., students and alumnae/i had exchanged cards and LinkedIn accounts.
"The network at Simmons is really great and viable. Use it to your advantage," said Dana Robie '12, Public Relations Manager at Parexel.
Opportunities like this are unique to Simmons and show the strength of the Communications Department. The dinner provides students and alumnae/i a place to share stories and maintain a strong communications network.
"After each of these events, I have grads tell me how much fun it is to reconnect with classmates and talk to current students," explained Andrew Porter, Associate Professor of Practice and Internship Director in the Communications Department. "And students love hearing from our grads. You don't get this sort of engagement in other schools. It's a strength of Simmons."