Alumnae/i Feature
Charlene Hollins '09 Sings National Anthem for Boston Red Sox's "Nurses Week"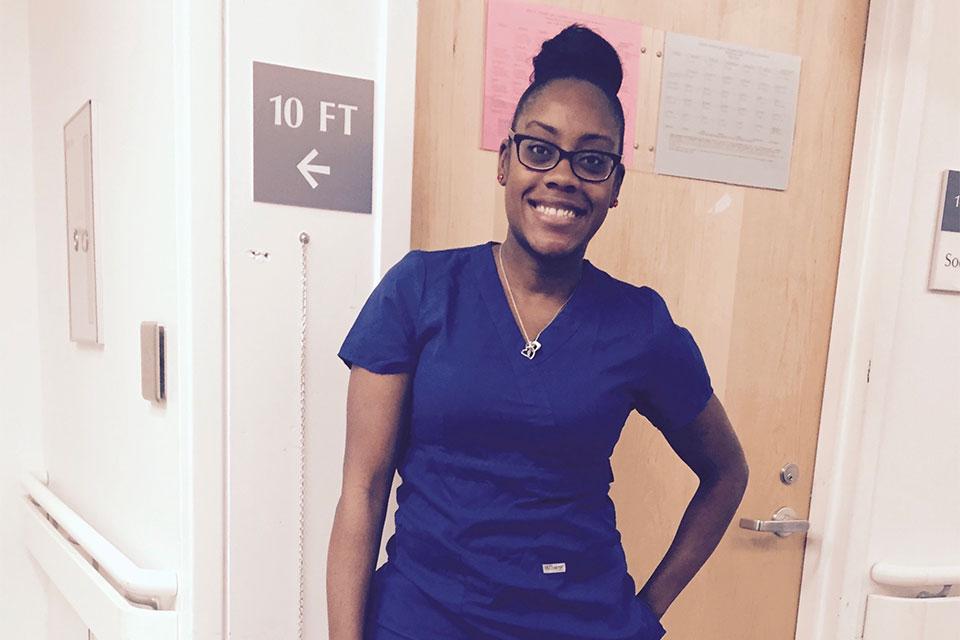 It is a true honor to represent nurses for the Red Sox's "Nurses Week.
What inspired you to pursue a career in nursing?
My aunt inspired me to pursue a career in nursing. I decided to advance my career to have autonomy in the promotion of health and disease prevention. I will be graduating this May from Regis College with a Master of Science in Nursing as a Family Nurse Practitioner with hopes to open my own primary or urgent care clinic practice for underserved communities.
How were you selected to sing the National Anthem for the Red Sox during "Nursing Week"? 
There was a mass email that was sent out to the Emergency Department asking if anyone was interested in singing the National Anthem. It has always been on my bucket list so I decided to try out. I auditioned with an audio recording and I was contacted by email about being selected as the National Anthem singer for nurses week. This is my first time singing for a large audience in the Fenway. I actually grew up singing in the church under the direction of my grandfather Bishop Charlie Hollins. I also was the founder and director of the Simmons Gospel Choir. It is a true honor to represent nurses for the Red Sox's "Nurses Week."
What do you find most rewarding about your work?
Nursing is a unique profession and may be overwhelming at times. The rewards of nursing are numerous. We have the ability to affect someone's life positively by creating an opportunity to help and inspire others while healing and promoting wellness. No matter what setting we witness miracles of life and miracles of death and continue to have compassion for our patient's and their families.
What leadership skills did you learn at Simmons that have helped you succeed in your career?
At Simmons you learn the importance of the "Simmons Voice" which gives you the ability to speak your truth with a deep sense of purpose and value. Obtaining these skills provides you with the leadership qualities that you need to succeed. Knowing who you are provides an opportunity to encourage, empower, and motivate others to overcome barriers and be the foundation of change.
Do you have any advice for current students considering a career in health care?
I encourage you to never let anyone shatter your dreams. A career in health care provides endless opportunity. Use your "Simmons Voice" to become a healthcare advocate and raise awareness, promote health, and improve cultural competency in nursing education to provide equal opportunity for healthcare access.
What is your favorite Simmons memory?
My favorite Simmons memory was being selected to be the undergraduate speaker at my Nursing Pinning and sitting on the membership committee of the Black Student Organization (BSO).