Alumnae/i Feature
Campaigning for Social Justice with Sophie Hansen '16MSW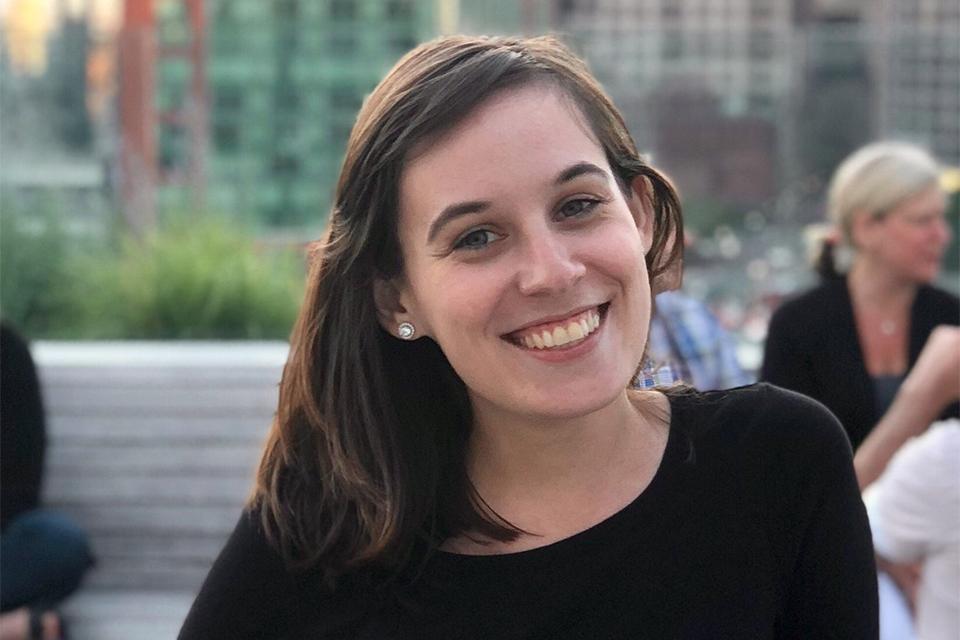 As Political Director for the National Association of Social Workers-MA, Sophie advocates for positive change.

On the National Association of Social Workers
Founded in 1955, the National Association of Social Workers (NASW) is the largest organization of professional social workers in the world, with over 130,000 members and 55 chapters. The Massachusetts Chapter of NASW (NASW-MA) is the largest professional social work organization in the state. We're committed to the mission of advancing professional social work practice and the profession, as well as promoting human rights, social and economic justice, and unimpeded access to services for everyone. Our 6,400 members work in a broad range of settings, including: hospitals and other health care settings, community agencies, government, academia, business, nursing homes, schools and private practice.
On her responsibilities as Political Director
My role has three parts: the first is to develop and foster relationships with elected officials at the State House, which enables our Chapter to effectively advocate for legislative priorities that will protect and elevate the social work profession as well as positively impact the populations we serve. The second part is to represent NASW-MA at coalition meetings where we work closely with like-minded organizations, labor unions, and professional membership associations that come together around shared key issues.
The third is to engage and mobilize our membership of 6,400 social workers to bring their expertise and experience to the State House through testimony, rallies, meetings with legislators and other forms of advocacy. By actively working in all three areas, we're able to showcase NASW-MA as a trusted and steadfast advocate for social justice in the Commonwealth, which is at the core of social work and our code of ethics.
On the rewarding job of social work
My job allows me the flexibility to work in a variety of settings and sit down with experts regarding different policy issues. I enjoy representing the social work field and educating others about how vital the services are that we provide. My hope is that as our membership continues to grow and more social workers are running for office — two of which recently won state elections! I hope that the Commonwealth will recognize the unique value and lens social workers bring to all areas and invest in our profession.
I also enjoy talking with current social work students as well as established professionals to help them bridge the gap between policy and their clinical work. Our field is often presented as two tracks — clinical and macro, but in reality, both work together and inform each other. Every social worker, at one point in time, has felt like they've exhausted all their resources and still found a barrier when trying to address the needs of a client — that's a barrier that can typically be removed by implementing good policy changes. Advocacy is at the root of the social work profession. I've enjoyed seeing the recent increase in social workers flexing their 'macro' muscles — we have such an important and unique perspective, and we can create positive change by sharing it.
On choosing Simmons
Simmons' reputation for the social work graduate program is unlike any other school in the area — the clinical opportunities, all-star faculty and quality job opportunities are unparalleled. Simmons gave me the clinical underpinnings needed to do this work in both the macro and micro aspects of the social work field (I also work per diem as a social worker at Boston Children's Hospital). The current clinical expertise that each faculty member brought to class aided me in the parallel process of my clinical placements. I feel really proud to be a graduate of the MSW program at Simmons.
On her favorite professors
Both of my social work practice professors, Seth Kleinman and Nora Rushford, were integral players in my development as a social worker. They started each class with such exuberance and pride in their clinical work. They also share my passion for the annual Legislative Education and Advocacy Day (LEAD) that NASW plans for first-year MSW students across the state. I value their professional expertise and appreciate the collegial friendship that we've developed since I graduated.
On her favorite Simmons memories
Almost every day I run into a colleague who graduated from Simmons. Even if it's not the social work program, it establishes an immediate connection and we're able to reflect fondly about the personalized education and tight-knit network that Simmons provided for us. I take great pride in being a Simmons alumna and deeply value that Simmons continues to offer a special place for all of its alums and current students.