Alumnae/i Feature
Brenda Sanya '11MA Researches Citizenship, Immigration, and Education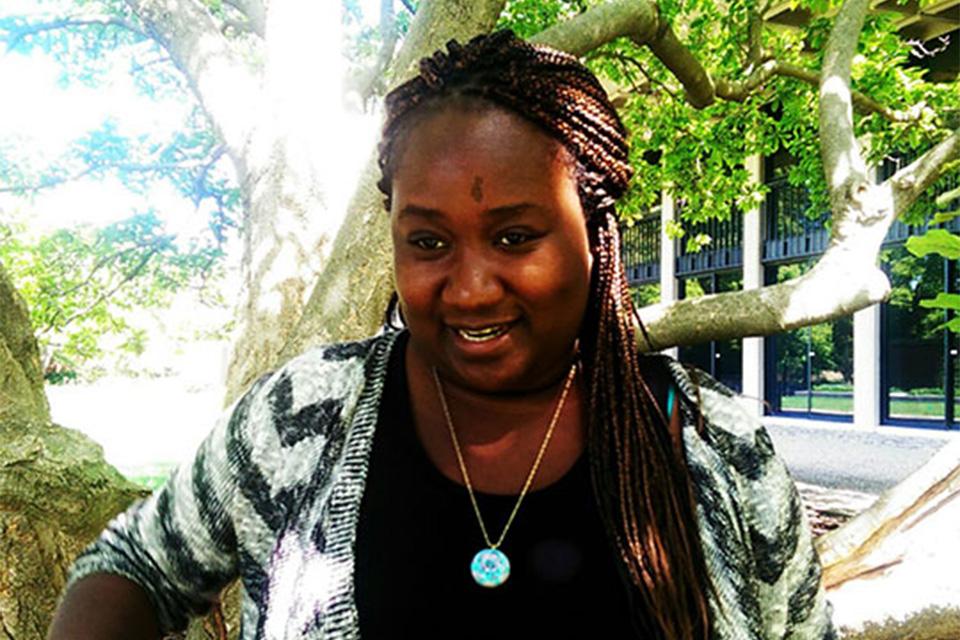 Brenda's scholarly work and teaching benefit from the interdisciplinary approaches she learned in the GCS program.

What is the focus of your work?
As a scholar of citizenship, immigration, and education, my research is situated at the intersection of critical race, queer, and transnational feminist studies. I seek to understand the cultural production of citizenship laws, the legal cultures and social boundaries that impact legal (citizenship and immigration) rights, and the role of education in discretionary applications of citizenship laws. 
My current project examines how education has been operationalized within U.S. immigration law and policy since 1965. To explore how legal categories of citizenship and immigration shape, expand, restrict, and define salient forms of personhood, I study the impacts of cultural enactments of law upon highly educated and documented African immigrants in the United States. This research unveils the disjuncture between documentation and legal rights to demonstrate the dynamic ways in which race and education are imbricated in the law. 
Simmons was instrumental in my understanding of interdisciplinary scholarship. At Simmons, my thesis developed from a study focused on access to health and social amenities to targeted questions about the role of education in rural Kenyan women's civic engagement and understanding of constitutional rights. The intersectional and interdisciplinary courses at Simmons were foundational in shaping my academic interests.
What was your favorite class at Simmons? 
That's a tough one. I had fantastic experiences in my coursework, and each course posed different challenges that stretched my thinking and allowed me to engage in projects that I was interested in. However, if I had to pick one, it would be Laura Prieto's Gender, Race, and Imperialism. The course readings were from history and cultural studies, which created robust conversations about methods and content; we studied imperialism with a focus on gender and race, and our discussions were always lively. It was also in that course that I decided to conduct a field study for my thesis, and that study transformed how I understood what I wanted to do with my academic plans. I still go back to that syllabus for reading suggestions and the reading summaries I wrote. 
Are there any faculty members that especially impacted you in your time at Simmons? 
Absolutely. Laura Prieto, whose course I mentioned. And, I learned so much about teaching as Carole Biewener's teaching assistant; her commitments to teaching and learning still help me in the classroom. And finally, Theresa Perry's advice and support continues to be central in my life: I have been fortunate to have her as a generous mentor, interlocutor, and friend. She helped me in the process of applying for graduate schools and making decisions when letters came in, meets with me to 'check-in' at national conferences, and was the external reviewer on my dissertation. 
What is your advice to a prospective student considering Simmons?
Contact Simmons. Since faculty and students are such a central part of this process, I would encourage them to speak to faculty at Simmons and graduate students, and if possible sit in on a class. All these perspectives will give you a better understanding of the best choice for you based on your interests, strengths, and what Simmons has to offer. Actually my first year in my doctoral program, I recommended Simmons to an undergraduate student who has since attended and graduated from the GCS program. 
What were the benefits of an interdisciplinary/intersectional program like gender and cultural studies?
I recently completed a PhD in an interdisciplinary program, and one of the most exciting parts of inter/multi/transdisciplinary scholarship is the ability to find strength in bridging fields and using various methodologies and theories to explore a particular question. Attending an interdisciplinary program at Simmons, with an interest in feminist, gender, and queer theories, I was concerned that race, nationalism, and citizenship would become secondary to the scholarship I engaged in, but of course that wasn't the case. I learned how to engage how power and norms are related to state power and these multi/interdisciplinary approaches continue to be central in my research and teaching.
Describe the personal and professional relationships you cultivated within your GCS cohort.
Over the years, I have enjoyed friendships with people from the GCS cohort before mine, who also did doctoral work in the Midwest and those in the one after mine. I also spent the summer sharing a home with Rama Srinivasan, who I met in Laura Prieto's course, as we worked through questions in our research at Cornell's School of Criticism and Theory. As my scholarship has grown and transformed, and I have completed various milestones, my friends from Simmons have read my work, asked me questions, taught me about their own work, and showed up at presentations. 
What was the best part of being a GCS student?
My experience of academic community at Simmons remains unmatched for various reasons, most importantly, since most of us were, and continue to be, committed to studying power and social inequality with an understanding that race, gender, class, disability, and sexuality are mutually constitutive.