Student Story
Behind the Scenes: Abby Vervaeke '21 Interns at Meet the Press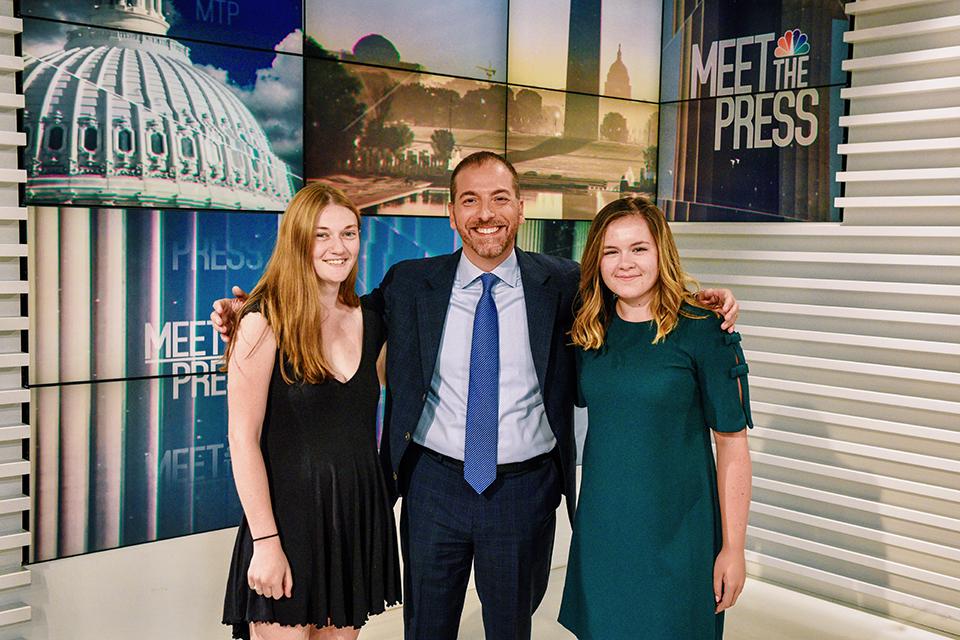 My experience at Meet the Press was incredibly hands-on... It was my first time working in media and I immediately fell in love with the industry... It isn't something that I ever expected to pursue, but I'm really excited by the idea of it. 
Why did you decide to come to Simmons?
While visiting Simmons, it was evident to me that the University really cares about its students. Because of its small size, students are able to get to know their faculty and work with them one-on-one. It's nice to have a small community along with all of the opportunities that Boston offers. 
Why did you pursue your degree?
I've been passionate about politics since I was a kid, so majoring in political science was a no brainer for me. As for communications, it was something I started thinking about towards the end of high school. One of my English teachers introduced me to the field and I realized it was something I was interested in. When I arrived at Simmons, I immediately started taking political science and communications courses.
Tell us about the process of getting the Meet the Press internship.
I was able to see a taping of Meet the Press the summer going into my sophomore year because I had a friend interning there at the time. While I was sitting in the studio watching the interviews take place, I realized that I wanted to intern there. 
The process of getting the internship started with submitting my resume and a cover letter. Even though I didn't have any formal news experience at the time, I was able to speak to my previous experience on political campaigns. About a month after I applied, I was told that I made it into the second round of the application process. I had to submit a pitch on who Chuck Todd should interview that week and why. One month later, I was formally offered the internship. 
What were your responsibilities?
Every day was a little bit different in the Meet the Press office and that's what I enjoyed most about my internship. During the week, I spent most of my time conducting research and pitching questions for a guest that was booked for Sunday. I also had the opportunity to produce content for the Meet the Press social media accounts and podcasts. 
On Sundays, everything moved quickly. Interns started at 5 a.m. and there was always something to do as soon as we arrived. The four interns were on different rotations each week: guest duty, audience duty, F-control, and EJ. Audience and guest interns were in charge of greeting audience members and in-studio guests and bringing them on set. During the show, they remained in the studio for any last minute tasks. The F-Control intern sat in the control room next to the senior producer during the show. They were in charge of monitoring the news wires and social media, as well as any last minute research for the show. The EJ intern helped out in the edit rooms before and during the show. They found bites for any last minute mashes, transcribed best bites for social media, and checked tape. After the show, I helped clean up the transcript and produce the podcast version of that day's show. 
What did you learn from this experience?
My experience at Meet the Press was incredibly hands-on. Everyone I worked with really cared about what I wanted to learn and the projects I was working on. It was my first time working in media and I immediately fell in love with the industry. Having had this experience, I'm currently interested in learning more about digital production. It isn't something that I ever expected to pursue, but I'm really excited by the idea of it. 
As Dean's Fellow for the Ifill College, how do you hope to carry on Gwen Ifill's legacy?
Gwen Ifill was a trailblazing journalist. She broke barriers and demonstrated the highest form of journalistic excellence. Throughout her career, she used her platform to lift the voices of others and provide mentorship to those following her lead. 
As the Ifill Dean's Fellow, it is my job to promote the work that our students and faculty are doing to continue Gwen Ifill's work. Opportunities like the Mentor-in-Residence program and the Ifill Forum enable our community to engage in important conversations and lift each other up. I see my role as a resource to the Simmons community as we all work to carry on Gwen Ifill's legacy.
Do you have a favorite Simmons memory?
Definitely traveling to Argentina with Simmons World Challenge. I was able to meet students from all different majors and work on projects that I cared about. We studied social and political barriers to infant nutrition and breastfeeding in the context of the United States in January 2019. In May, we traveled to Buenos Aires to study on the same topic in the context of Argentina. World Challenge has been central to my experience at Simmons. The program is open to sophomores every year — I would definitely recommend applying!