Alumnae/i Feature
The Artful Archivist: Combining Library Science and the Art of Books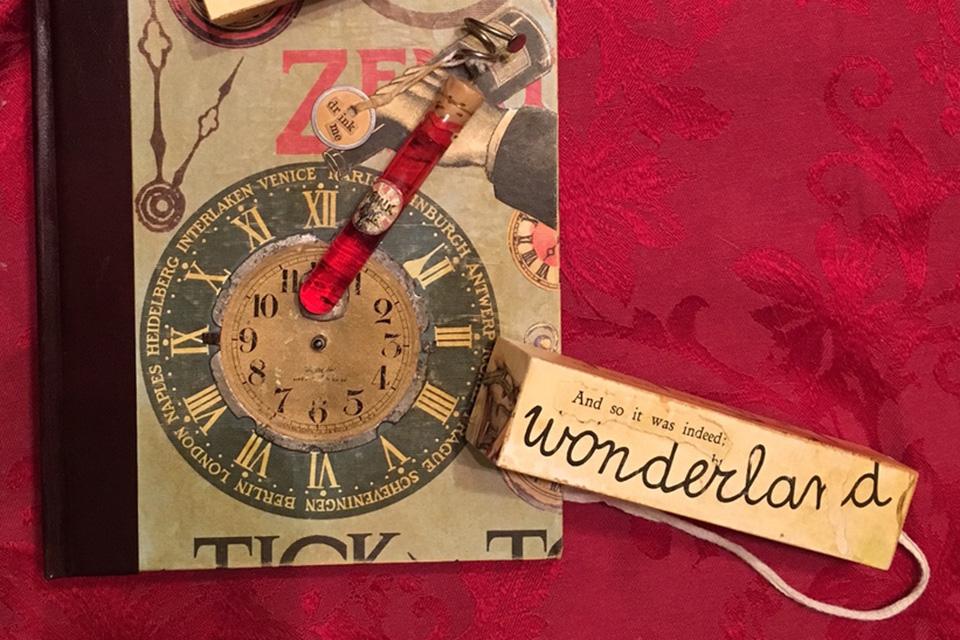 PhD Student Anastasia Weigle '98MS shares how her love of bookbinding informs her art and her research.

How did you become interested in bookbinding?
I took a course in bookbinding at Simmons in 1997, while finishing up my School of Library and Information Science (SLIS) degree in archives management. The course taught us basic library materials repair, and I loved learning about the construction of books, how to dismantle and rebuild books during the repair process. I loved it so much I continued taking courses in book repair and conservation at North Bennett Street School in Boston and at the Garage Annex Street School of Books Arts in Northampton between 2001 and 2006 to build my skills. That lead me toward bookbinding and book arts. I've been repairing and conserving books since then.
How do you combine art and your work as an archivist?
I've been involved in archives and special collections for almost 30 years in the museum and library setting—way before my masters degree. I have an undergraduate degree in natural science illustration, but in 2001 my artwork started to reflect my profession as an archivist. I made a major change in my art medium when I began building assemblages out of orphaned photographs and artifacts to tell a story or convey a theme or message. I started to create pseudo collections for my online students at the University of Maine at Augusta. I would mail small collections to my students so they could experience the physical nature of artifacts while learning how to interpret and process archival materials. I even wrote a chapter about how archives influenced me as an artist in a forthcoming book titled, "Creativity and Personal Growth for Librarians" (McFarland, 2019). 
Can you tell us about your studio in Maine and the workshops you offer?
I have an art and bookbinding studio out of my garage where I do my art project and bookbinding work. I teach classes in the book arts, basic bookmaking, and assemblage art. I also teach workshops in basic book repair and book conservation for librarians and paraprofessional in the library. I also provide book conservation services for the general public which include basic rebuilding and re-casing of books to leather, among other conservation repairs.
What is the focus of your research in the PhD program?
My research focus is on the materials experience of studio artists. It's a mixed-method approach to investigate how studio artists, in particular the mixed-media artist, experiences materials to meet their creative, artistic, and intellectual needs. Materials experience is not about the books or journals. It's about the interactions and engagement between the artist and their materials (organic and inorganic) used during the creation of art. 
In the field of LIS, I believe the outcome of such a study would bring an additional dimension to understanding the interpretive and experiential nature of physical materials and how artists retrieve and use information taken from physical and cultural objects. But also, it recognizes the role of Material libraries, which exist in some art and design schools in the United States and the U.K. to support the architectural and design engineer students. A materials library is a facility that houses a collection of physical items or objects of various broad composition-based materials such as organic matter (paper, wood, bones, textiles, insects) or inorganic matter such as glass, wire, metal, plastics, and composites. The role of the material library goes beyond the architect and design engineer student to include the creative arts—making material libraries just as important as traditional libraries with print and visual resources.