Campus & Community
Archive Project Documents Simmons' Role in the History of Nursing Education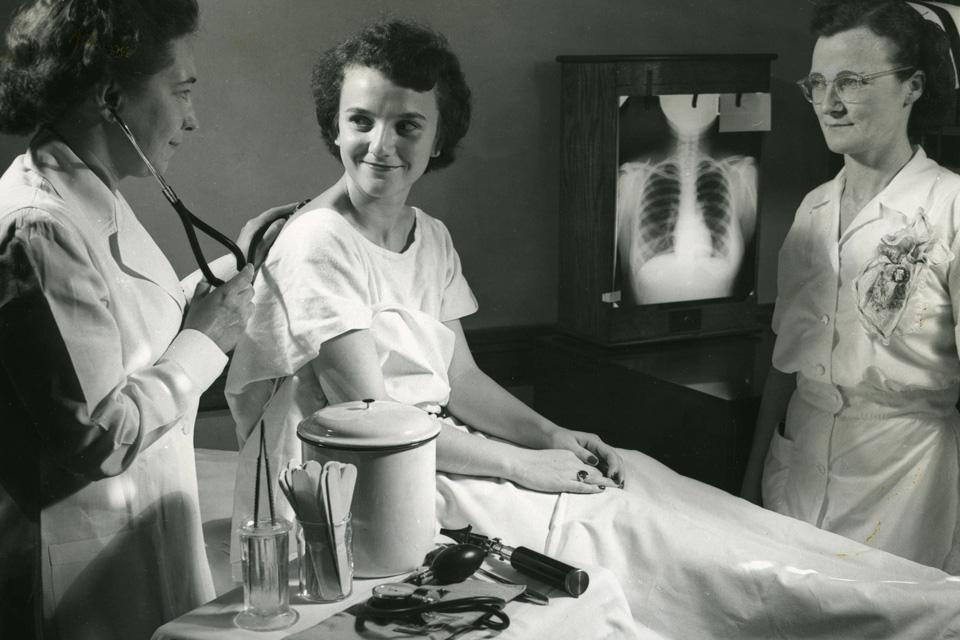 "Simmons has a great reputation for educating nurses," says School of Nursing Associate Professor Patricia Rismiller. "The Nursing program at Simmons started in 1902. I've often wondered how it started, and how we got to where we are."
Rismiller's interest in the program's history led to a collaboration with University Archivist & Deputy Director Jason Wood, pulling together records about the emergence of the first program in New England to offer a BA in Nursing.
"Usually, nurses were learning in apprenticeship programs," notes Rismiller. "They spent three years in hospitals, learning on the job and offering free labor." The very first nursing course at Simmons was offered in 1902 in the Department of Housekeeping. "[The degree] prepared women to be independent and take care of their families, which was [Simmons founder] John Simmons' goal."
The University archives were founded in the 1970s, beginning with a collection of administrative records of every academic department in Simmons. "Our predecessors did a lot to capture the earliest records, including the founding and development of the School of Nursing," says Wood. "We have a wonderful treasure trove of annual reports, which the chair of each department would submit to the president every year."
With support from the University's Faculty Fund for Research, Rismiller and SLIS student and research intern Lilli Thorne '20, '24MS have begun to cull through those materials. "Nursing is how so many women became involved in the professional workforce and made themselves a part of the outside world at the start of the 20th century," says Thorne. "I don't have the stomach or the heart to practice nursing, but I've always had an interest in its history."
Right now, the project involves interrogating the source materials. "I started with some secondary sources and requested several Interlibrary Loan books to get more of an understanding of nursing education more broadly, and to see how Simmons situated itself within that timeline," she says. "As late as the 1940s, other Universities were reaching out to Simmons for help to create their own programs. After WWII, nursing had the highest enrollment at Simmons. Before then, home economics was in the lead. It's fascinating to see how the outside has influenced Simmons and how Simmons has contributed to the outside world in big ways."
Wood has noticed innovations in curriculum development across the major programs at Simmons. "It hinged on understanding the needs of the workforce," notes Wood. "We want to look at the influential factors that may have led Simmons to develop a program to train nurses. A grounding in academia and positioning students for the working world is a Simmons innovation in many respects, and it's part of the history of the nursing program. We want to get our heads and our hearts around the founding, and then reflect: what does this say about the School of Nursing at Simmons in 2022? How is it positioning itself for relevance today, and looking forward?"
Thorne's broad research has gradually become more narrow with time, including meeting minutes, student newspapers, and annual reports. "It's fun to see the perspective of each department leader and how they were running their department. You can see what changes they wanted to make and see how those changes were implemented." And she's found fascinating details about common issues in nursing throughout history. "I've read articles about how nothing can prepare you for entering a tuberculosis ward, or a polio ward. I'm sure that nothing can prepare you for nursing these days, either."
Looking at annual reports from the 1960s and 1970s, Rismiller sees trends emerge. "Simmons integrated interdisciplinary courses into their curriculum before it was the in thing to do," she says. Not only were faculty collaborating with healthcare professionals, but Simmons started a nurse practitioner program in the mid-seventies with Brigham & Women's. "They were listening to what's going on in the context of healthcare, and created a master's program focused on expanding the role of the nurse," says Rismiller. "They were focused on promoting communication and avoiding patient error, and designed courses around that. I'm interested to learn how the faculty came to the idea at that time."
Wood, who created a timeline of events in the Nursing department with former CNBHS Dean Judy Beal, is eager to augment that timeline with historical background, and share the story with the Simmons community. "We have wonderful photos that show the arc of Simmons' innovation in the nursing field. And we hope to engage with past professors and deans to capture personal recollections from the past 20, 30, or 40 years," says Wood. "I see the archives as the nexus, where versions of the past meet versions of the future."