Announcement
Announcing the 2021 Alumnae/i Association Award Recipients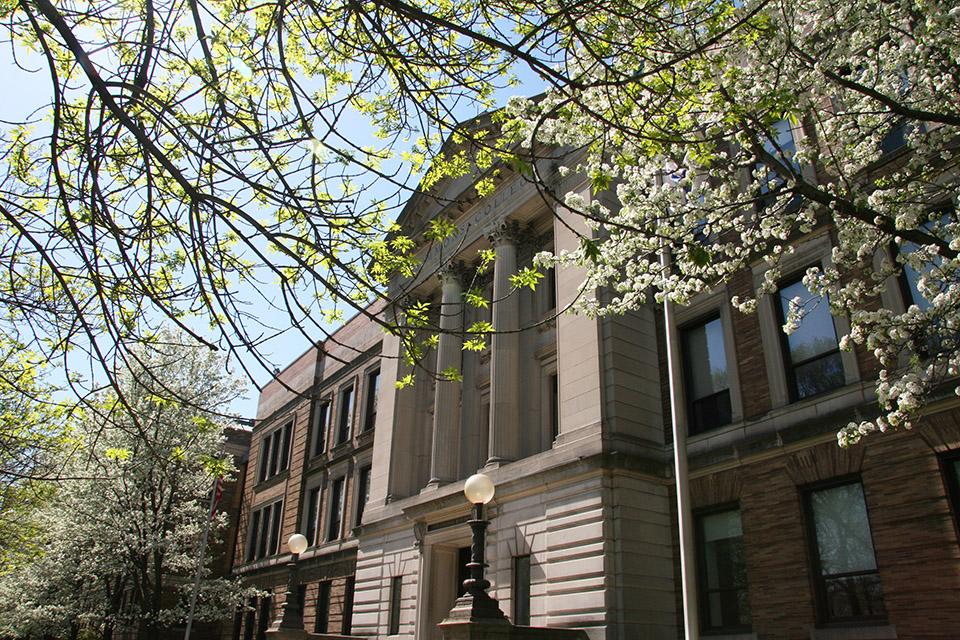 Congratulations to the 2021 Alumnae/i Association Award recipients!
The Simmons Alumnae/i Association Executive Board is pleased to announce the recipients of the 2021 Alumnae/i Achievement Awards. The winners were nominated and selected by their fellow Simmons alumnae/i, who serve as volunteers for the Alumnae/i Association. The recipients of the 2021 Alumnae/i Achievement Awards will be celebrated virtually during Reunion weekend in 2021.
Lifetime Achievement Award
Patricia Whitley-Williams '71
Patricia N. Whitley-Williams, MD is Professor of Pediatrics, Chief of the Division of Pediatric Allergy, Immunology and Infectious Diseases and Associate Dean for Inclusion and Diversity at Rutgers Robert Wood Johnson Medical School (RWJMS). A native of Boston, she received a BS degree in biology from Simmons and an MD degree from Johns Hopkins University School of Medicine. She completed her pediatric residency at Children's Hospital Medical Center in Cincinnati and fellowship training in pediatric infectious diseases at Boston City Hospital/Boston University School of Medicine.
She served on the faculty of Boston University School of Medicine and Morehouse School of Medicine in Atlanta, Georgia before joining the faculty at Rutgers RWJMS (formerly known as the University of Medicine and Dentistry of NJ). She is board certified in pediatrics and pediatric infectious diseases and is a Fellow of the American Academy of Pediatrics and a member of the Alpha Omega Alpha Honor Medical Society. She has published articles and several book chapters, served on national grant review committees, is the recipient of many awards, and has mentored many young pediatricians, residents and medical students.
She is a member of the Infectious Disease Society of America, the Pediatric Infectious Disease Society, the American Academy of Pediatrics and the National Medical Association. She serves on national committees including, the National Foundation for Infectious Diseases (President), the National Medical Association's liaison member of the Advisory Committee on Immunization Practices at the Centers for Disease Control and Prevention, member of the Governance Review Task Force of the National Board of Medical Examiners, a member of the NJ Department of Health's Professional Advisory Committee and NJ Department of Health's COVID-19 Professional Advisory Committee.
She is an active member of the Central Jersey Alumnae Chapter of Delta Sigma Theta Sorority, Incorporated. Her research interests include HIV/AIDS in women and children as well as childhood and adolescent immunizations.
Dr. Whitley-Williams was nominated for this award by several of her classmates from the Class of 1971, who are celebrating their 50th Simmons Reunion in 2021.
Recent Alum Achievement Award
Sarah J. Galvez '14
Sarah J. Galvez has earned a reputation as an innovative leader straddling the world of politics and influencer marketing. Currently based in Los Angeles, Sarah serves as a Strategist for Google's Social Lab. She's spent most of her career strategically connecting political organizations with influencers and Creators, and thinking creatively about ways to bring private sector social media marketing techniques into politics.  Sarah previously served as Director of Social Media and Audience Development for Joe Biden's successful presidential election campaign — remotely leading a team of strategists across the county during the global COVID-19 pandemic. Throughout her multifaceted career, she has worked at Fortune 100 companies, startups focused on media and diverse audiences, some of the largest and most influential progressive Super-PAC's, and multiple ground-breaking presidential campaigns. She's been profiled by NowThis, Teen Vogue, Popsugar, and has spoken on various panels, including at Vidcon and other industry standard events.
During her time at Simmons, she was social media coordinator for the "Woman on Campus" digital project and was involved in numerous student organizations; she has remained an active alum, serving as an Awards Committee member on the Alumnae/i Association until 2020. She was nominated for this award by fellow alumna and 2019 Recent Alum Achievement Award recipient Katherine Swanson '09. While she was missed on the Awards Committee this year, those of us who know her are thrilled to be able to celebrate her remarkable accomplishments with this award.
Recent Alum Achievement Award
Aaron Wolfson '14
Aaron Wolfson is Digital Media Manager at GLBTQ Legal Advocates & Defenders (GLAD), where he educates, engages, and mobilizes people in support of full equality and justice for LGBTQ+ people in New England and nationwide. Working at the intersection of communications, political and legal advocacy, and public engagement, Aaron is driven by a commitment to LGBTQ+ equality, racial equity, criminal legal reform, immigrants' rights, and other pressing civil rights issues. Aaron has an extensive nonprofit, political, and legal advocacy and communications background, including work with the ACLU of Massachusetts, Freedom Massachusetts, and the Massachusetts LGBTQ Youth Commission. He holds a BA, cum laude, from Simmons, where he studied political science, gender studies, and media studies.
Aaron was nominated for the 2021 Recent Alum Achievement Award by his classmates and peers from his time at Simmons, who saw him as a leader and advocate for social justice on campus and in the Boston community. The Awards Committee chose Aaron as one the recipients of this award because that dedication has only grown since graduating from Simmons, as he continues to use his Simmons education to advocate for civil rights and social justice.
Community Service Award
Margo Simon Golden '79
Margo Simon Golden is the 2021 recipient of the Community Service Award for her long term commitment to numerous organizations advocating for women's health and health education, in particular, as the President of the Board of Directors of the Massachusetts Breast Cancer Coalition for over 10 years. Margo passed away on January 21, 2021, due to complications from breast cancer. She was nominated for this award by her friend, sister-in-law, and fellow Simmons alumna, Susan Golden '78.
Margo's life was always dedicated to public service, beginning with serving as a volunteer for Oxfam America during high school. She later served on the Board of Directors of Women's Community Cancer Project, and was honored by having her picture incorporated into a mural on Church Street in Cambridge. She also served on the Board of Directors of Alliance for a Healthy Tomorrow. Most important to her, she served as President of the Board of Directors of the Massachusetts Breast Cancer Coalition for over 10 years, an organization dedicated to cancer and the environment. Margo testified many times at the Boston City Council, and at hearings before both the Massachusetts House of Representatives and State Senate. For this, she was cited by the Mayor of the City of Boston, the House of Representatives and State Senate. She was one of a hundred people honored by Massachusetts General Hospital for leading the fight against cancer. There was not a person who ever met Margo who was not touched by her loving kindness and care. There will never be anyone else like her.