Student Story
Anna Zhang '20 Connects Historical Context to Current Trends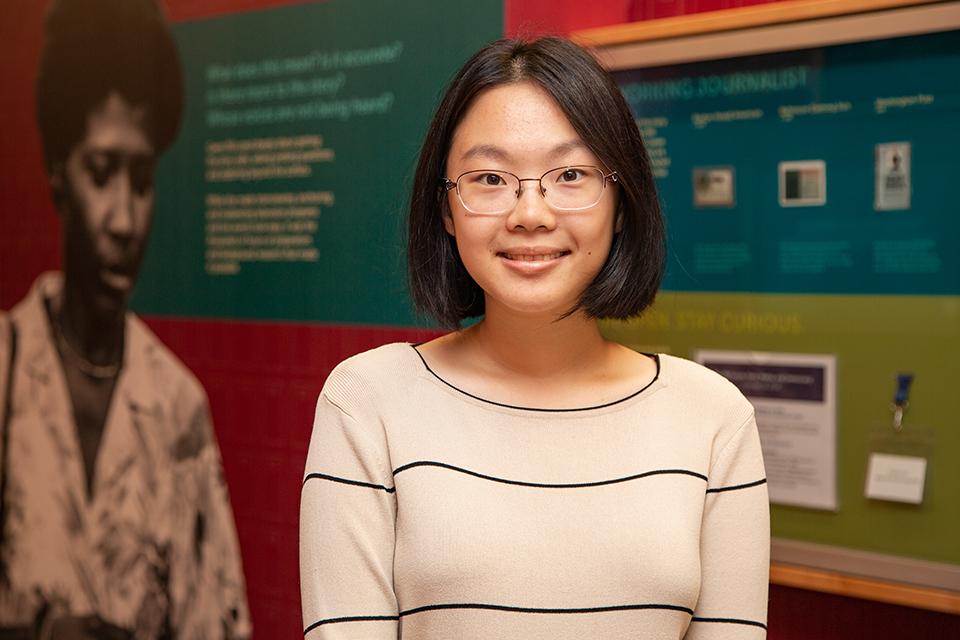 The Ifill Scholarship also serves as a reminder, as I prepare for the next step in my life of post-graduation, that Simmons has prepared me well for the world and to go forward with confidence.
Why did you pursue degrees in history and sociology?
I chose to study history because I believe that understanding historical context is crucial to understanding any social problem. I'm especially interested in the history of immigration, including both the social, political, and economic factors that caused immigrants to leave their countries and the factors that shaped their lives after they arrived in America.
Due to my own family's history of emigrating from China in the 1980s, I've focused on Asia and Asian immigrants. I believe that it is impossible to tell the stories of families like mine without understanding the political and economic movements in China over the past few decades — the entire history of China, however, was often only relegated to a single lesson or two throughout my education prior to Simmons. By studying Asian history, I hope to bring a different perspective to the table.
I decided to pursue sociology after realizing that an interdisciplinary perspective would allow me to better understand immigration in the American and global context. I was introduced to sociology through an Honors course with Professor Jyoti Puri. The course was on South Asia, and delved into the history and culture of a region most people in the classroom never studied before. This class helped me to see how I could use sociology to study problems in society.
What professors have helped you reach your goals?
Professor Zhigang Liu of the History and Modern Languages Departments has helped me a lot in reaching my goals. As my Japanese professor, Asian history professor, and history advisor, Professor Liu has helped me to examine Asian history through a unique perspective that incorporates thoughtful discussion and multiple narratives. 
Professor Stephen Berry of the History Department has also opened my eyes to the depth and breadth of historical research through his course on historical research methods.
Additionally, Professor Jyoti Puri of the Sociology Department introduced me to the field of sociology and has been incredibly supportive in my academic career, whether in joining the Sociology department or graduate applications. 
Professor Saher Selod of the Sociology Department, my thesis advisor, has also been very supportive in advising my thesis, and her excellent teaching has made learning an easier process. 
What does the Ifill Scholarship mean to you?
Receiving the Ifill Scholarship is a great honor for me, and I feel incredibly grateful for the opportunity. The scholarship represents the culmination of my hopes and efforts at Simmons and is a reminder of the incredible work that people have gone on to do and the necessity of giving back. The Ifill Scholarship also serves as a reminder, as I prepare for the next step in my life of post-graduation, that Simmons has prepared me well for the world and to go forward with confidence.
How do you think students in the Gwen Ifill College will carry on her legacy and impact the world?
Students in The Gwen Ifill College will carry on her legacy of bravely pressing forward and breaking barriers in their respective fields, no matter what that may be. Additionally, students are already carrying on her legacy of mentorship and community-building and will continue to do so in future cohorts as well. Gwen Ifill is an inspiration to many students in this college and others. 
What do you hope to do after graduation?
After graduation, I hope to attend graduate school to study globalization and immigration through a sociological perspective and use my training in history to contextualize the trends that we see in society today. I intend to pursue a master's or PhD degree before going forth to conduct research in a governmental or non-profit setting.
As you look to the future, how do you hope to connect your passion to a lifelong purpose?
I hope to continue my passion for history by connecting historical context to current social trends, whether in understanding current events or in research. I very much agree with the view that people who forget their history are unable to make progress, and hope to integrate that into my lifelong philosophy.