Student Story
Andrea Borges '20 on the Enriching Environment of Simmons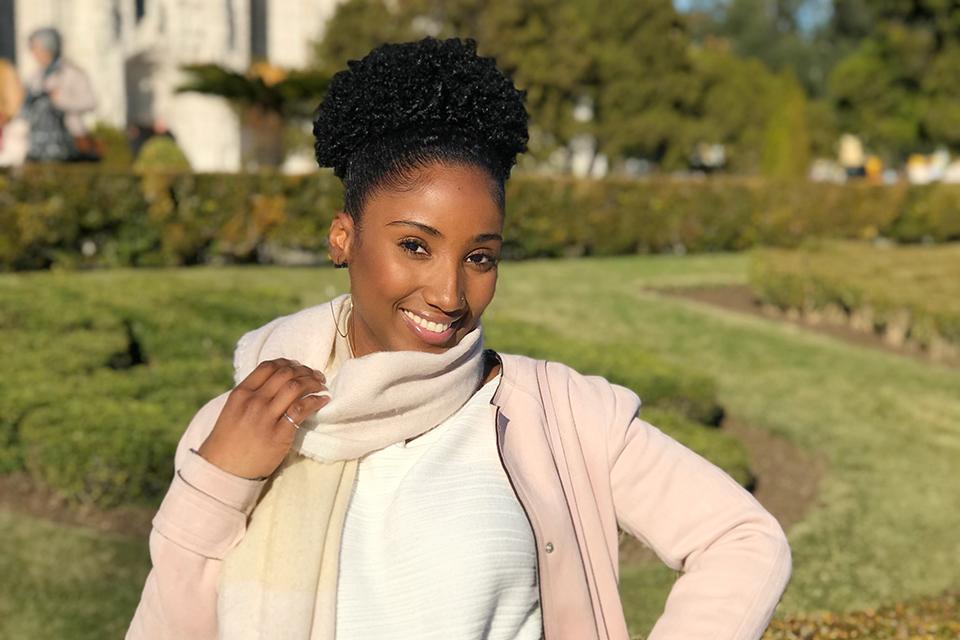 I always believed that Simmons University would be the perfect fit for me. When I first visited the campus for Orientation, the staff and faculty were very welcoming and made me feel like I was home.
We caught up with Andrea to learn about her experience transferring to Simmons!
On her community college experience
Being a member of the Massasoit Community College STEM Internship was certainly a unique learning experience. It's an internship in which students work in a position related to their career interests, linked to classroom learning, to gain knowledge of the working world. This internship really helped me become more responsible and professional, and allowed me to grow not only as a student, but also as a person. Through this internship I was able to improve my communication, problem solving and critical thinking skills, which I'm now able to apply to my learning experience at Simmons.
On her transition to Simmons
Transferring to Simmons was a very manageable process. The admissions faculty were helpful and supportive and they made the transferring process easier. Anytime I had a question, I'd email them and they'd readily respond. I was able to turn in all the admissions required credentials on time and almost all of my community college credits transferred.
On choosing Simmons
I always believed that Simmons would be the perfect fit for me. When I first visited the campus for Orientation, the staff and faculty were very welcoming and made me feel like I was home. During the application process, Simmons was one of my top choices because of the small class sizes and student-to-faculty ratio, allowing students to have meaningful connections with professors. It also has a very diverse and culturally enriched student body — which I think is important because I really value and appreciate interacting with people from different countries and backgrounds. 
Finally, and maybe my greatest reason for choosing Simmons, is because it's conveniently located and a part of the Colleges of the Fenway, which is a consortium of 6 schools in the Fenway area. My decision to come to Simmons was not only based on the fact that the University provides outstanding academics and research opportunities, but also because I believed it would be enriching to live and learn alongside students from all over the world. 
On pursuing biochemistry 
I'm majoring in biochemistry and enrolled in the pre-health advising program because it provides the preparation I need for future admission into a medical school. Simmons' pre-health advising program is made up of a solid foundation in the natural sciences and mathematics along with a background in the social sciences and humanities, which will help me fulfill the prerequisites required for medical school and prepare for the MCAT, the standardized admission test. 
On her plans after graduation
After graduating I'm planning on applying to medical schools. I also hope to volunteer in hospitals in Cape Verde to contribute to an improvement of the health care system in my country. 
On transferring advice
Consult the Simmons course catalog of your intended major so you know which courses are required and which credits will be able to transfer to Simmons. Ask questions and seek for help when needed — the Simmons admission team will be more than happy to advise you. 
On her favorite Simmons memory
When Former First Lady Michelle Obama participated in the Simmons Leadership Conference, a forum devoted to empowering women to become leaders in their fields. During the conference, Obama stated that her goal is to energize, educate and empower leaders at every stage of their career; and inspire people to embrace a different vision of leadership, and not be blinded with the idea that only males can be leaders. That conference was really memorable for me because as a black woman. She increased my self-confidence and inspired me to be a leader.