Alumnae/i Feature
Alumnae/i Award Recipients Announced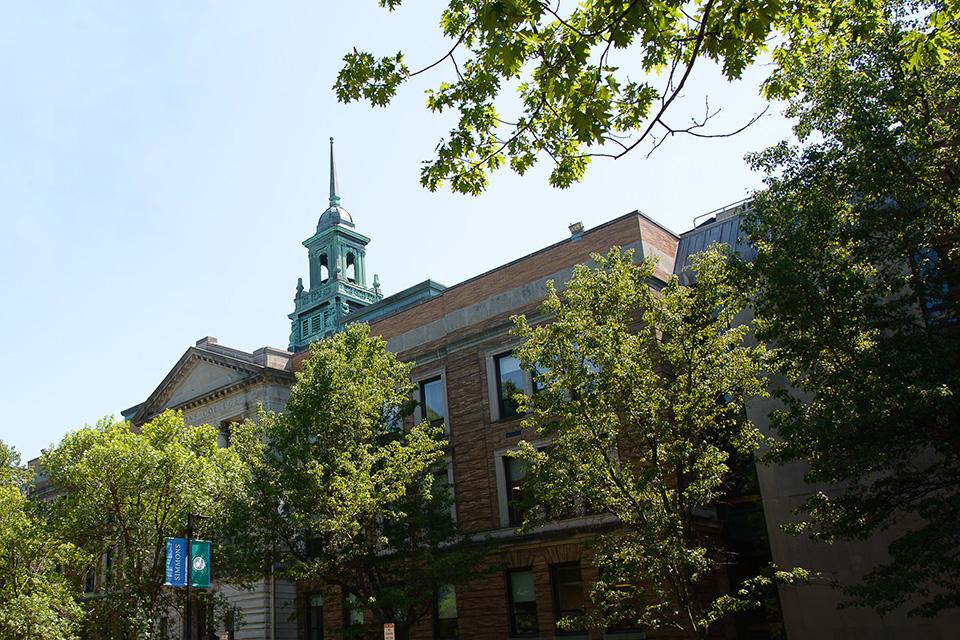 Congratulations to our distinguished 2019 Alumnae Award recipients!
We are pleased to announce the Simmons University 2019 Alumnae/i Award recipients. Awards will presented on Saturday, June 1 during Reunion 2019 Weekend.
Lifetime Achievement Award
Sandra Labas Fenwick '72
As president and CEO of Boston Children's Hospital, Sandra L. Fenwick leads the nation's foremost independent pediatric hospital and the world's leading center of pediatric medical and health research. She has been a driving force to improve the efficacy of care provided at Boston Children's Hospital while at the same time reducing costs. Through a combination of hospital affiliations, outpatient specialty care centers, community health centers and regional partnerships, she has helped create a children's health network that provides high quality pediatric care in local settings. During her tenure, the hospital has also expanded its commitment to and investment in prevention efforts focused on asthma, obesity, mental health and violence. She holds a M.P.H in health services administration from the University of Texas School of Public Health. She has received numerous awards and honorary degrees for her contribution to health care.
Recent Alumnae/i Achievement Award
Katherine Swanson '09
Katherine Swanson graduated from Simmons in 2009 with a major in psychology and minor in management. She continued her education at the University of California Los Angeles School of Law and has started her own law firm there that aims to provide affordable law services to Californians. In addition to her private firm, Swanson represents survivors of domestic violence in cases involving immigration law, family law and restraining orders for low income women. She sits on the policy committee of the California Partnership to End Domestic Violence and is a certified Domestic Violence Advocate.
Community Service Award
Carmen Aponte Baez '79, '03HD
Carmen Baez is founder of PRxPR, a private, non-partisan, no-overhead fund created to help rebuild Puerto Rico. Before devoting her work full time to PRxPR, she was president of DAS Latin America, a division of Omnicom Group, Inc. Baez has more than 30 years of experience in advertising and marketing communications, having worked with clients such as Procter & Gamble, the Walt Disney Company, Anheuser Busch and AT&T, among others. Baez holds a B.A. and honorary degree from Simmons University and is an honorary trustee of the University. She has served in a number of other volunteer leadership roles at Simmons and on the boards of various other organizations including Brigham & Women's Hospital, Different Brains and the Puerto Rico Conservation Trust. Baez was named among "20 Leading Latinas in Business" by Hispanic Enterprise in 2007. She is an honorary inductee of the Hispanic Scholarship Fund's Alumni Hall of Fame.
Alumnae/i Service Award
Dolores D'Angelo '69, '72MA
Dolores D'Angelo is CEO of Magnet Consultants, a consulting firm focusing on educational programs as well as school-based and youth-specific health and mental health services. A frequent lecturer and presenter at local, regional and national education meetings, she is a well-respected writer in this field and former associate editor of the Maryland English Journal. D'Angelo has been acknowledged with invited memberships to Phi Kappa Phi, Sigma Tau Delta and Phi Delta Kappa. She is a member of the Class of 1969 reunion planning committee and serves as class secretary. D'Angelo is a past member of the Board of Trustees and now an honorary trustee. She established the Dolores and Lawrence D'Angelo Endowed Scholarship and The Dolores Amidon D'Angelo '69, '72MA Honor Scholars Fund at Simmons.
Black Alumnae/i Symposium Planning Committee
The goal of the Black Alumnae/i Symposium—which occurs every five years—is to
commemorate and celebrate the contributions Black alumnae/i have made to Simmons as well as their impact on the world. The 2018 Black Alumnae/i Symposium, The Power of Our Presence: Celebrating the Greatness Within Us, was the seventh Symposium.
The volunteer steering committee, through the leadership of the African American Alumnae/i Association, provided strategic direction for the weekend including developing the theme and program frames. Members of the planning committee are being recognized for their work on an outstanding Black Alumnae/i Symposium, which attracted more than 150 attendees.
Sandy Fonseca-Lopes '15
Sandy Fonseca-Lopes was born and raised in the Dorchester neighborhood of Boston. She is a proud alumna of Simmons and graduated with a B.S. in neuroscience and behavior. Fonseca-Lopes was an active leader at Simmons and served as a Simmons Ambassador and orientation leader. She also helped establish the Simmons Speaks Poetry Slam Team and had the honor of serving as president of the Black Student Organization. She is a Senior AmeriCorps Member at City Year Boston, an education-focused, nonprofit organization that partners with public schools to help keep students in school and on track to graduate high school. Fonseca-Lopes is a student at the University of Pennsylvania where she is pursuing a M.S.W., specializing in criminology and focusing on the school-to-prison pipeline.
Candyce Lindsay '84

Since graduating in 1984, Candyce (Polk) Lindsay has worked in social services addressing mental health and homelessness. At the human resources consulting firm Mercer, Lindsay worked on public health-care programs and policy development. In 2003, she moved into academia at Arizona State University where she works in research administration. She has served in various capacities as a community volunteer, including as a founding board member of the Komen Phoenix Race for the Cure. Lindsay is serving her second term as chair of the City of Tempe Neighborhood Advisory Council. She is also the director of communications on the African American Alumnae/i Association Executive Board.
Kenyora Parham '10
Kenyora Parham serves as the president of the African-American Alumnae/i Association and was chair for the 2018 Black Alumnae/i Symposium. She also serves on the Alumni Association Steering Committee for Boston University's School of Social Work, where she received her M.S.W. As an undergraduate at Simmons, she majored in public health with a minor in sociology. Parham served as president of the Black Student Organization, founded the Honors Liaison, and worked as coordinator for Education Sparks in the Scott Ross Center. In her professional role, Parham serves as the staff director at End Rape on Campus. Inspired by her work at Strong Women, Strong Girls, she cofounded a new program, Aspiring MENtoring Pipeline, focusing on the uplift and empowerment of young boys and college men of color, which is in its start-up phase. In 2016, she was recognized as a finalist of the "EXTRAordinary Women" campaign led by the City of Boston. Parham is a proud member of Delta Sigma Theta Sorority, Inc.
Chanelle Peters '04
Chanelle Peters is the immediate past president of the African American Alumnae/i Association. She received a M.Ed. in early childhood education at the University of Hartford in 2012 after graduating from Simmons in 2004. Peters is an early childhood educator at the Beauvoir National Cathedral Elementary School in Washington, D.C. She was one of the architects and developers of the Simmons Alumnae/i ALANA mentoring program. Peters also co-chaired the 2013 Simmons Black Alumnae/i Symposium.
Morgan Ward '16
During her time at Simmons, Morgan Ward studied public health and biostatistics. She served on the executive board of the Black Student Organization, was a Simmons 101 facilitator and was involved in student activism. When Ward graduated in May 2016, she was awarded the Joan Melber Warburg, '45 Leadership Award by the President's Office for having the highest ideals of leadership during her time at Simmons. As a fellow with the Boston Healthcare for the Homeless Program, she helps patients with substance-use disorders achieve their case management goals and navigate various social systems to overcome barriers to health care. Ward also provides health education to patients, encouraging them to live healthy lives. She currently serves as the manager of service programs.