Stacey Maguire
Associate Professor of Practice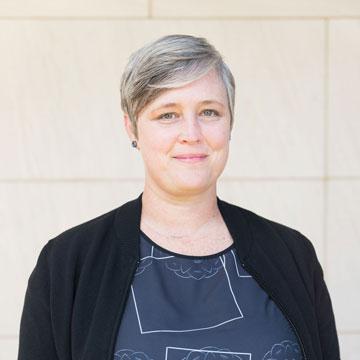 Education
Certificate of Advanced Graduate Study in Health Professions Education, Simmons University
Candidate for PhD, Health Professions Education, Simmons University
Doctor of Physical Therapy, Massachusetts General Hospital Institute of Health Professions
Master of Science, Physical Therapy, Boston University
Bachelor of Science, Health Science, Boston University
License/Certifications
Licensed Physical Therapist, Commonwealth of Massachusetts
APTA American Board of Physical Therapy Specialists: Neurology Clinical Specialist
About Me
I began as full time faculty at Simmons University in 2018 after over 15 years of adjunct teaching at Boston University and Simmons. My clinical work has been primarily at Beth Israel Deaconess Medical Center (BIDMC) where I started as a Physical Therapist in 2000 and eventually became the Inpatient PT Team Leader. My practice focus areas include the neurological and cardiopulmonary systems. Clinically, my passion lies in performing hypothesis-driven exams and maximizing patient-centered care. I have been active in the PT department mentoring program, as well as the lead mentor for the Boston University PT Neurological Residency Program.
I am privileged to also be a student of Simmons University, pursuing my PhD in Health Professions Education. My research interest is around creating an inclusive classroom where all learners can thrive.
Outside of my time at the university and medical center, I practice yoga, play football, and spend as much time as possible in the woods. I am lucky to share my life with my wife, three spectacular kids, and one brindle pup.
Area of Expertise
Neurological and Cardiopulmonary Systems Evidence-informed Education
What I Teach
DPT 735 Complex Conditions
PT 750: Health Promotion, Wellness, and Service Learning
DPT 783 - Frameworks for Physical Therapy: Neuromuscular
Community Engagement
Volunteer for SPRINT (Spaulding Runners in Training) - Supports return to running in individuals who experienced a brain injury or stroke
PT Mentor for the American Physical Therapy Association
Coordinate Service-Learning for DPT Program
Research/Special Projects
Brain injury Rehab
Increasing diversity in physical therapy practitioners
Publications/Presentations
Trauma in Elders: Applying Evidence to Acute Care Practice
Laura Driscoll, Stacey Maguire, and Shannon Stillwell
American Physical Therapy Association Combined Sections Meeting, February 2018
Aneurysmal Subarachnoid Hemorrhage: From Medical Management to Physical Therapy Treatment
Mary Beth Holmes, Stacey Maguire, and Jon Robinson
American Physical Therapy Association Combined Sections Meeting, February 2018
Professional Affiliations & Memberships
American Physical Therapy Association
Beth Israel Deaconess Medical Center
Awards
Social Responsibility Ribbon by the Global Health Special Interest Group, APTA - Feb 2021
Environmental Champion Award - April 2012
Beth Israel Deaconess Medical Center
Lesbian, Gay, Bisexual, Transgender Achievement Award - June 2011
Beth Israel Deaconess Medical Center