Rong Tang
Professor and Co-Director PhD Program
School of Library and Information Science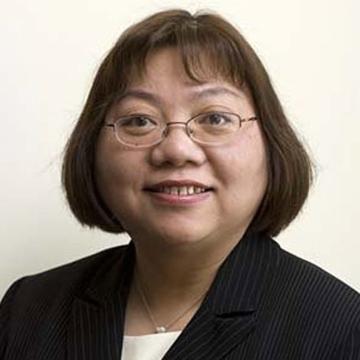 About Me
Rong Tang received her doctorate from the School of Information and Library Science, University of North Carolina Chapel Hill. She has taught evaluation of information services, technology for information professionals, library automation systems, digital information services and providers, research methods and design, and usability and user experience research. Her research areas span from users' relevance judgment, user needs assessments, user information behavior, citation analysis, collaborative information seeking, eye-tracking studies, to MOOCs in Asia.
Rong is the founding and current Director of Simmons Usability Lab. One of her papers won the 2008 Wynar/ALISE research paper competition. She is a recipient of 2007 APA PsycINFO Needs Assessment Contract Award, 2007 Simmons University President's Fund for Faculty Excellence, 2008 OCLC/ALISE Research Grant Award, and a 2010 contractual award from Harvard University Center for Biomedical Informatics. She also received a series of technology grants from EBSCO and HW Wilson from 2011 to 2012. She serves as a consultant for Harvard University Library Usability Project in Fall 2014.
During her sabbatical in academic year 2013-2014, Rong worked as a visiting professor at National Taiwan University and JiangSu University, and a visiting scientist at Harvard/Smithsonian Center for Astrophysics. Rong is the 2013-2014 Chair of SIG USE (Information Need, Seeking and Use) of Association for Information Science and Technology (ASIS&T). Rong is the Coordinator for Doctoral Studies Committee for 2014-2015. She also advises [email protected] and SCIRRT (Student Chapter of International Relations Round Table).
Rong believes in building connections with students, and she is committed to work with students to find an intellectual point where they "click" — the point for which they get lifelong inspiration and passion for information work.
What I Teach
LIS 403: Evaluation of Information Services
LIS 454: Digital Information Services and Providers
LIS 488: Technology for Information Professionals
LIS 531Y: Usability and User Experience Research
LIS 621: Conducting Research
Research/Creative Activities
Rong's research interests center around user studies and user behavior research. Her recent projects include collaborative information exploration on Microsoft PixelSense Tabletop, MOOCs in Taiwan and Mainland China, and Eye Tracking Study of Astrophysicists' Use of Astrophysics Data System.
Current Research Projects
Collaborative Information Exploration and Shared Discovery Behavior of Microsoft PixelSense Tabletop
MOOCs in Taiwan and Mainland China: A Situational Analysis and Phenomenological Study of Open Education Initiatives
User Behavior Analysis and Usability Evaluation of SAO/NASA Astrophysics Data System
Research Interest
Usability testing and evaluation
User studies and needs assessment
Collaborative Information Seeking and Shared Discovery
Open Education in Asia
Mental models of online searching
Bibliometrics and citation behavior research
The Evolution of Information Behavior Research: The Dynamics of Intellectual Structure
Professors Tang and Ni have been working on a research project investigating the scholarly discourse of IB research, with a focus on the relationship among various terms used as a part of or a parallel term of information behavior.
Learn more about The Evolution of Information Behavior Research
Mobile News Information Behavior: An Exploratory Diary Study
Over the summer of 2016, Professors Tang and Oh, together with their research assistant Alison Fisher, conducted data collection of an online diary research on mobile news behavior of undergraduate and graduate students in the US. Following the completion of their diary entries, a number of participants were involved in the follow up interviews. In Fall 2016, they continued a second wave of data collection. Currently the diary session is still ongoing.