Campus & Community
Learning Real-Life Skills in Virtual Reality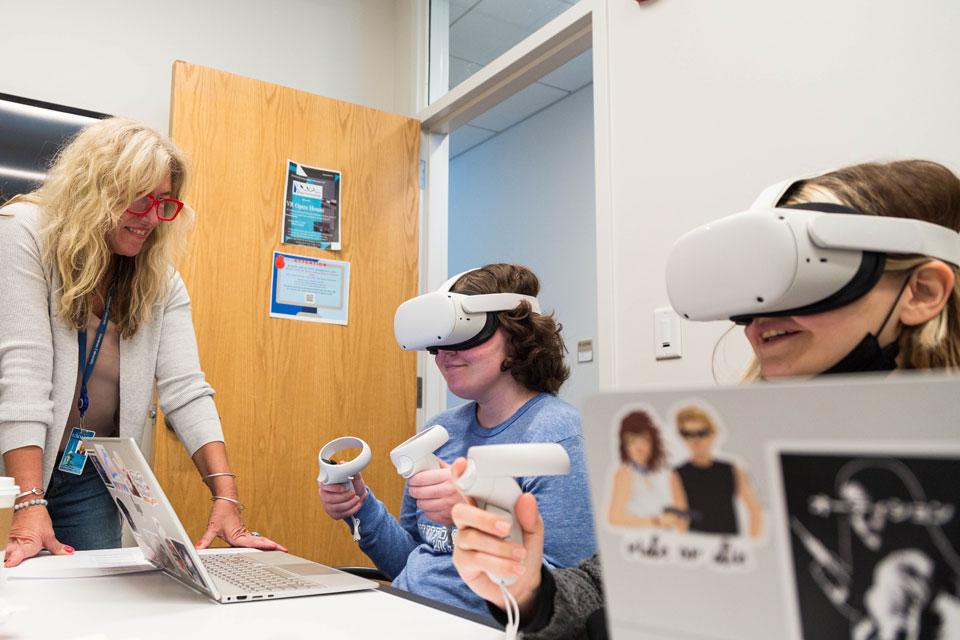 "Virtual Reality is the Zoom of the future," says Assistant Professor Catherine Dumas. Simmons SLIS is on the cutting edge of using broadly accessible Virtual Reality (VR) technology as a general pedagogic tool.
Dumas, along with Assistant Professor Rachel Williams, Associate Professor Lydia Ogden and Dr. Lukasz Porwol (University of Galway), submitted a full proposal for an IMLS grant for their project, "Assessing the Usability and Effectiveness of Virtual Reality Training in Public Library Services," to the Laura Bush 21st Century Librarian Program (LB21).
"This grant is for using VR to train public librarians and staff on crisis management and de-escalation techniques," says Dumas. "We conducted a study with ten SLIS students, offering a role-playing workshop inside VR. The students watched us act out a scenario in VR of a library patron experiencing delusions." Joanna Flanagan '22MS, their graduate research assistant, played the patron in crisis. Assistant Professor Rachel Williams played the librarian avatar who defused the situation, and students were able to see it in action. Then students were able to role-play another scenario in VR to practice the techniques they had just learned. Nine out of ten students were able to successfully de-escalate the situation.
"There is a lot of analysis going on about the usability of headsets in this environment," notes Dumas. "We evaluate how confident the user feels in dealing with someone with mental illness, and their empathy level. We found that users' confidence and empathy increased after training."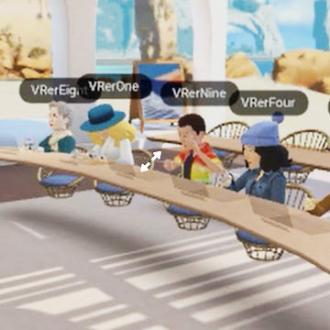 Dumas and her colleagues would like to offer this training to public libraries and iSchools in four different regions in the U.S. If they receive the IMLS grant, they will train librarians who can then use the technology to train their staff. "They will need to get headsets but they aren't that expensive anymore," notes Dumas, "and they don't need many of them if they want to train one person at a time."
"We're involving our students in our studies, too, so they are getting exposed to this work as well." Dumas worked with SLIS PhD candidates Zhan Hu '16MS and Jie Jiang to complete a pilot study with three SLIS students, and will recruit 27 more to be participants this semester for their VR Collaboration project "Incorporating Social VR Technology in Graduate Students' Collaborative Work: A Comparative User Experience Study of "Horizon Workroom."" SLIS graduate student Katie Kim '23MS just joined the team and will be helping with the future user sessions.
"Rachel and I really want to get into the classrooms with the VR," says Dumas. "We could offer a practice reference interview in VR. It's low stakes but it feels real because you are actually doing role play with another person. We could offer opportunities to practice public speaking in VR, to give people the tools to overcome their nerves. We could also teach people strategies to appropriately set and maintain boundaries by offering role-playing through VR."
There are other ways that VR headsets are being used in SLIS classrooms. Students in Professor Rong Tang's Usability class this semester attended a virtual presentation of the collaboration study given by Dumas, Hu and Jiang in the Horizon Workroom environment.
While Dumas and her colleagues are focused on integrating VR into LIS classrooms right now, she sees an opportunity for other disciplines to get involved. "There is definitely an opportunity for computer science [CS] students to use this technology, especially in courses cross-listed between CS and SLIS. We are bringing the VR headsets to SharkHack [April 1, on campus] and offering demonstrations."
Dumas is also the Faculty Advisor for the SLIS student groups UXPA and ASIS&T. Both UXPA & ASIST are co-planning a VR game night that will be held sometime in April with the Oculus Quest 2 headsets that Dumas has in her UX and Immersive Technologies Lab at SLIS.
Catherine's tips for first-time VR users:
We suggest that students sit, not walk around. For our purposes, they aren't moving physically, only in VR.
Make sure the headset is fitting properly, not too tight or too loose.
If you move around too quickly in the VR room, that's how you get dizzy. Take it slow and get oriented. It's really fun!