Announcement
Three Faculty Elected Leaders of Professional Library and Information Science Organizations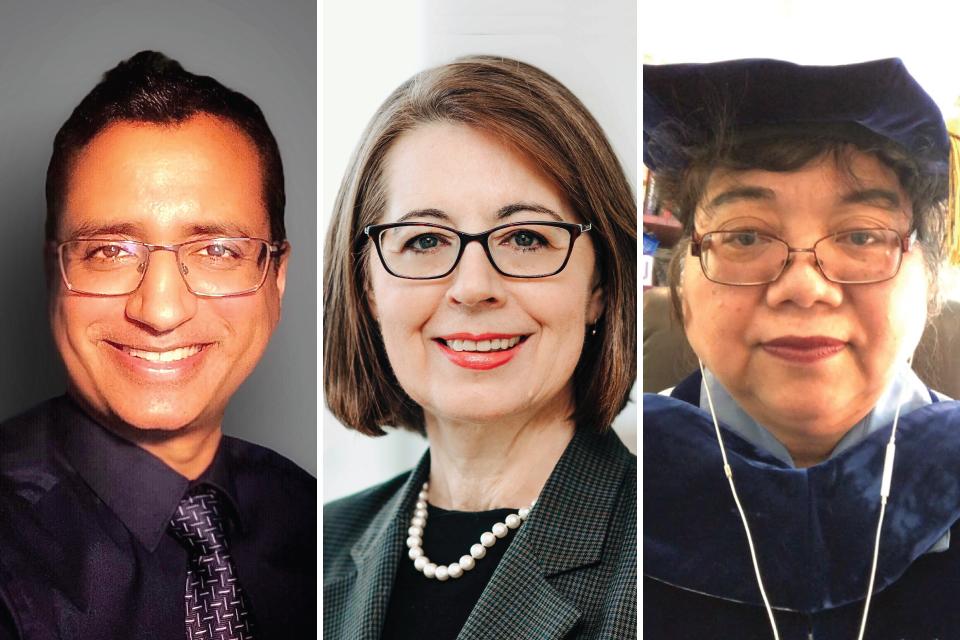 I am extremely privileged and grateful for the openness of the higher education system in the US that encourages students from all over the world to pursue their academic dreams and make their marks as successful researchers, teachers, and leaders in their fields.

—Professor Sanda Erdelez
This year, three faculty members of the School of Library and Information Science (SLIS) have been elected to lead prestigious international Library and Information Science (LIS) organizations:
"This is an unprecedented achievement for SLIS and Simmons," says Erdelez. "My colleagues and I are in a position to build upon our existing collegial relationships to influence the work and cross-connections among our organizations."
Erdelez studied at the University of Osijek, Law School in Croatia, before coming to the US as a Fulbright Scholar for her PhD in Information Transfer at Syracuse University.
"An interesting human dimension of this story is that all three of us are immigrants whose hard work in US academia provided opportunities for a high level of achievement and recognition," says Erdelez. "I am extremely privileged and grateful for the openness of the higher education system in the US that encourages students from all over the world to pursue their academic dreams and make their marks as successful researchers, teachers, and leaders in their fields."
Agarwal, who grew up in the Himalayan state of Sikkim in India, moved to Singapore in 1995 to study Computer Engineering at the Nanyang Technological University. He received his PhD from the National University of Singapore and found a professional home at ASIS&T since joining as a student member in 2008. After moving to the US, he joined the Simmons faculty the following year. In 2018, Agarwal started an initiative, Project Oneness World, to gather stories through interviews to inspire others.
I feel fortunate to be a part of such great faculty and community.
"At ASIS&T, I hope to work towards greater engagement and community building, enhanced partnerships, and furthering the goals of the association and the greater information science field while helping fight disinformation and fake news," says Agarwal. He also hopes to lead with kindness and compassion in a pandemic-affected world.
Growing up in Hefei, the capital of Anhui Province in China, Tang obtained her MLS from Wayne State University and her PhD in information studies from the University of North Carolina at Chapel Hill. Tang has more than 20 years of LIS teaching experience in the US. She is keenly aware of the responsibility of her new role.
"We are at a pivotal moment," says Tang. "We have been facing not only the biggest public health crisis but also a significant increase of racial injustice and anti-BIPOC hate crimes. In other words, we are facing tremendous challenges to the economy, daily life, social and political/ideological situations, in addition to the challenges of teaching and learning in LIS."
Tang adds, "as an educator in the LIS field, we need to be adaptive and innovative in the LIS pedagogy, but more importantly, advocate for the diverse communities that we serve through bringing in our DEI efforts to the forefront." In addition to co-directing the PhD program in LIS at Simmons, Tang is the Founding Director of the Simmons University Usability Lab and Co-Leader of the Research Data Management Librarian Academy, an open online learning program with more than 5,100 learners around the world.
Regardless of post-pandemic challenges, SLIS is poised to make a mark on the LIS profession. "With three faculty from Simmons SLIS in leadership positions in ASIS&T, ALISE, and iSchools, it is a unique moment for Simmons, COCIS, and SLIS," says Agarwal. "I feel fortunate to be a part of such great faculty and community."
Erdelez, Agarwal, and Tang would like to take this opportunity to thank the support and trust of the LIS community. They welcome any suggestions/feedback from the communities concerning their respective associations/organizations. They urge Simmons SLIS alumnae/i and students to get involved in professional organizations or student chapters to build an engaged and active global platform for LIS professionals from a variety of sectors to join forces to advance our field.