Richard Wollman
Professor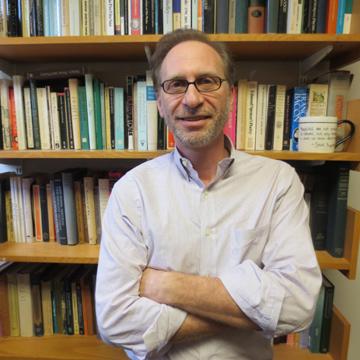 Education
Ph.D., English, Columbia University
M.Phil., English, Columbia University
M.A., English, Columbia University
B.A., English & Creative Writing, Brandeis University
About Me
Richard Wollman is Professor of Creative Writing, Shakespeare, and 17th Century Literature. He is both a poet and a sculptor whose work may be viewed on his website.
Professor Wollman is on the Advisory Board for the Mass Poetry Outreach Program at UMass Lowell as well as the Massachusetts Cultural Council in Newburyport. He is on the Executive Committee of the Powow River Poets and is a member of both the Newburyport Art Association and the John Donne Society.
What I Teach
ENGL 105 Creative Writing: Non-Fiction
ENGL 109 Creative Writing: Poetry
ENGL 209 Creative Writing: Intermediate Poetry
ENGL 210 Poetry & Poetics
ENGL 111 Greek Mythology & Religion
ENGL 112 Passion & Poetry in The Bible
ENGL 121 Love, Death, & Fantasy in Shakespeare
ENGL 326/526 Studies in Medieval and Renaissance Literature
ENGL 332/532 English Literature of the 17th Century
Publications
Professor Wollman is the author of multiple collections of poetry, including, Evidence of Things Seen (Sheep Meadow Press), Changeable Gods (Slate Roof Press), A Cemetery Affair (Finishing Line Press), and the Dorset Prize Finalist, An Art of Need.
His work has also been featured in numerous journals, including the American Literary Review, Americas Review, Arion, Bellevue Literary Review, Blueline, Campbell Corner, Cider Press Review, Comstock Review, Connecticut River Review, Crazyhorse, Florida Review, Gulf Coast, MARGIE, Meridian, Memorious, New Delta Review, New England Review, Notre Dame Review, Obsidian, Poetry Daily, Prairie Schooner, Salamander, Seattle Review, Sow's Ear Poetry Review, Tar River Poetry, and Verse Daily.
His published literary criticism includes, "The Press and the Fire: Print and Manuscript Culture in Donne's Circle" (Studies in English Literature), "'Speak that I may see thee': Aurality in Ben Jonson's Print Poetry" (Ben Jonson Journal) and "Donne's Obscurity: Memory & Manuscript Culture" (John Donne Journal).
Professional Affiliations & Memberships
Contributing Editor, Slate Roof Press
Contributing Editor, The Variorum Edition of the Poetry of John Donne, Vol. 4:1
AWP
Awards
Elyse Wolf Prize - Slate Roof Press
Gulf Coast Prize in Poetry (Judge: Susan Howe)
Anna Davidson Rosenberg Award for Poems on the Jewish Experience
Dorset Prize, Tupelo Press (finalist)
Firman Houghton Award (New England Poetry Club)
Erika Mumford Prize (New England Poetry Club)
Boyle/Farber Award (New England Poetry Club
Campbell Corner Poetry Prize - Distinguished Entry
Milton Center Award for Excellence in Poetry (Honorable Mention)
Arts & Letters Prize (Honorable Mention), Judge: A. Van Jordan
Belfast Literary Prize (runner-up), Judge: Laure-Anne Bosselaer
Elixir Press Chapbook Award (Honorable Mention)