Laura Prieto
Professor and Alumni Chair in Public Humanities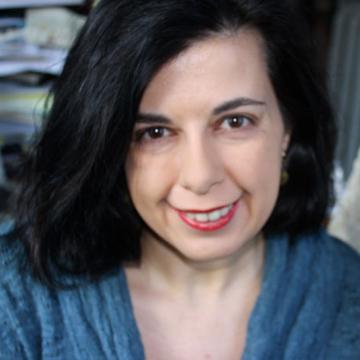 Education
B.A., Wellesley College
A.M., Ph.D., Brown University
About Me
I am a cultural historian, teacher, and writer. I have been at Simmons since 1997, with a joint appointment in the History and the Women's and Gender Studies departments. For several years, I directed the graduate program in History. I was Visiting Professor and Research Associate in the Women's Studies in Religion Program at the Harvard Divinity School (2017-2018) and previously held the Ruth R. and Alyson R. Miller Fellowship at the Massachusetts Historical Society.
I greatly enjoy working with graduate and undergraduate students on their research, especially introducing them to local archives and to work with visual sources.
What I Teach
I teach a wide spectrum of undergraduate and graduate courses in American history, gender history, race and ethnicity, the history of sexuality, historical methodology, archives and history, memory studies, and cross-cultural imperialism.
HIST 141 Modern America
HIST 213 Race and Ethnicity in United States History
HIST/WGST 215 Women and Gender in the U.S. before 1890
HIST/WGST 216 Women and Gender in the U.S. since 1890
HIST/WGST 239 History of Sexuality and the Family
HIST 360/560 Seminar in Women's History
HIST 373/573 Seminar in Nineteenth-Century America 
HIST 374/574 Seminar in Modern America
HIST 375/575 Cold War Culture
HIST 379/579 Expansion and Empire in U.S. History
HIST 397/597 Historical Methods and Research
HIST 527 Archives, History, and Collective Memory
GCS 410 Gender, Race, and Imperialism in Historical Perspective
Community Engagement
I'm honored to be the first Alumni Chair in Public Humanities at Simmons. Supported through generous funding from Simmons alumnae/i, this 3-year position affords tenured Ifill College faculty the opportunity to pursue civic or public engagement projects that demonstrate the important role of the arts, media, and humanities in a vibrant, diverse democracy.
In this role, I'm developing a series of projects and programs to engage the public in thinking about the meanings and legacies of the women's suffrage movement, before and after ratification of the 19th Amendment to the U.S. Constitution in 1920. A parallel project in 2019-2020, funded by a grant from the Council of Independent Colleges, will engage students in research about Boston's old West End, a vibrant immigrant neighborhood that was razed in the name of urban renewal in the 1950s-1960s. Undergraduate students will work with the Eva Whiting White manuscript papers in the Simmons archives as well as records at the Archives of the City of Boston, our community partner.
Research/Creative Activities
Over the past few years, I've worked collaboratively with about 30 students to research and write short biographies of grassroots suffrage activists for publication by "Women and Social Movements in the U.S." in a crowd-sourced reference.
My ongoing individual research concerns American women and colonized women, especially Filipinas, in the wake of the Spanish-American War. My book manuscript in progress, tentatively titled "Bibles and Butterfly Sleeves: Women and Protestant Missions in the Philippines, 1898-1939," traces how the women's missionary movement played out in the archipelago during the era of American colonization. I've published related essays in Women in Transnational History (Routledge, 2016), Paradoxes of Domesticity: Christian Missionaries and Women in Asia and the Pacific (Australia National University Press, 2014), and Competing Kingdoms: Women, Nation, Mission and American Empire (Duke University Press, 2010).
Publications
My work focuses on women and gender, especially at the turn of the twentieth century; visual culture; and cultural history. I want to increase awareness of how traces of the past are all around us, consciously and unconsciously connecting the present to what came before. I hope to make women's and gender history more accessible and visible to the general public. I blog at Nursing Clio, https://nursingclio.org/author/lauraprieto/ and I regularly organize edit-a-thons to help improve the coverage of women's history on Wikipedia.
My first book, At Home in the Studio: The Professionalization of Women Artists in America (Harvard University Press, 2001) studies how women painters, sculptors, and illustrators created a professional identity for themselves in the face of exclusion. I subsequently created an online project for "Women and Social Movements in the United States" about nineteenth-century American women sculptors and how they used art to contribute to the abolitionist and women's rights movements.
My ongoing research concerns American women and colonized women, especially Filipinas, in the wake of the Spanish-American War. Other published work includes, "'A Delicate Subject': Clemencia López, Civilized Womanhood, and the Politics of Anti-Imperialism," Journal of the Gilded Age and Progressive Era (April 2013) and "Dazzling Visions: American Women, Race, and the Imperialist Origins of Modern Nursing in Cuba, 1898-1916," Nursing History Review (January 2018).
I am also finishing a book for Facts on File that surveys Women in America: Issues and Controversies. It is designed for classroom use, combining narrative and analysis with primary source excerpts.